Home
Harvest Luncheon at Fort Ross Orchard
Harvest Luncheon at Fort Ross Orchard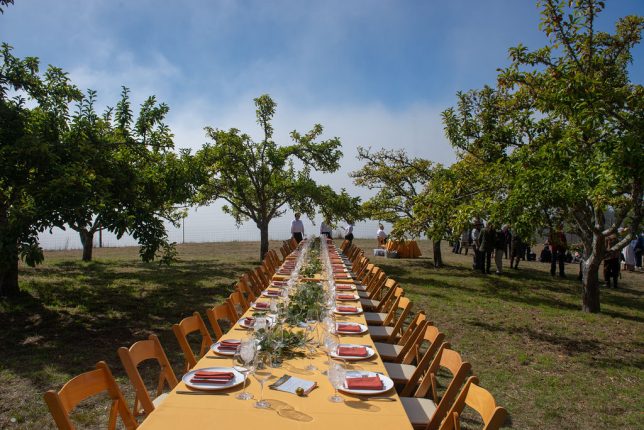 Saturday, October 5th, 12:30 – 2:30 pm.
We invite you to join us for a lunch in the historic Fort Ross Orchard with chef Pete Coleman preparing a feast of seasonal fare and local wines. This event is SOLD OUT. Thank you for supporting Fort Ross Education Fund!
The Gran Fondo Bike Race is taking place across Sonoma County on October 5th. We recommend you avoid River Road between 9:00 a.m. and 10:30 a.m. After 10:30 a.m. we recommend you take River Road to Jenner (do NOT take Highway 1 through Bodega Bay). Please check google maps before leaving. We suggest you stay at Fort Ross until at least 3:00 p.m. to avoid southbound traffic. Please park in the main parking lot at Fort Ross State Historic Park and take the shuttle up to the orchard.
MENU
Wine for the luncheon is generously donated by Fort Ross Vineyard
Hors D'Oeuvres
Burrata Bites…. French Puff stuffed with Housemade Burrata, thinly sliced Sweet 100 Tomato and Micro-Basil
Sake Salmon Deviled Eggs… Classic Picnic Eggs with House Cured Sake, Tobiko and Scallion Garni
Skewered House Cured Belly… Crisp Pork, Drizzled with Japanese Robata Sauce
FAMILY STYLE LUNCH
Charred Cara Cara Orange and Ruby Grapefruit with Capay Arugula and a tiny wedge of Nicasio Farmers Cheese, Dressed with Chervil Verjus
Rosemary-Gravenstien "French Pudding"… A Light, Crispy, Not Sweet Variety, Finished with Melted Marin County Butter
Sonoma Garden Heirloom Tomatoes with Fresh Basil and California Olive Oil
Grilled Local Fennel and Summer Squash with Toasted Cumin Hollandaise
Southern Style Prawns, Grilled, atop Sauteed Vidalia Onions and a Crisp Frissee/Sweet Herb Garni
Argentine Seasoned Churrasco Lamb with Green, Red and Fresh Olive ChimiChurries
Baskets of Freshly Made Yeast Rolls Served Hot, Whipped Butter and Blossom Honey
DESSERT
From Scratch Apple Blondie with Local Churned Ice Cream Whipped Cream, Fresh Apple Sauce and Caramel Sauce