Beach Watch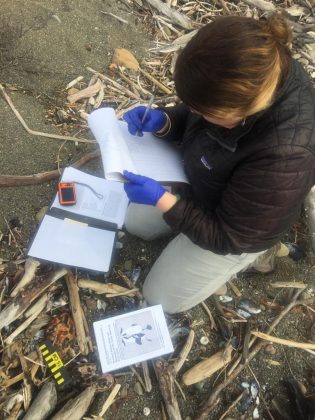 What is Beach Watch?
Beach Watch is a long-term shoreline monitoring project which was founded in 1993 by Greater Farallones National Marine Sanctuary. A program of the Greater Farallones Association, this year-round ecosystem assessment program is conducted by dedicated volunteers who regularly survey an assigned beach within the Greater Farallones and Monterey Bay National Marine Sanctuaries.
Volunteers collect data on live and dead species of birds and marine mammals, and human activities. They also report violations, detect oil pollution, and collect oil samples. Beach Watch is the first volunteer program of the National Oceanic and Atmospheric Administration (NOAA), and has worked for over twenty years to provide:
A baseline dataset on the presence of live and dead coastal wildlife and human uses
Assistance to sanctuary management in the early detection of natural and human-caused environmental events
A network of volunteer expert surveyors who can respond to oil spills
Education to the public about the coastal environment and how they can make a difference in protecting their beaches.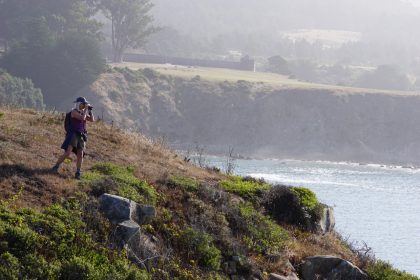 Greater Farallones National Marine Sanctuary
In Spring of 2015, the Greater Farallones National Marine Sanctuary and the Cordell Bank National Marine Sanctuary extended their boundaries and protection to the north and west. Now the life-giving waters of our California Current are protected here near Fort Ross and Salt Point State Parks, within GFNMS, as far north as Manchester Beach in Mendocino County and south, within the Monterey Bay National Marine Sanctuary, all the way to Cambria in San Luis Obispo County.
GFNMS is located within the California Current ecosystem, one of four major eastern boundary currents in the world, that stretches along the western coast of North America from southern Canada to northern Mexico. Due to a high degree of wind-driven upwelling, there is a ready supply of nutrients to surface waters and the California Current ecosystem is one of the most biologically productive regions in the world.
– from GFNMS website: http://farallones.noaa.gov/about/welcome.html
Beach Watch

Beach Watch at Fort Ross & Salt Point State Parks
Beach Watch has four monthly surveys on our local shores:
Within Fort Ross State Historic Park: Sandy Cove and Fort Ross Cove to Kolmer Gulch;
In Timber Cove, on private property;
Within Salt Point State Park, Fisk Mill Cove to Grace Rock.
We are seeking trained volunteers for the Stump Beach surveys within Salt Point State Park.
Three out of our four surveys are not the typical two-way beach surveys (of first live animals then, on return trip, dead animals), but instead are easier one-way bluff surveys, where we only record live coastal wildlife.
"Thanks to the excellent Beach Watch training and resources, citizen science support, camaraderie, and most importantly, routine practice of my observation skills, I've gained a deepening feeling of familiarity, intimacy and scientific knowledge of my specific stretch of our precious Pacific coast. My monthly Beach Watch survey is always a delight, honor, and welcome responsibility!"
– Hank Birnbaum
Get Involved!
Want to learn more about our local marine ecology, marine mammals, and birds and offer a helping hand? Learn about upcoming Beach Watch Training here. And for information about Beach Watch surveys in Fort Ross and Salt Point State Parks, please contact us at (707) 847-3437.