Fort Ross Visitor Center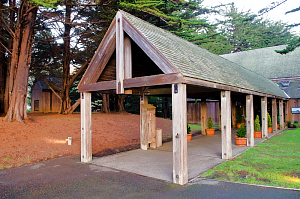 The Fort Ross Visitor Center, the gateway to the park, is tucked inside a grove of trees along side the main parking lot. It provides a comfortable place to begin your park visit by helping visitors get oriented to the park's cultural, natural, and recreational resources and by providing a gathering place for groups and interpretive programs.
The visitor center accommodates special events, guided tours, and educational seminars, and it provides a valuable resource to the Fort Ross community. It is available for rent for special events after hours; contact info@fortross.org for more information. The visitor center contains several rooms with different functions.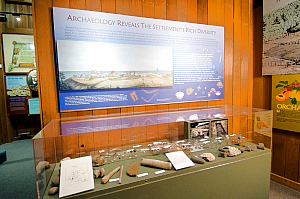 Museum
The museum exhibits give an overview of the park's major cultural stories, covering the Kashaya, Alaskan Kodiak, Russian, Ranch, and California State Park eras. The museum displays a model-sized windmill model that inspired the full size replica we now have on site, a gift to Fort Ross by Russia's Link of Times. Also on display are several cases of beautiful Russian-era cemetery artifacts retrieved during an archaeological dig. Because there are many more stories to tell than the space allows, Fort Ross Conservancy is in the early stages of fundraising to redesign and refurbish the Visitor Center museum.
If you are interested in helping us with this project, email us at sarahs@fortross.org.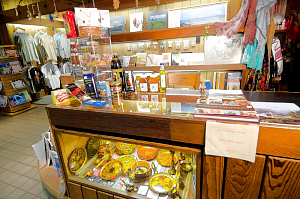 Bookshop
The Fort Ross Conservancy bookshop, located in the Visitor Center at Fort Ross State Historic Park, sells books, memorabilia, jewelry, and children's' items related to Fort Ross' natural and cultural history.
Unfortunately our facilities are not licensed to sell food or coffee, but we do sell pre-packaged snacks and bottled water. We also carry a nice selection of Russian chocolate and Russian snack foods. We carry a wonderful selection of natural history guides, historical books related to the breadth of Fort Ross history, and hard-to-find books on Russian America.
We also sell our Fort Ross Conservancy imprints, including:
My Life at Fort Ross; The years 1877 – 1907 by Laura Call Carr.
The Rotchev House; Home of the Last Manager of Fort Ross.
The Chapel at Fort Ross; 150 Years of Russian and California History by Maria Sakovich
If you have questions or suggestions about our inventory don't hesitate to send our FRC Bookshop buyer an email.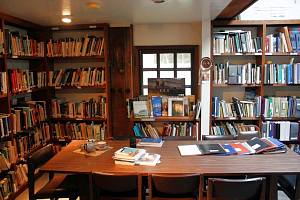 Library (Visit FRC's Digital Library)
For FRC members and visiting scholars, FRC provides access to an extensive research library of Fort Ross-related documents. This library contains 30 albums of archivally-preserved historic photographs and 3,000 titles in the reference and circulating library. Many of these manuscripts are rare and all are relevant to the region's cultural and natural history. In the course of numerous grants and research projects, Fort Ross Conservancy has worked with scholars and institutions in Moscow, St. Petersburg, Perm, University of Alaska, and beyond, to bring copies of manuscripts and maps back to Fort Ross. Join FRC and spend an afternoon in our library.
In addition, FRC has scanned over 100 historic photos and documents, displayed online from our website at FRC's Digital Library.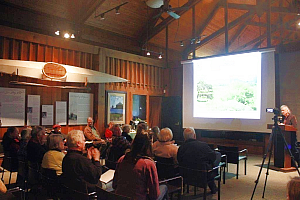 The Auditorium
The auditorium, with its large fireplace and expansive picture windows, provides comfortable seating for up to 70 people. During park hours you can sit and watch FRC's 18-minute Fort Ross documentary that introduces the park's history with stunning visuals. And on windy days it's the perfect place to come in from the cold!
For special events we have a high quality large format projector to show movies and presentations.
Fort Ross Visitor Center