Kuskov House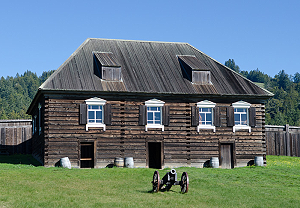 The Kuskov House was the residence of Ivan Aleksandrovich Kuskov, who founded Ross and was the first administrator. It served as the colonial administrator's house from before 1817 until 1838. In the upstairs were living quarters, downstairs an armory. Four of the five Fort Ross managers lived here. First hand accounts describe its historic use: "The first room we entered was the armory, containing many muskets, ranged in neat order; hence we passed into the chief room of the house, which is used as a dining room & in which all business is transacted. It was comfortably, though not elegantly furnished, and the walls were adorned with engravings of Nicholas I, Duke Constantine, &…" An anonymous Bostonian's description, 1832.
"The old house for the commandant, two stories, built of beams, 8 toises [sazhens] long by 6 wide, covered with double planking. There are 6 rooms and a kitchen." Inventory for Mr. Sutter, 1841. The Kuskov House reconstruction was completed in 1983, based in part on the plan of 1817.
The Voznesenskii Room is in the upstairs of the Kuskov House on the east corner. Among the later visitors to Ross was the naturalist and artist, Ilya Gavrilovich Voznesenskii. A trained scientist and competent graphic artist, Voznesenskii was sent by the Imperial Academy of Sciences to explore and investigate Russian America. Many important sketches of the Ross Settlement and the surrounding area come from Voznesenskii's hand, the result of a year-long visit to Northern California. His avid interest in California's flora and fauna, as well as Native American life, took him far afield by foot, boat and horseback. On these and other expeditions, Voznesenskii was able to gather an ethnographically invaluable collection of California Indian artifacts.
Kuskov House