Fort Ross Blockhouses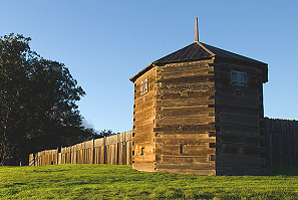 Southeast Blockhouse
The original blockhouses were built prior to 1817. The southeast blockhouse was reconstructed in a number of phases between 1930 and 1957. Original floorboards from the Officials' Quarters were used for the floor. This southeast blockhouse has eight sides and offers a clear field of fire, protecting the south and east stockade walls from possible attack. The Spanish were a potential threat to the colony, and the armaments were always ready, but the defensive value of the fort was never tested. The naval cannons in this blockhouse were used to signal and welcome visiting dignitaries. Mariano G. Vallejo in 1833 notes "12 pieces of artillery on two towers … of 8 caliber, six in each one…
All of these pieces are mounted on naval gun carriages except for two "violentos" of 3 caliber…" In 1837 William A. Slacum mentions "…four 12 lb. carronades on each angle…" In the southeast blockhouse there are now 12 pound carronades on naval carriages, upstairs there are smaller reproduction cannons.
Fort Ross Blockhouses
Stockade Walls
The original stockade walls and sally ports deteriorated rapidly. They were reconstructed several times on a piecemeal basis between 1929 and 1989. After Highway One was rerouted to bypass the Fort in 1972, the stockade was finally re-enclosed for the first time since the 1800s. The original walls of the fort were approximately 1204 feet long (172 Russian sazhens) and 14 feet high (2 sazhens). They were held together by a complex system of mortised joints locked by wooden pins.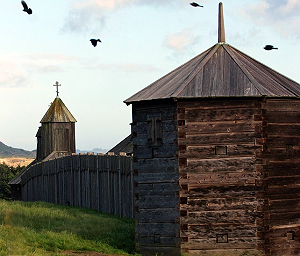 Northwest Blockhouse
The original blockhouse was built in 1812. In 1948 ruins of the blockhouse were removed, and it was reconstructed in 1950-1951. The Northwest Blockhouse has seven sides. As a watchtower for sentries with muskets and cannons, it protected the north and west stockade walls from potential attack by land.
Each blockhouse carried a flagstaff, used to signal colonists in case of attack or provide a navigational aid for ships approaching Ross. The origins of the three cannons now in this blockhouse are unclear.