Fort Ross
Things To Do at Fort Ross State Historic Park
Things To Do at Fort Ross State Historic Park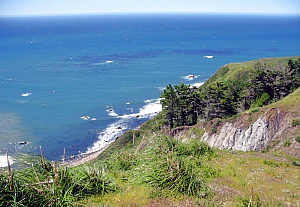 Activities at Ross
Fort Ross State Historic Park provides a wide range of recreational opportunities for all ages and abilities. In addition to its fantastic cultural history, Fort Ross State Historic Park promises fantastic vistas, a front-row seat to the Pacific ocean, and more. Stop by the Visitor Center to pick up a map or speak to one of our resident experts.
Guided private tours that covers any of the areas below are also available.
Tour the Historic Compound, home to numerous reconstructed Russian-era buildings as well as the Russian-era built Rotchev House.
Visit the Fort Ross cemetery, a 20+ minute walk from the historic compound on an unpaved trail.

Hike to the historic orchard. Take a 30-minute walk up Fort Ross Road to visit the orchard, home of Russian-era and Ranch-era fruit trees. Or visit during a volunteer work day and lend a hand in preserving this living historic resource.
Walk across the San Andreas Fault and look for signs of the 1906 temblor.
Enjoy a picnic. At Fort Ross, ADA-accessible picnic facilities are located near the Visitor Center parking lot. Picnic tables are also available next to the historic Call Ranch House to the west, within the fort compound, and at Fort Ross Sandy Cove.

Enjoy ocean access:
Visitors may walk to Sandy Cove, a protected beach just below the fort. The north side of the cove offers tide pooling during low tide, but please do not pick up or otherwise disturb the marine life.
Ocean access is also available along the coastal terrace above the Fort Ross North Cove.
Ocean access with unpaved parking are also located at Windermere Point one mile north of the park entrance, and on the marine terrace which can be reached by way of Reef Campground entrance two miles south of the fort.
Walk the bluffs and look for marine mammals. Fort Ross is host to harbor seals, Steller Sea Lions, and California Sea Lions. Take a walk north of the parking lot to check out Sea Lion Rocks. Fort Ross Conservancy offers marine mammal monitoring and training, so let us know if you're interested in volunteering.
Try your hand at fishing: When in season, visitors with valid fishing licenses can fish for rockfish from the shore and from kayaks. Here is the link to 2022-2023 Ocean Sport Fishing Regulations Updates: https://nrm.dfg.ca.gov/FileHandler.ashx?DocumentID=199167&inline. Abalone fishing is not allowed in this area, to give the abalone a chance to recover.
Explore a shipwreck: Certified scuba divers can explore the wreck of the S.S. Pomona, a ship that sank more than 100 years ago and now sits in approximately forty feet of water just off Fort Ross Cove.
Accessibility: The Day Use parking lot, Visitor Center, Fort Ross Interpretive Trail, and the Call House Trail are all accessible. The fort compound has limited accessibility to all buildings. There are accessible restrooms at the visitor center and the fort compound.
Visit the Fort Ross Visitor Center including its museum, sales area, and auditorium. During normal business hours you can view an 18-minute documentary on the history of Fort Ross.
Learn about the Ranch era by visiting the Call House Museum,
During high season watch a demonstration of the Russian Windmill the first weekend of each month from 1pm-4pm.
Dogs: Dogs are permitted but must be on leash anywhere you can drive a car (roads, parking lots), inside the limits of any structures (Visitor Center, Fort compound and buildings), picnic areas, and campgrounds. They are not permitted on trails, beaches, beyond the limits of roads, parking areas, campgrounds or picnic areas.
Guides by EveryTrail.com:
Note: All natural and cultural features in the park are protected.
---