Ranch Era at Fort Ross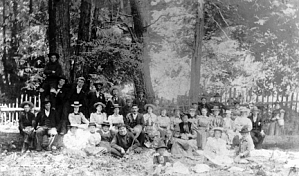 New Ranch Era Discovery by Lynn Rudy
The Ranchers. Based on Kaye Tomlin's research.
Excerpted from Fort Ross © 1998 Fort Ross Interpretive Association (Fort Ross Conservancy) ISBN # 1-56540-355-X
On the left – The Picnic at Muniz Ranch
In September 1841, Johann Augustus Sutter met with Russian-American Company agents at Bodega Bay and agreed to buy Fort Ross' assets for $30,000 in money, grain and cattle. His empire on the Sacramento and American Rivers was growing slowly; he needed new equipment and stock. Most of the livestock, equipment, supplies, and some buildings and small boats were shipped to Sutter's New Helvetia on the Russian-made schooner Constantine, which he renamed the Sacramento. That fall Sutter had Robert Livermore drive about 2,000 head of Russian cattle to his Hock Farm near present-day Marysville. Three more managers, among them young John Bidwell, ran the former fort until the fall of 1843, when Wilhelm Otto Benitz, from Baden, Germany, became manager. Benitz ran the huge ranch for Sutter for two years; then he and a partner, Ernest Rufus, from Württemberg, leased it for themselves.
In 1845, the Mexican government of California granted part of the northern half of the former Russian claim to Manuel Torres. Torres' brother-in-law, Captain Stephen Smith, received the southern portion. The Torres Rancho was called the Muniz, possibly after a former Russian-American Company employee Efim Munin who is listed in the 1821 Ross census. Manuel Torres leased the Muniz to Benitz and Rufus, and in 1849, he sold it to them, all 17,760 acres. Ernest Rufus, who also owned the German Rancho on the Muniz' northern border, left the coast after a few years. William Benitz took another partner, Charles Meyer, but essentially the coastal empire was his. He married Josephine Kolmer, a girl from his hometown of Endingen, Baden, and they had ten children at Fort Ross during their more than twenty years there.
Because of the present concentration of buildings within the stockade, and the efforts made over the years towards their reconstruction and repair, we have become accustomed to thinking of Fort Ross as simply a fortress enclosing a small, isolated community. In fact, Ross was really the center of an extensive holding encompassing a great sweep of land of many square miles. It remained so long after the Russians left. The Russian-American Company operated like one of today's large corporate ranches or farms. As ownership changed from the Russian-American Company to Sutter to Benitz to Dixon-Fairfax and then was broken up to owners Call, Schroyer, Jewell and Rule, the actual use of the land remained much the same, an isolated, largely self-supporting small empire. The biggest and most impressive change was the first—from corporate to individual management and ownership.
After Sutter dismantled much of the place, Benitz brought stability to the Muniz Rancho. He painstakingly built it up into a productive holding much as the Russians had done. In this, he had a great deal of help from the native Kashaya, who were required by the new American government to work for him at $8 per month and board, a decree which very properly shocks us today. In 1848, 162 Kashaya still lived around the fort. In spite of this forced labor, both William and Josephine Benitz seem to have maintained generally good relations with the Kashaya people.
Benitz and his partners managed a number of successful commercial farming enterprises. Even with the scarcity of maritime shipping records for these early days, the quantity of their agricultural products is impressive. Cattle, sheep, horses, swine and deer hides, tons of potatoes, apples, oats and barley, as well as eggs, butter, ducks and pigeons were shipped to markets, chiefly in Sonoma and Sacramento. They also loaded lumber, piling and building stone. These enterprises required skilled artisans, and Benitz employed several—they can be seen in the 1860 U. S. Census Report. Because of the great isolation, the family created their own small island of culture at Fort Ross, with books, music and tutors for the children.
When William Benitz took over in 1845 the Russian officials' quarters, barns, chapel and stockade were still intact. Their whipsaw mill was still usable, as were the boathouse and perhaps the smithy at the sandy cove. Benitz had a stone wharf built in the north cove and constructed a large potato barn near the Russian cemetery. His family lived at first in the Rotchev house, and as their numbers grew, they built a large two-story addition to its seaward side. This stood until 1926.
To protect his distant borders, William Benitz installed retainers and in-laws at the northern edges of the vast lands, and sold and leased lands at the southern boundaries. "Anglo" squatters were a constant problem on the great Californio ranchos, and feelings against foreigners like Benitz were strong. When crop prices dipped, Benitz stopped farming and concentrated on livestock. The American Civil War made marketing difficult, and Benitz began selling off his land, the last of it in 1867. He resettled on a huge estancia in Argentina; some of his descendants still keep up an interest in Fort Ross, where their ancestors pioneered over 150 years ago.
Two very unlikely partners took over Fort Ross in 1867: James Dixon, an experienced Irish millwright and lumberman, and Virginia-born "Lord" Charles Snowden Fairfax, a California state official. In spite of written intentions to farm, their true motive was to regain their investment by active lumbering. Dixon moved a mill from Marin County, first to Kolmer Gulch and then to Fort Ross Creek, where he also built a "white house" for himself, as well as a loading chute in the northwest cove. It is not certain that Charles Fairfax ever even visited Fort Ross!
Dixon had no place in his plans for the Kashaya people, and sent them away. In the early 1870s, they moved permanently back to their traditional winter settlements, Huckleberry Heights and Abaloneville, on the oak grasslands above Haupt Creek. Here they remained over forty years. Thus habitation by Native Americans came to an end at Fort Ross, although they remained at other nearby settlements, principally Fisk Mill, Stewarts Point and Jenner. By 1873, James Dixon had logged off most of the timber on the property. He sold some of his holdings and moved on up the coast. Charles Fairfax died suddenly in 1869, at age 40. His young widow, Ada Benham, moved with her small retinue to Fort Ross, her only resource. There, as Lady Fairfax, she delighted the American settlers with her sociable ways until she sold her holdings and moved to Washington, D. C. The southern half of the old Muniz Rancho became the Rule Ranch, based in the hills above Jenner. After 1873, the other Fairfax-Dixon lands between Russian Gulch and Fort Ross were sold to dairymen.
The biggest piece in this historic 1873 breakup of the rancho went to Ohio-born George W. Call. Beginning with 2,500 acres, including Fort Ross, he eventually owned 7,000 acres. Call's ideas for the ranch were very much like those of Benitz—he wanted his own isolated, diverse empire of agriculture, livestock and shipping. Call came to Fort Ross with a beautiful Chilean wife, Mercedes Leiva, a substantial fortune acquired in South America, and a sure sense of what he wanted. Like many men who have made their fortune, George Call wanted land of his own where he might do some ranching. A competent man with great energy and a strong will, Call made a financial success of Fort Ross; his family held on to it for a hundred years. The Calls soon made Fort Ross not only their family home, but a thriving community center and shipping port. It also became a Mecca for tourists, attracted to the beguiling setting of seacoast and forest.
The Calls and their four small children lived at first in the Rotchev House and its Benitz addition. Eventually there were nine Call children, and in 1878, they built their own house, which remains today, undergoing restoration, facing the northwest cove. George Call then leased out the Rotchev House as the Fort Ross Hotel, which ran successfully, mostly under "Uncle Billy" Morgan, until 1906, when the State took over the fort proper. Visitors from many places came to the hotel, including Luther Burbank and writer Gertrude Atherton. The Russian officials' quarters was renovated; the east end became a saloon. In those Victorian times, the Call children were carefully protected from both the hotel and saloon populations! However the children later recalled many country dances and musical evenings at the converted Russian warehouse (now gone). The Calls preserved the chapel, and occasionally used it for weddings; but others report its use as a barn—one winter it was used for horses, and it was used as a place to store apples for shipping. Just outside the stockade a store and post office building was built. The post office closed in 1928, but the little store continued on until the early 1960s. The road running through the fort was re-routed in 1971-72.
Many other structures were repaired or built anew by George Call—barns, wagon sheds, a smithy. In 1898 an old building (possibly built by Dixon) was enlarged to become a big dairy barn on the hill to the north. This building (still standing) was the culmination of one of the most successful of the Calls' enterprises. Herds of up to 470 dairy animals grazed on the hills. The butter made at the dairy was in great demand in San Francisco. Between 1875 and 1899 the Call Ranch produced and shipped an average of more than 20,000 pounds of butter a year out of the port of Fort Ross. The orchard on the hill, begun by the Russians, and greatly enlarged by Benitz, was continued and extended by the Calls. Apples were packed and shipped by the family from this orchard and others on the ridge. The Russian/Call orchard is now a part of the Fort Ross State Park.
The sea was the main lifeline between Fort Ross and the outside world all through the 1800s, and even up until the automobile age beginning in 1915. Travel by "stagecoach," in reality by wagon, was possible but arduous; distances were long and roads were rough, with landslides, numerous hills, infrequent rest stops and rare encounters with outlaws. Black Bart, the notorious local stage robber, referred in one of his famous "notes" to an unknown driver in a Fort Ross coast hold-up. This other driver was George W. Call, who encountered Black Bart on a trip to town!
Call enlarged upon the transport of goods by sea begun by all the previous owners. He constructed a wharf and warehouse on the cove near the Dixon lumber chute, which handled not only Fort Ross produce and timber, but also that of neighboring farms and ranches. These products were hauled to Fort Ross by four and six horse wagon teams over the narrow, winding and steep dirt roads. Records of these shipments can still be found in Call's careful record books. In 1877, eighty-six vessels loaded cargo at the Fort Ross chute.
Lumber, railroad ties and tanbark were stored on the bluff near the top of the chute. The weekly "Schooner Day" was a festive and busy occasion in the neighborhood, and one of the most exciting events in the lives of the Call children. Besides the usual products, butter, hogs, apples and hides, the cargoes could include abalone gathered by the Chinese workers who had been hired by Call to build and maintain a road along the cliffs to the south. In 1897, Call put his own gasoline schooner, La Chilena, into weekly service to San Francisco; it was replaced in 1899 by the larger Mary C. "Down freight" on the eight to ten hour voyage to San Francisco consisted of passengers, live animals, goods, and raw materials of all sorts. "Up-freight" included flour, sugar, salt, crackers, tools, medicines—anything the Calls and the other settlers couldn't grow or make on their own farms. Passenger fare was $1, a bargain. The alternative was the stage from Fort Ross to Duncans Mills for $5; ferry and train fares for the rest of the trip to the city were extra.
George Call presided over his domain like a proper squire—a substantial, dignified man in a dark wool suit, boiled shirt, derby hat and cane. He supervised maritime affairs at the cove and managed the ranch with the help of foremen. He later had the help of his two sons, Carlos and George H. Call. Mrs. Call was charming and hospitable, and guests were frequent. Some were unexpected, like the survivors of the wrecked steamer Pomona in 1908, and the carloads of Russians who arrived by taxi from San Francisco for a religious service in 1925. Mercedes Call was an avid gardener; the legacy of her efforts can still be admired in the garden she tended until her death in 1933. Read more about our Call Garden project.
Education for the Call children was more complicated than it had been for the Benitz family. Fort Ross had become a thriving community; there were other children who needed schooling. George Call made it a point to hire workers with children, and always managed to corral the required fifteen scholars for a public school. In 1884, he built a one room school of the standard variety on the cliff overlooking the cove. Two of the Call girls later taught at the school as well as having attended it.
In 1903, George Call sold the 2½ acres comprising the fort and its buildings to the California Historical Landmarks League; it was deeded to the State in March of 1906. Call died in 1907, but his widow Mercedes continued to live at the ranch for another quarter century. The Call sons, Carlos and George H., managed the ranching interests for many years. Some of the other grown children lived on neighboring properties. The children visited and considered Fort Ross the family home. Times changed on the coast. Dairying gave way to sheep raising in the 1920s; shipping ceased about the same time. Fort Ross became more isolated.
During World War II, the U. S. Coast Guard established a small station at Fort Ross, to provide early warning of possible enemy activity along the coast. From 1942 to 1945, the five servicemen, with some of their wives, were an unusual addition to the isolated ranch and fort.
George Call's son, Carlos, became the grand old man of Fort Ross. He and his sister, Miss Emma, lived in the family home up into their nineties. Carlos was an expert sheepman and local historian. He also was a record-holding volunteer weatherman. For sixty-four years, he continued the observations begun by the Russians and kept by his father since 1874. Daily weather records are still maintained by park staff.
The last of the Call children died in 1976. Because of their strong attachment to the property, the family had kept it in one piece, protected from commercial and residential development. The result is a Fort Ross with almost the same grand sweep of land as it had when the Russians left it in 1841.
---
New Ranch Era Discovery by Lynn Rudy
Fort Ross historians, professional and amateur, deal over and over with a mass of very familiar information concerning the area's long history – the Kashaya, Russian and Ranch eras. So it's always a "Eureka moment" when something new turns up, and last week this happened in the Ranch Era Department.
A Pt. Arena Library volunteer read "The Old Salt Township" and got in touch with us, as her grandmother, Mamie (Morrill) Bidwell was the Jenner School's first teacher in 1904. (The Morrills also had Timber Cove connections.)
So we got to see the Morrill Family Bible. Ho hum, you say; so did I a bit, but it truly was a treasure. A massive 1873 book celebrating the second marriage of Francis (Ruoff) Park and Louis Baxmann, it has three brightly colored pages of family records and four pages of very old – for our area – photographs of 1850s and 60s Timber Cove settlers, Parks, Thomases and Ruoffs, which no one here had ever seen.
And the last portrait in the book was the jackpot: a small (copy) of a painting of Christian Friedrich Ruoff as a very young man. He was born at Stuttgart, Wurttemberg, Germany in 1801 and died at Timber Cove 15 December 1854. His grave here is the first one marked in the Township. And although he did not live here long, he left four children, twelve grandchildren and many great grandchildren, at least one of whom stayed here until after 1940.
We know nothing of Christian's early life in Germany. Assumedly, his family was somewhat prosperous: a painted portrait in the 1820s was fairly rare. Was he related to Ernst Rufus, born in 1810, William Benitz's Muniz Grant partner of 1845? Both were from Wurttemberg; Christian pronounced his name "roof", not "roo-off"; Ernst's surname seems to have been anglicized; and both had Benitz connections. Just an amateur's guess.
By the 1830s, Christian was in Quincy, Illinois ,where he married a German girl, Franciscka Mast. In 1850 (U.S. Census) he is a merchant there worth $2000 and the father of four children. But the California Gold Rush called; By the end of the year, Christian has left his family, travelled to Sacramento – probably overland – and runs a small boarding house: He was going to make his fortune off the miners. But that winter brought catastrophic flooding; the shanty town of Sacramento was leveled. Christian, now aged fifty and probably pretty desperate, fled to Fort Ross: he must have had a Rufus connection.
William Benitz had owned the old Russian fort and 17,000 acres since 1845.This was a big piece of land to manage, and he liked to have honest men at his borders to keep out potential squatters, cattle thieves and Mexican marauders after Indian workers. In the 1850s, Dr.Elijah Jenner was on the Russian River, John Orr was at "Duncans Mills", and James Henry was at "Sea View". Benitz set up Christian Ruoff at the Rancho's northern coastal border in 1851.Ruoff built a log cabin there in 1852, and the next year his wife Franciscka, daughters Mary, 13, and Lizzie, 9 and son John, 5
arrived. (Oldest daughter Francis had married and came West with her husband's family, the Parks.)
The tragic early death of the father was memorialized by a fine stone (probably purchased by Benitz) on the ocean's edge below the Ruoff home. For decades it stood alone on the cliff, but eventually nine other family members were buried in the small cemetery. The last was a grandson, Frank Thomas, in 1942, who in the 1920s had built the wall with its onion dome gate posts (which caused some of the locals to call it the "Russian" cemetery. So much for myths.) Now the cemetery is privately owned by a family which also has buried its members there. It is not accessible to the public, but the onion domes are just visible from Highway One.
Timber Cove in 1854 was isolated, but William Benitz was supportive of the Ruoff family. When he sold the Muniz Rancho and left the area in 1867, he gave Franciscka Ruoff the 200+ acres where she had lived for fifteen years. Also, Timber Cove was busy: the lumber industry was thriving, with mills, chutes and many workers. Christian's widow was resourceful and hardworking. She started a private elementary school for the local children; she grazed animals; she had two sons-in-law to help her. She and her bachelor son John set up a modest lumber chute at their "Stillwater Cove"; John acquired more acreage and established a store in the village. Franciscka lived to 84 and is buried in the family cemetery. When son John died in 1912, his land (and the cemetery) was bought by the Charles family; Richard Clements bought it for his Timber Cove subdivision in the 1960s.
The Ruoff home site and orchard finally disappeared with subdivision construction in the 1960s. The stone foundation of their modest cabin could still be seen in the 1940s, but now there are only wisps of domestic flowers to be found in the forest of Bishop pines which covers the previously open land on the hillside.
Ruoff descendants, mostly Thomases, stayed on their land into the 20th century. There are a few descendants still in the county, originally named Park and Morrill, and now "daughtered out", as the genealogists say. And thanks to Ferne Fedeli, who shared her family bible, passed on to the oldest daughter since 1925, the Fort Ross photo collection has been greatly enriched. She didn't know how much knowledge of history she had hidden away: we were all winners.
Stories of the Ruoffs and over 200 other pioneer families of the old Salt Point Township will appear in my Volume II: Ranch Area Settlers, 1841 – 1941, still in the works.