Current News
Fort Ross Festival 2022 is canceled. We hope to welcome you to Festival in July of 2023.
---
---
Summer Solstice Saunter
Salt Point State Park
Saturday, June 25, 11am
Meet at Mile Marker 44
Grace Rock Trailhead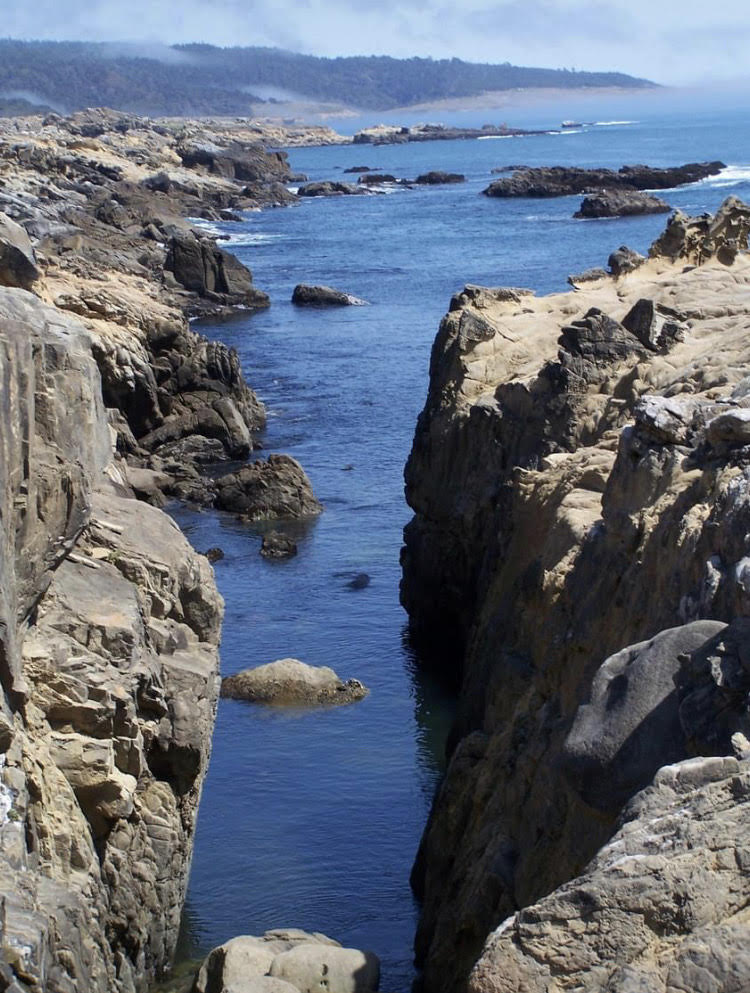 Join us for this summer solstice season hike on the wild north side of Salt Point State Park. The Grace Rock Loop Trail features otherworldly landscapes of tafoni geology and seascapes of pounding surf, deep water and distant vistas.
We'll meet at the Grace Rock Trailhead at the Mile Marker 44 pull-off (limited parking, but more available just to the south). This is an approximate 1.5 mile easy-to-moderate hike, starting roadside, proceeding through a stressed Bishop Pine forest down to the ocean terrace and the unique and unforgettable tafoni honeycomb geologic sandstone formations. At lunch time, for those ready for a tad more adventure, we'll climb through a rocky passage and out on a peninsula facing Grace Rock to more fully embrace the elements. (Or there's another easily accessible and sheltered spot of beauty and wonder nearby, no worries!) After lunch, together we'll loop around and up the hill, taking in the view to the north (beyond Horseshoe Cove, into the Kashia Coastal Reserve, Richardson family ranchlands and Sea Ranch), then through grasslands back down to the trailhead.
Plan on an approximate 3-hour round trip hike. Please bring your own water, a bag lunch, sunscreen, headwear, hiking boots, layered clothing (be prepared for some possible brisk wind) and if desired, optional hiking sticks, binoculars, and camera. Not recommended for kids under eight and - sorry - no dogs are permitted on Salt Point State Park trails. Hike led by Fort Ross Conservancy's Hank Birnbaum. Donations to Fort Ross Conservancy gratefully accepted. For more information contact Hank at hankb@fortross.org or call or text 707-321-5783.
Remembering Lynn Rudy
We lost a towering member of our community this month with the passing of Fort Ross volunteer Lynn Hay Rudy. Her historic research has been invaluable in capturing the ranch era history of Western Sonoma County and Fort Ross in particular. She's contributed to many Fort Ross publications, and her books on the Salt Point Township are the authoritative guide to local history. It was Lynn Rudy who saw the value of the Call House during a time when Fort Ross State Historic Park was seen as a "Russian only" destination and ranch era buildings outside of the fort compound were being demolished -- Lynn decided the Call House needed to stay and through force of will alone put that building on the map. Over many years she meticulously furnished it with Call family artifacts and replicas, and then realizing she alone couldn't keep this going indefinitely, grew and indoctrinated a dedicated band of still-active volunteers to steward the house museum. Lynn will be missed but her legacy will outlive us all.
Fort Ross In the News
https://monkeysventures.com/fort-ross-ca-from-russia-with-love/