Fort Ross Bookshop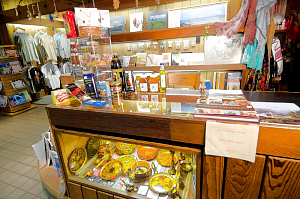 The Fort Ross Conservancy bookshop, located at Fort Ross State Historic Park, sells a fantastic variety of interpretive items relating to Fort Ross natural and cultural history. We stock a fine selection of books related to the park, in particular field guides to local flora and fauna, historical nonfiction, and a childrens' book section with stories that center around both the Russian and Kashia people.
In addition to specialty books, we carry a wide variety of Fort Ross and Russian-American memorabilia, t-shirts, and ball caps, as well as locally-sourced hand-made wool hats and sweatshirts if the weather turns on you. We make every effort to support the many local artists who live in our community by selling local jewelry and a great selection of notecards. Due to health laws we can only sell pre-packaged food and bottled water but we do have Russian sushki!
The staffers are all local with extensive knowledge of Fort Ross, so please stop by, say hello, and don't hesitate to ask them questions. All bookshop proceeds go to furthering interpretation and research at Fort Ross. Please contact us if you want to make a purchase. Email: info@fortross.org, Phone: 707-847-3437.