Alaska Native Day 2014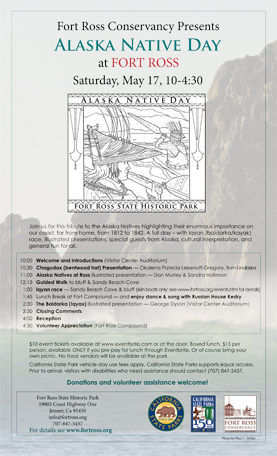 Two hundred years ago Fort Ross was a very busy place. The settlement was almost self-sufficient in producing what it needed. Ships were built, bricks fired, cattle raised, iron forged, and all things were traded with the Spanish. But one should ask: who were these industrious Fort Ross workers?

While the Russian leadership at Fort Ross is well known, it bears mentioning that Russians always numbered far fewer than the Alaska Natives and American Natives. Of the Alaska Natives, there were many from Kodiak Island, and several from outer Aleutian Islands. These Alaskans contributed greatly to Fort Ross, and yet we have not explored their story nor acknowledged their sacrifices. On May 17th, 2014, we launched what we hope will become an annual event at Fort Ross: Alaska Native Day, a tribute to the Alaska Natives highlighting their enormous importance on our coast from 1812 to 1842.


10am: coffee and tea, welcome and introductions
10:30am: Chagudax (bentwood hat) Presentation by Okalena Patricia Lekanoff-Gregory from Unalaska
11am: Alaska Natives at Ross, illustrated presentation by Dan Murley & Sandra Hollimon
12:15pm: Guided walk to the bluff and Sandy Cove
1pm: Iqyan race – Sandy Beach Cove & bluff (skin boats only! Race Map available)
1:45pm: Lunch in Fort Compound; Lunchtime "Spring Celebration" with our dear friends from Russian House Kedry!
2:30pm: The Baidarka (Iqyax), illustrated presentation by George Dyson
4pm: Reception in Visitor Center
4:30pm: Volunteer Appreciation Event and Potluck Dinner in Fort Ross Compound.



"It was a perfect day, and a really nice chance for everyone to connect and reconnect. I'll definitely be looking forward to next year!
— Marc Daniels, racer & founder of Make Access Iqyax Apprenticeship program in the Unangax villages of the Aleutian and Pribilof Islands

"It was great to see all the skinboat people and thanks for giving us an excuse to come up to this beautiful place on the coast. Also thanks for inviting the Alaska contingent. For so long their culture had been dismissed and officially suppressed. So it is good to have an event that celebrates and recognizes their culture".
— Wolfgang Brinck, racer
"The ride up Highway 1 from San Francisco was awesome, but, not as awesome as arriving: My first impression of overlooking Fort Ross was, "Wow, this is where possibly my ancestors, the Aleuts were taken over 200 years ago!" They were here with their kayaks/iqyaxs and wearing their glorious Aleut Bentwood hats and visors while paddling on the great Pacific Ocean seeking the Sea Otter "Chagudax" (pronounced Chaa-kuu-the). Amazing adventure, then and, especially Now!!! This venture was done in hopes to continue where my ancestors had traveled, and, some may have even perished down in California, or, even, more importantly, their may still be some Aleut descendants in the area! But, to revive the art of my people, the Aleuts: iqyaks and chagudax!!! "Qagaaskaung/Thank You"
— Okalena Patricia "Patty" Lekanoff-Gregory

Alaska Native Day 2014 – Photos By Paul C. Miller

Qagaaskaung!
We would like to thank the Aleut Corporation and Agnes Larsen Darnell Scholarship for sponsoring our inaugural Alaska Native Day at Fort Ross




We thank the Aleut Pribilof Island Association and Michael Livingston for their donations.
Lastly, we thank Lauren Peters, John Sperry, and all those who worked behind the scene to get this event on the calendar.

See You All Again on Saturday May 16, 2015!