DECEMBER 2019 ENEWS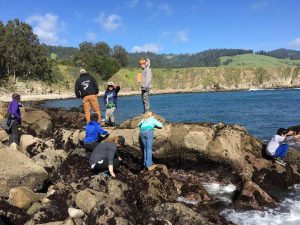 Dear friends of Fort Ross and Salt Point,
We are writing to ask for your support of Fort Ross Conservancy. We've taken on a lot of responsibility in running our parks, and we've been successful because of partnerships with people like you who support our work:
Fort Ross Conservancy provides 100% of the interpretation - think free talks and tours, brochures & Website, Newsletters, our Digital Library, and more - to help our visitors look beyond the buildings to understand the rich history of our parks.
Fort Ross Conservancy runs two Outdoor Education Programs that bring over 4,000 students to our parks where they can learn from the land and the history. We are committed to removing any financial barriers for those students who cannot afford to participate, and we fundraise mightily for the Fort Ross Education Fund to make sure all students have access to our programs.
Fort Ross Conservancy operates the Fort Ross bookshop and museum and the Salt Point visitor center.
Fort Ross Conservancy partners with California State Parks to manage the lands, including our current work to restore the marine terrace coastal prairie, and our ongoing work in the historic Fort Ross orchard where we've invested $130,000 in restoration.
Fort Ross Conservancy funds and organizes events year-round to support our diverse communities.
Fort Ross Conservancy coordinates Fort Ross Dialogue, an annual conference that brings together Russians and Americans for a day of conversation and collaboration.
Your donation makes a difference! We've been on the ground serving our two beloved parks since the mid 1970s. Please join us and be an active member of the Fort Ross Conservancy community. You can donate online at: https://www.fortross.org/donate.
As a small grassroots 501(c)(3) nonprofit we rely on funding from grants, programming, bookshop sales, and donations from our community. Working together, we can ensure our educational, environmental, and diplomatic work carries forward in the new year.
I always enjoy hearing from our friends and supporters. Send me an email and let's discuss how best to shepherd our public lands at Fort Ross and Salt Point.
Wishing you a warm and wonderful holiday season,
Sarah Sweedler
Fort Ross Conservancy CEO
PS: If you support FRC's work-- stewarding public lands, offering meaningful and accessible outdoor programming, and sharing the love of Fort Ross and Salt Point through newsletters like this, we hope you'll consider making a donation today.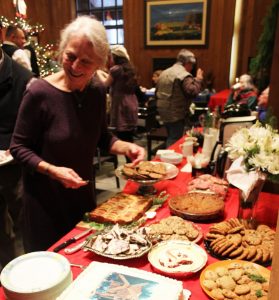 Saturday, December 14: COMMUNITY POTLUCK
12 – 3 pm at Fort Ross Auditorium
We invite our volunteers, friends, members, and local community to join us for a potluck, songs by local choir, and holiday melodies by Sylvia Murphy this Saturday, December 14th at noon.
FRC will bring a few hearty main dishes to share. Please bring a side dish, salad, or dessert for the table.
Questions? Email Sarjan Holt at sarjanh@fortross.org or call 707/847-3437.
Remembering Steve Pearce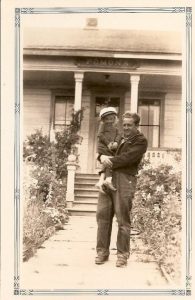 We are saddened to share the news that George W. Call descendant Steve Pearce passed away this week. Born in May of 1947, Steve was the son of Carlos Pearce and grandson of Ana
Rosa Call who was the eldest daughter of George Washington and Mercedes Call. He is survived by his wife Denise Pearce, son Jonathan Pearce, and sister Pam Heyman.
Steve has been a wonderful and generous friend to all of us at Fort Ross, sharing old photos and documents, explaining the purpose of ranch era artifacts, and telling stories that make the 1950s and '60s at Fort Ross feel like a whole different world. We are grateful that California State Parks recorded Steve and will incorporate his first-person accounts into the Fort Ross Cultural Trail interpretation.
Rest easy dear Steve, we will do our best to keep telling those family stories in your honor.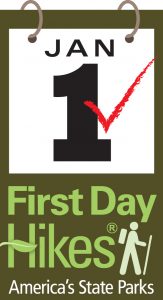 1st Day Hike - Gerstle Cove-Stump Beach
Wednesday, January 1, 2020 10:30 am – 2:00 pm
Salt Point State Park
The most exciting time of the year to see the wild beauty of the Sonoma Coast is mid winter, as the waves boom to shore, the dark clouds roil out over the Pacific Ocean and (thanks to our November rains) the first wildflowers begin to peep up. Even when the sky is moody and gray the ocean is alive. What better way to begin the year than a bracing hike right at the water's edge and then safely view the heavy breakers rolling in.
We will meet at the large day use parking area at Gerstle Cove (restrooms available) at 10:30 am. This is a mostly level easy hike on marine terraces north all the way to Stump Beach, which is 1.2 miles each way (with optional carpool return shuttle). We will pass by the tafoni honeycomb geologic sandstone formations Salt Point State Park is famous for and stop briefly by an arched rock. If the weather permits we have the added option to descend a narrow steep trail to Stump Beach and enjoy our bag lunches perched on driftwood logs at the sandy beach and then hike up a steep draw and through the woods (and up and over some downed trees) to a scenic overlook plus perhaps see the waterfalls at nearby Phillip's Gulch Creek. Plan for 3 hours round trip and a bit longer if we are able to ford Miller Creek at Stump Beach and continue north.
Please bring your own water, a bag lunch, layered clothing, sunscreen, headwear, hiking boots (be prepared for some possible brisk wind and seaside moisture) and if desired, optional hiking sticks, binoculars, and camera. Not recommended for kids under eight and – sorry – no dogs are permitted on Salt Point State Park trails, or on the beach. Hike co-leaders are California State Park's Susanna Barlow and Fort Ross Conservancy's Hank Birnbaum. California State Park parking fees apply. Salt Point State Park brochure & map link. Pair this hike with a 2:30pm Fort Ross Guided Tour & Tea.
For more information please email hankb@fortross.org or call 707-847-3437. For rain cancellation info, please email or call (707) 321-5783. Limited cell phone and wifi reception on the north Sonoma Coast.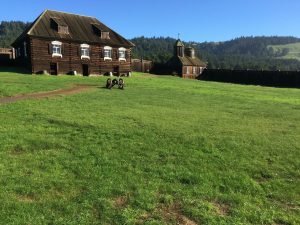 1st Day - Fort Ross Guided Tour & Tea
Wednesday, January 1, 2020
2:30-4:00pm
Fort Ross State Historic Park
$10/person
Learn the inside stories of Fort Ross, featuring a guided tour through the fort compound, behind locked doors, including an introduction to surrounding neighborhoods and the Kashia Pomo, Russian and Ranch eras. Following our hour-long tour, let's sit down at the samovar for a cup of hot tea before you hit the road. Meet at 2:30pm at the Fort Ross Visitor Center. $10/person plus California State Park parking fees apply. Tour led by Fort Ross Conservancy's bilingual (English and/or Russian) guide Hank Birnbaum. Pair this tour with a morning Salt Point First Day Hike. Email hankb@fortross.org or call (707) 847-3437.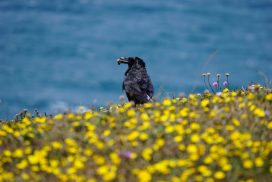 Birding at Fort Ross
With Christmas right around the corner, join 120th year of the Audubon Society's Christmas Bird Count! There are scheduled counts all over the US, so anywhere you might travel to visit friends and family, there's a birding adventure for you.
This was another excellent year for birders at Fort Ross. If you're one of the lucky few to be on the park grounds regularly (or if you follow us on Instagram), you'd notice the changing of the seasons and with them, the ebb and flow of migratory birds. Being situated at the convergence of sea and shore, Fort Ross staff and visitors often get the best of all worlds in our binocular viewfinders. From shore birds to pelagic species, and of course, so many land birds, there's always a birding mystery to ID.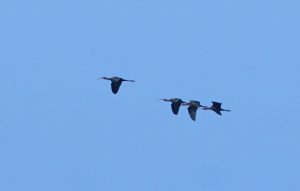 In 2019, we observed a few species rarely, if ever seen at Fort Ross. In April we observed a juvenile Bald eagle flying over the Call Picnic area. It was magnificent! Four White-faced ibis flew across our path out near Sea Lion Rocks during our August Beach Watch survey - according to iNaturalist data, white-faced ibis are rare here, more often observed in the central valley and in shallow wetlands.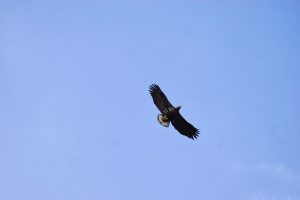 While eBird, Beach Watch and iNaturalist all call the Rhinoceros auklet a resident, if you look closely at their maps it shows this species is most often seen farther offshore. This year we have had Rhinoceros auklets along our shores since August and two pairs in Fort Ross Cove since October 21st!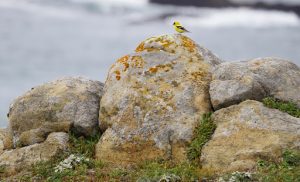 On any given day when walking the grounds, you're likely to see dozens of species!
We have a lovely book in our Fort Ross library authored by a Mr. Richard Merris. On June 18th, 1995, he walked a combination of forest meadow, deep forest and coastal bluff to observe 48 species! Let's see if we can beat that! With so many habitats in our park of 3,400 acres, one could easily compile a longer list than even Merris!
Next time you're visiting the park, start an eBird tally sheet of all the species you see in a day and let us know what you find.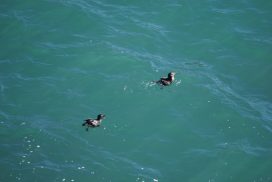 We hope you visit us in 2020 and share your birding sightings and stories with us through email or on social media. Until then, Happy Holidays and Merry Birding! --Song Hunter, Director of Programs