JULY 2021 ENEWS
Dear friends of Fort Ross and Salt Point,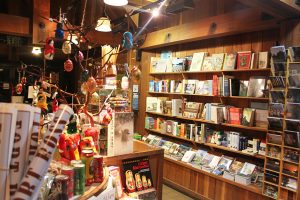 July is waning and this month's just-under-the-wire enews has an interesting story about Jack London's 1911 visit to Fort Ross. London was beloved to Russians and apparently mandatory reading during the Soviet era due to his socialist leanings. For decades, we would often welcome Russian travelers making the journey to both Fort Ross and Jack London as part of their American itinerary, and this makes London's descriptions and photo essay of his Fort Ross visit all the more interesting.

While we are not seeing many international travelers these days (Covid makes travel problematic, and for Russian citizens it's also nearly impossible to get a US visa), summer at Fort Ross and Salt Point is still very busy! We are welcoming many visitors, mostly folks road tripping Highway One or people escaping the inland heat. Our sweet Fort Ross bookshop has been bustling, with record-breaking sales of matryoshka dolls, pysanky eggs, sweatshirts for those ill prepared for our changeable coastal weather, and books, books, books! We appreciate all the support and we are grateful that folks want to get outside and enjoy their public lands. All trails are open, we are offering both private and group tours, our museum and bookshop are open (but please wear a mask inside), and Salt Point camping is open too, if you can snag a reservation. Air quality has been great and fire season thus far uneventful, thankfully!
Looking forward to seeing you on the coast,
Sincerely,
Sarah
Sarah Sweedler
Fort Ross Conservancy CEO
sarahs@fortross.org

---
'Log-bastions, church, and stables hold their own' - Jack London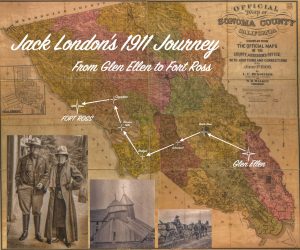 Ninety years ago world-famous classic Jack London and his wife Charmian visited Fort Ross while taking a 1,500 mile, three months-long, quad horse-powered wagon round trip from their Glen Ellen estate in Sonoma County to Bandon, Oregon.
The "midlife honeymoon" journey was a much-needed distraction for the couple who had recently lost a child. Charmian gave birth to the family's only child, Joy, on June 19, 1910, but due to complications during the birth, the baby only survived 38 hours. The excursion was also a working vacation, as Jack would write several short stories which Charmian typed along the route and mailed off to publishers from little towns along the road. Yoshimatsu Nakata, the couple's "loving and beloved shadow," who worked for London as his valet from 1907 to 1915, accompanied the couple on this holiday. Prince the "Love-Horse," Sonoma Maid, Gert, and "Milda the Rabbit" gallantly galloped an average of 30 miles a day to take Jack and Charmian over new horizons which offered plenty of inspiration for London's creative genius.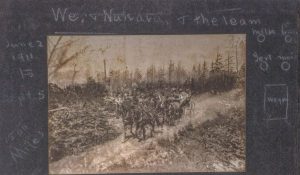 "Watching him in this phase, exhilarated with the youth and beauty of the summer world of outdoors, I caught myself thinking of him as driving a team of stars; for he harnessed the very stars to do his work—his lines reaching to the stuff of which the stars are made," Charmian would recall in her The Book of Jack London.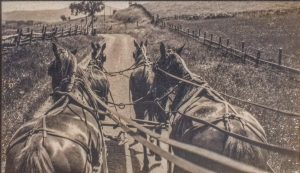 After leaving Glen Ellen on June 2, 1911, the couple headed to Santa Rosa and then Sebastopol before arriving at Bodega. The town of Bodega was known historically as Bodega Corners or Bodega Roads, to distinguish it from the Port of Bodega or Bodega Bay which is about four miles from Bodega. This area was first settled by the Russian American Company in 1809 who established temporary settlements at Bodega Bay and the Salmon Creek Valley, in the vicinity of Bodega. "Farther up the coast, in Sonoma County, we pilgrimaged to the sites of the Russian settlements. At Bodega Bay, south of what today is called Russian River, was their anchorage, while north of the river they built their fort," Jack London wrote in "Navigating Four Horses North of the Bay '' published in Nature in 1911.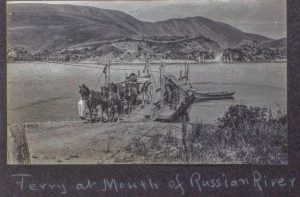 Continuing their journey north, the coach crossed the Russian River using the ferry service operated by Thomas Bascom and Charles Nolan to reach Duncans Mills, Cazadero, and finally Fort Ross.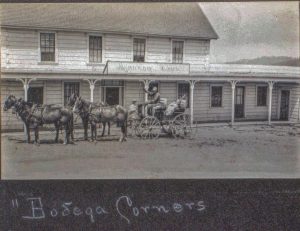 London loved the ride. "The coast weather was cool and delightful, the coast driving superb. Especially in the Fort Ross section did we find the roads thrilling, while all the way along we followed the sea. At every stream, the road skirted dizzy cliff-edges, dived down into lush growths of forest and ferns, and climbed out along the cliff-edges again. The way was lined with flowers–wild lilac, wild roses, poppies, and lupins. Such lupins!–giant clumps of them, of every lupin-shade and color," London told his readers.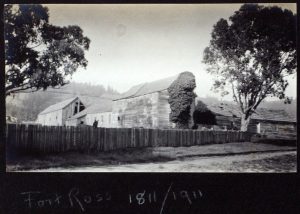 It had been nearly a century since the Russians established Fort Ross in 1812 on ancient Kashia lands when Jack London reached the historic fortress. The former glory of the Russian American settlement had withered away but London and his wife were still impressed with what they saw. Snapshots of their stay at Fort Ross are now preserved in the "Navigating Four Horses" family album at the Huntington Library.
While at the Russian American Company's settlement, the couple stayed at the former Fort Ross Hotel, historically known as the Rotchev House, which officially stopped accommodating guests when George W. Call, the last private owner of Fort Ross historic compound, sold the fortress to the California Historical Landmark League in 1903. When Jack and Charmian arrived in 1911, the Rotchev House and the 2 story annex was cared for by Samuel and Bell McKean. Their children, Muriel and Albert McKean, are pictured by London playing with the dog outside of the Rotchev House, which shows signs of deterioration.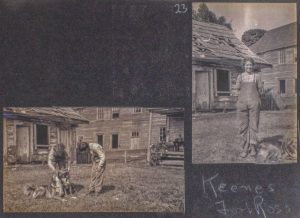 Built in the late 1830s for the last Fort Ross manager Alexander Rotchev and his wife Princess Elena Gagarina, the house seemed to be in better condition than the rest of the dilapidating Russian structures. The writer was especially impressed by the double-sided fireplace that dominated one room, the most finely-crafted element of the entire house, which was probably added after the Russians left the coast in 1841. Constructed of hewn and carved sandstone blocks, the large fireplace is not a typical Russian design, as the Russians preferred a traditional hearth called the "pech" of brick construction.

"Much of Fort Ross still stands. Log-bastions, church, and stables hold their own, and so well, with rusty hinges creaking, that we warmed ourselves at the hundred-years-old double fireplace and slept under the hand-hewn roof beams still held together by spikes of hand-wrought iron," London wrote in "Navigating Four Horses North of the Bay" published in Nature in 1911.
Unfortunately, that was the only Fort Ross excerpt London has left behind of his trip. But fortunately, the collage of photographs taken at Fort Ross in 1911 survives to this day. The bulk of pictures depict the ruined Fort Ross chapel which collapsed following the 1906 earthquake, the decrepit blockhouses, and the Rotchev House.
After leaving Fort Ross, the couple headed north to Oregon before returning to Sonoma in September 1911. Memories from this trip eventually found their way into a number of short stories and a family album which includes a small pictorial vignette of Fort Ross.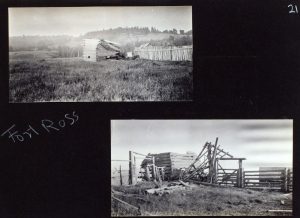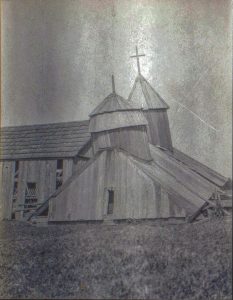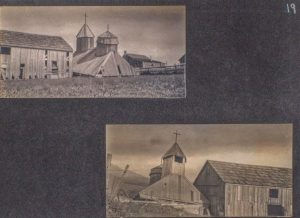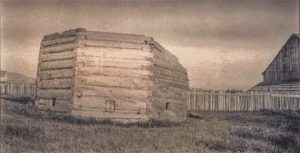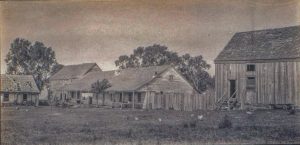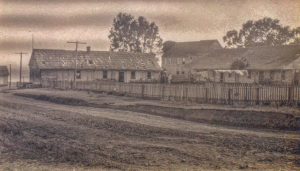 -- Igor Polishchuk, Director of External Relations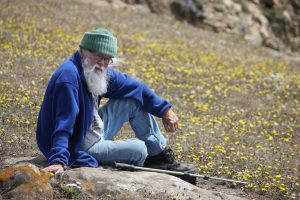 It is with sadness that we announce the loss of our good friend, Dr. Joe Mortenson (1941-2021). Joe​ was a marine biologist who co-authored ​the important reference book ​Field Guide to Marine Mammals of the Pacific Coast​.​ He ​began monitoring the Steller sea lions of Fort Ross in the '90s​ ​and​ ​was a key founder of Fort Ross Conservancy's Sea Lion Survey Project.​​ Joe's love of th​e ocean, and​ the animals ​who call it home, was deep and infectious. ​ We will miss ​him dearly and ​feel honored to carry on his ​important sea lion monitoring work​​. So long, Joe. May you rest peacefully from your heavenly haulout!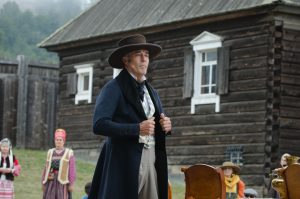 We are deeply saddened to share that our dear friend and dedicated volunteer Tony Balsa has passed. Tony was larger than life, always curious, quick to laugh and with a big and generous heart. He regularly popped by the FRC offices bearing donuts or tiramisu, ready to share whatever history book he was reading. He was a big presence at Fort Ross Festival, dressed as the dapper Frenchman Duhaut-Cilly and rockin' those statement sideburns, game to folk dance with Kedry. He opened his home to many volunteers who needed a place to stay while visiting Fort Ross. Tony was a good human, generous and gracious. May he rest in peace.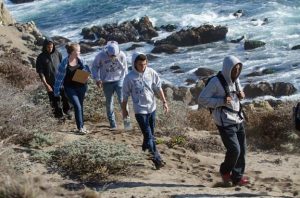 Visit Fort Ross and Salt Point - Book a Private Tour Today!
It's a great time to visit Western Sonoma coast - the hills are still green, the wildflowers persist, and while this season can be a bit windy, we are seeing migrating humpbacks and plenty of marine mammals.

FRC offers private and group tours at both Fort Ross and Salt Point. Both of these locations are rich in human stories and natural history, and starting your visit with a private or group tour can help you more deeply understand the landscape and history.
The Fort Ross museum and bookshop are open seven days a week.