OCTOBER 2021 ENEWS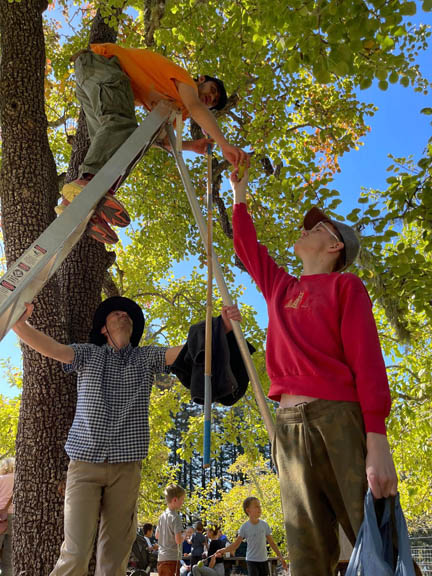 Dear friends of Salt Point and Fort Ross,
It feels good to have weathered most of 2021, and to acknowledge that we've made it through nearly two years of not-normal nonprofit operations. While it hasn't been all smooth sailing, we are ending the year feeling optimistic about what lies ahead, and we have our fantastic community of supporters to thank for that optimism. I want to acknowledge my incredibly smart and loyal staff for constantly responding to the changing winds, and I'm also grateful to the Fort Ross Conservancy board for steering us through this potato patch of a year. I send a big shout-out to the teachers who are now slowly climbing aboard outdoor programming and the joy of the old fashioned in-person field trip. Our members, volunteers, and sponsors believe in our mission and support us by donating their valuable time, funds, and expertise. And lastly I want to thank California State Parks and our district leadership for partnering with us on a co-management agreement. We finished the year fairly shipshape.
This month we successfully celebrated Harvest Festival, and the day brought plenty of sunshine and beloved visitors to the historical orchard started by the Russian American Company over 200 years ago. It was truly the perfect sunny Saturday to be picking pears and apples amidst the turning foliage and the sounds of Kedry singing under the shades of yellow and green. Our visitors clearly understand the value of a Fort Ross Gravenstein apple as over 500 people attended.
On a more administrative note, we've been co-managing Fort Ross for some six weeks, and the processes are starting to fall into place! Around spring of 2022 we'll be working with State Parks to get Reef Campground open, which FRC will also co-manage. We are grateful for the new staff who've joined FRC to help us make this happen.
A few important updates: We've launched our new website at www.fortross.org and we invite you to take a look around. We're still tweaking the site but we hope you find it appealing and accessible. Our digital library got an upgrade and continues to expand. We've added a section on Salt Point, including camping, trails, and natural history, and we know there's more Salt Point content to cover. Next up we will make our enews more visible so readers can locate all the great stories our team has put together over the years. (For example this issue has Igor's quirky tale on how the first automobile at Fort Ross probably came off a sunken ship… clearly a story worth referencing in the future.)
I hope you are getting outside to enjoy the changing season and the greening of our California hills. It's gorgeous and fresh and I highly recommend it.
Happy trails,
Sarah
Sarah Sweedler
Fort Ross Conservancy CEO
Virtual Fort Ross Dialogue: November 2, 2021
Virtual Fort Ross Dialogue 2021: Celebrating a Decade of Public Diplomacy
Our tenth annual Fort Ross Dialogue will take place on Tuesday November 2. Please don't miss this opportunity to register for this free online event organized by Fort Ross Conservancy in partnership with the Kennan Institute and sponsored by Transneft, Chevron and Sovcomflot.
Registration link: https://www.fortross.org/frd/registration
Details and timing for the Fort Ross Dialogue panel discussions are available on our website at https://www.fortross.org/events/2021/frd
Highlights of this year's conference include former Governor Jerry Brown in conversation with Russian Deputy Foreign Minister Sergei Ryabkov about the current state of US-Russian relations following the Geneva Summit. This will be followed by a fruitful discussion on the Arctic between Chairman of the Arctic Council Nikolay Korchunov and Dr. Michael Sfraga Chair of US Arctic Research Commission (USARC).
Russian American historical topics include a panel on California's early cattle hide trade, discussions with the Alaska Native community on the Fort Ross experience, and speakers discussing how material culture influences how historic stories are told.
The panels will be recorded and made available to those attendees who registered. We hope you will join us!
Questions? Email Igor Polishchuk at ip@fortross.org
Out of the Blue: First Car's Visit to Metini-Fort Ross?
| | |
| --- | --- |
| | |
| | |
Have you ever wondered when the sound of a car was first heard at Metini - Fort Ross? We know for a fact that Carlos Call purchased an Overland vehicle in 1915 from Santa Rosa and William Morgan, the assistant postmaster of Fort Ross, owned a car as early as 1914. But we don't know when the first engine roared over the hills of the historical wooden fortress.
For roughly 100 years after the establishment of the Russian American Company's trading outpost on the ancient lands of Kashia at Metini, the main lifeline between Fort Ross and the outside world was the ocean. Fort Ross' coastal waters deserve a special mention in local history as a witness to important developments of colonial California.
The Kashia encountered the "undersea people" at what later became known as the Fort Ross Cove - a little sanctuary that offered sustenance to Native Americans for thousands of years before the arrival of Europeans to Sonoma in 1812. When members of the Russian American Company landed upon the Kashia lands, Fort Ross Cove became the center of the first shipbuilding activity in the state, and a place where the Orthodox Christian faith arrived to the shores of what is now the continental United States. That is why it is not surprising at all, that it was the sea and the mysterious Fort Ross Cove that arguably revealed the first automobile to the ancient surroundings.
In the mid-19th century, newcomers to California came West by foot, horse, or ox-drawn wagons, or arrived by sea from across the world to take part in the Gold Rush. Horses, carriages, and trains became pivotal to the early Californian economy after 1850 before the automobile took over as the main driving force of growth. Early automobile owners were scarce but those who could afford the luxury became local celebrities overnight because of their newly- purchased and coveted status. In 1900 the Automobile Club of California was founded at San Francisco's Cliff House by a group of eleven "automobilists" to champion improving driving conditions through stricter traffic safety laws and improved roadways. Thousands invested in purchasing a vehicle to have the freedom to explore new horizons.
At the turn of the 20th century, traveling by stagecoach to and from Fort Ross was possible but the trip was burdensome as distances were long and roads were rough. It was also dangerous, with landslides and even encounters with outlaws such as Black Bart looming around the corner. For the Call family who lived at Fort Ross at the turn of the century, most of the communication with the outside world was by steamer ships that picked up the lumber, mail, and agricultural products produced in the immediate vicinity of the Call estate, to be delivered to San Francisco.
"Some days we sat on the steps of the front porch of the house and watched the heavy wagons pass, drawn by four or six horses, loaded with cordwood, tanbark, or posts and grape stakes. Some of the lead horses wore bells. We could hear them before the wagons rounded the corner," Laura Call Carr, wrote in her book My Life At Fort Ross, the Years 1877-1907. But Laura Call Car mentions no cars visiting Metini - Fort Ross prior to 1907.
| | |
| --- | --- |
| | |
| | |
Then in 1908, everything changed - the sound of the automotive engine was heard for the first time and it came from the most unlikely place, the sea, from a "machine" that spent days submerged underwater only to be dragged to shore and started in front of, what I believe was, a crowd of amazed spectators. ​​That engine sound came from a REO automobile made by one of the top four automobile manufacturers in the United States at the time. The vroom that came from the two cylinder, sixteen horsepower engine of the 1906 REO Model A, must have surely made an impact across the hills around Metini - Fort Ross.

The car came from the ill-fated steamer Pomona which was wrecked in Fort Ross Cove. The S.S. Pomona left San Francisco on March 17, 1908 for her last trip to Fort Ross but less than two miles before reaching the destination, the passenger and freight-carrying steamer hit a rock and drove a hole into its hull. Captain Charles Swansen decided to make a run for Fort Ross Cove where the ship was finally pinned on another submerged rock. All 147 passengers and crew survived the ordeal, and so did most of the freight -- including the automobile that was submerged for a number of days in up to ten feet of water. Although difficult to see, this photograph shows the retrieval of an automobile the Pomona had been carrying on deck.
| | |
| --- | --- |
| | |
| | |
The car was rescued by divers who placed the vehicle on rafts before delivering it to shore. A big team of horses from the Call ranch were then used to haul REO up over the steep incline to the road above.
The entire process was overseen by George E. Hoyt, an insurance agent of the Firemen's Fund Insurance Company of San Francisco. J, W. Leavitt, who owned the title to the vehicle, had a "floating" $1,100 insurance policy on REO and Hoyt was sent to recover the car from the depth of the ocean to process the claim. $1,100 was a hefty price to pay for the automotive luxury. For instance, an average male teacher salary in California in 1908 was $883 a year, while female instructors averaged a $659 annual salary.
| | |
| --- | --- |
| | |
| | |
The salvage vehicle came out of the water basically unharmed, with just a few dents and scratches and a damaged roof. But the car was in running order. "A short time after it was landed above Fort Ross, Hoyt drove it to Santa Rosa and made good time on the trip despite the fact that the roads are rough and hilly over on the coast," the Press Democrat reported on 26 March 1908. The car was later driven to Petaluma and to San Francisco in record time despite the lack of paved roads; California only built its first paved highway in 1912.
The news of Pomona's misfortune must have brought other cars to Metini-Fort Ross, especially those wanting to witness the shipwreck at close sight. One other car that we know visited Fort Ross in March 1908 was driven by Roy F. York, Vice President of Stearns Company - an American manufacturer of luxury cars in Cleveland.
"While at the Rule ranch (near Duncan Mills) they drove the Stearns car over roads in that section and climbed with ease, which Mr. Rule says 'a sensible goat would go hack on,'" the Press Democrat reported on 20 March 1908. "One of the trips made was over the Russian Gulch grade, which everybody knows is a tax on the stoutest kind of a vehicle, to say nothing of an automobile... While over on the coast the gentlemen, accompanied by Mr. Rule, drove over to Fort Ross and saw the wrecked steamer Pomona. They were glad of an opportunity, seeing that the disaster had occurred, of seeing a real wreck."

Whether the sea delivered the first car to Fort Ross will forever remain a mystery. But given the peculiar nature of Fort Ross and Metini and its ties to the ocean, that would not be surprising at all.
| | |
| --- | --- |
| | |
| | |
The harvest season is the perfect time to bring the magic of the outdoors home, by cooking nature-inspired dishes sure to warm the heart--and the stomach. If you'd like to bubble and boil up something delicious this fall but are not sure where to start, let me stir your culinary imagination with a little inspiration from Metini/Fort Ross' ample history and generous bounty.
Given the diversity of peoples and plants throughout Metini/Fort Ross' history, a whole cookbook could easily be devoted to covering the many foods that have been grown and gathered here--not to mention the countless recipes these foods can be used for. Rather than walking through every edible option, I'm going to serve up a sampler of harvest highlights to inspire you in the kitchen.
It's hard to think of anything more fall-like than the fall of acorns from mighty oak trees. Acorns from the native tanoaks (Lithocarpus densiflorus) have long been called the most desired acorn that can be gathered in this area (Gifford, pg 12). The hearty and nutritious meat from these acorns has been a staple food of the Kashia Pomo (also spelled Kashaya Pomo) for thousands of years. Fair warning: processing acorns from scratch can be a lot of work. They cannot be eaten raw, but, instead, need to be gathered, dried, sorted, cracked open, ground, and leached of bitter tannins to ready them for cooking. You can save time by using an electric coffee grinder to mash up your nutty acorn meat. However, using a traditional mortar and pestle can be quite a meditative and satisfying task, and a good deal of fun if done with friends and family.
Acorn flour or meal is mild flavored and wonderful cooked into a savory or sweet porridge, baked into a hearty loaf of bread, or turned into a scrumptious batch of griddle cakes. The young students of Metini/Fort Ross history who participate in the Environmental Living Program have the option of preparing and cooking acorn meal on an open fire in the Fort. You can check out the way these student gatherers process acorns here today, and perhaps try your hand at the acorn bread or griddle cake recipe included. If you're lucky enough to have any frozen or canned blackberries stored from the summer, these are a delicious addition to your griddle cake batter.
Oaks are not the only Metini/Fort Ross trees to provide good sustenance. The Fort Ross Orchard began during the Russian era with the planting of a peach tree in 1814. From there it grew with cherries, grapes, quince, apples, pears and more. By the time the Russian American Company decided to close the doors on its beloved Ross colony, they had planted 260 trees.
| | |
| --- | --- |
| | |
| | |
The story of the historic orchard continued on with the arrival of Fort Ross ranch era owner William Benitz. During Benitz's time (1845-1867), he planted hundreds of fruit trees, most notably an impressive variety of apple trees. The number of trees grew during George W. Call and his family's time owning and caretaking this land, as the Calls planted hundreds of apple, pear, olive and plum trees.
Today, during Fort Ross Conservancy's annual Harvest Festival, the greater Fort Ross community gathers in the historic orchard to pick the fruit of these generous apple and pear trees. Festival attendees also get to learn about the abundant orchard history from local volunteer Susan Zerwick. Susan is not only an all-star volunteer but a talented baker. For the next recipe idea, I'd like to share one of her favorite apple desserts: Joanne Chang's scrumptious Rustic Apple-Cinnamon Tart. If you'd like a sweeter tart, Susan suggests using a mix of pears and apples.
| | |
| --- | --- |
| | |
| | |
If apple tart doesn't tempt your tastebuds, you might prefer to try Russian Pear Pie "Pirog s grushami." Since students participating in the Environmental Living Program bring the Fort Ross kitchen fires back to life during their program, you can find this recipe and many others on our website.
While gathering your ingredients for your seasonal recipes, don't forget the pantry staples that make every meal mouthwatering--salt and butter, of course! What could be better than sea salt dried by the sun and carefully collected at Salt Point as the Kashia Pomo have done for many years? Freshly churned butter, on the other hand, is a more recent arrival. Between 1875-1899, the Call family dairy operation produced an average of 20,000 pounds of beautifully rich butter each year. You could say, both these ingredients are perfect seasonings for the season.
| | |
| --- | --- |
| | |
| | |
If all this talk of salt and butter is making you thirsty, you may wish to pair your culinary offerings with a good, medicinal brew. Try a delicious herbal tea made with the citrusy-flavored tips of the native Douglas fir tree (Pseudotsuga menziesii), or the tangy rose hips from either the indiginous California Wild Rose (Rosa Californica) or the introduced variety of roses found in the Call House historic garden. The high vitamin C content in either of these herbal teas can help give you a well-timed immunity boost. Afterall, you wouldn't want to let a seasonal cold or flu stop you from enjoying the fall beauty all around.
I realize I haven't offered you a well-balanced menu of fall recipes--although what could be tastier than pear pie and acorn pancakes topped with freshly churned butter? But, I hope these Metini/Fort Ross harvest season highlights whet your appetite and get you in the mood to cook up your own autumnal treats with the natural bounty around you.
To your good health, and your good taste!
--Charon Vilnai, ELP Program & Bookshop Manager,
Sea Lion Survey Project & Call House Museum Lead