Fort Ross Donor Benches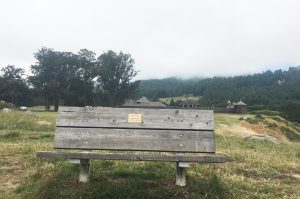 The bench plaque donation program was very successful. All eight benches are now claimed. We currently have no bench plaques available. We will re-start the program once the new benches are installed at the park. We thank to all the donors for their generous contributions.
Fort Ross Conservancy offers customized donor bench plaques at Fort Ross State Historic Park. Whether you select a bench location with a view of the Pacific Ocean or one nestled quietly in the trees, your personalized bench will provide years of recognition of the important people or occasions in your life.
Minimum donation for a donor plaque is $2,500.00, with payment to Fort Ross Conservancy.
Funding from the Donor Bench Program will help us provide interpretation at Fort Ross--this means the FRC team can continue to:
work the fort compound and Call House Museum to share their knowledge with visitors,
write and make available brochures on various facets of our park,
coordinate community service with the Scouts and school groups,
staff the visitor center and museum,
keep the www.fortross.org website updated,
organize all special events,
provide educational tours to visitors, and more!
Acceptance by Fort Ross of bench donation offers are subject to the terms and conditions on the application form.
Plaque Wording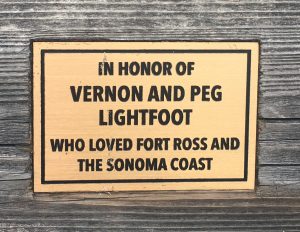 The bronze cast plaque is 4 inches by 6 inches with a maximum character count of 119 including spaces between the letters and line breaks, 7 lines maximum at 32 point font. All wording must be approved by Fort Ross Conservancy. No signs, symbols, or logos of any kind are allowed. If the wording on the plaque is deemed inappropriate, we cannot accept the donation.
Fort Ross Conservancy connects people to the history and beauty of Fort Ross and Salt Point State Parks. By supporting Fort Ross Conservancy you are ensuring our beloved public lands remain accessible, promoted, and preserved.