2012 Events at Fort Ross State Historic Park
January 1, 2012: First Day Hike
Show solidarity with state park enthusiasts across the country by participating in the Fort Ross First Day Hike on Jan 1. We'll get outside the walls of the fort as we explore a bit of our neighbor to the north – Salt Point State Park.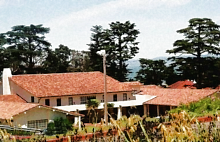 January 19: Kashaya Presentation at Presidio Golden Gate Club
Emilio Valencia, Tribal Historic Preservation Officer for the Kashaya Band of Pomo Indians of the Stewarts Point Rancheria, invites you to an open discussion on the history of the Kashaya, with traditional stories, and contemporary tales. The Kashaya People are from the land called Mettini, a place now called Fort Ross State Historic Park. Several members of the Kashaya Band will speak and answer questions.
We will discuss impacts of the Russian American Company, relationships between the Kashaya and Russians, Alaskans, and Creoles which changed the lives of the Kashaya People. Historic drawings and landscapes, as well as artifacts will be shown. Kashaya food will be shared. Please join us to hear this unique story.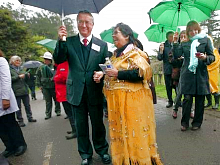 Kashaya Opening Blessing at Fort Ross
On Saturday, January 21, the Kashaya Band of Pomo Indians of the Stewarts Point Rancheria, in cooperation with Fort Ross State Historic Park and the Fort Ross Interpretive Association, gathered together for an Opening Blessing of the Fort Ross 2012 Bicentennial. The Kashaya welcomed Consul General Vinokurov of the Russian Federation, State Senator Noreen Evans, State Parks Director Ruth Coleman, Sonoma County Board of Supevisors Efren Carillo, Renova Fort Ross Foundation's Olga Miller, and many other guests to share food and ceremony.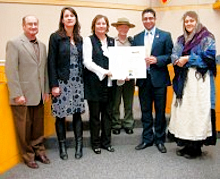 Fort Ross Receives Gold Resolution from Sonoma County Supervisors
How many bicentennials has California celebrated?
Not so many! And ours has just been recognized by Sonoma County's board of supervisors. Thank you, Supervisor Efren Carillo, for awarding a Gold Resolution to California State Parks and the Fort Ross Interpretive Association on the Bicentennial of Fort Ross State Historic Park.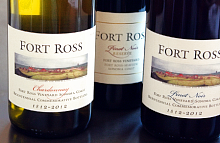 January 26, 2012: Thank You for Making Our 2012 FRC Fundraiser a Big Success!
We all enjoyed the sumptuous spread, lively music, award-winning pinot and chardonnay (generously donated by Fort Ross Vineyard and Winery), and of course, the wonderfully supportive crowd. We are certain that the success of our two big January events marks an auspicious beginning to 2012. Thanks to all who made this happen.

January 27: Lecture and Reception with Congress of Russian Americans
Come to a reception hosted by Congress of Russian Americans with presentations by Natalie Sabelnik, President of Congress of Russian Americans, and Robin Joy, Park Interpretive Specialist at Fort Ross SHP and co-chair of Fort Ross Bicentennial. Champagne and music to bring in the 2012 celebrations will be shared. Thanks to underwriting by Congress of Russian Americans, this event is free to the public. Held at the Russian Center, 2460 Sutter Street in San Francisco, from 6:00 PM to 8:00 PM; parking available across the street.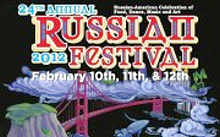 February 10th, 11th and 12th: Russian Festival
Visit the San Francisco Russian Center's 24th annual Russian Festival, a Russian-American celebration of food, music, dance, and art.
This year's theme is the 200th anniversary of the founding of Fort Ross and Russians in California.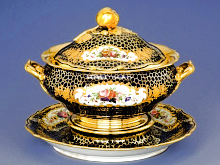 February 25: Opening Reception of the Tsar's Cabinet
Join Sonoma County Museum for an evening of live music, a vodka bar, and Russian-style appetizers, as it celebrates the opening of the exhibition, The Tsar's Cabinet: Two Hundred Years of Russian Decorative Arts under the Romanovs. Admission: Museum Members are Free. $15 for the general public. Feb 25, 2012 5:00pm – 7:00pm.
The Tsar's Cabinet runs from February 26 through May 27, 2012.


March 15: From Russia to California Lecture
Rancho Bodega Historical Society presents Professor Serge Doroshov from the UC Davis Bodega Marine Laboratory. This presentation will highlight the science endeavors and accomplishments of the Russian American Company. Event starts at 4pm at the Bodega Marine Laboratory.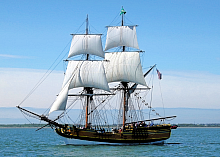 April 4 – April 9: Lady Washington Tall Ship Visit to San Francisco
From April 4th through 9th the tall ships LADY WASHINGTON and HAWAIIAN CHIEFTAIN will visit Bodega Bay, or Port Rumiantsev. Throughout the week the crew will offer day sails from Bodega Bay and visits aboard ship. Russian Navy long boats, baidarka re-constructions, and traditional small craft will be in the bay and on display. An exhibit of artifacts from "Science under Sail" and historic charts/maps of Bodega Bay from Russian Archives will accompany lectures hosted by The Inn at the Tides. See Rancho Bodega Historical Society for updates.

April 21: SpringFest at UC Berkeley
The Edith Coliver Festival of Cultures "SpringFest" is an exuberant celebration of life and culture from around the globe. This annual event is held in conjunction with Cal Day, the UC Berkeley campus open house. This year, they have chosen Russia as the Country of Focus, and FRC is organizing the event.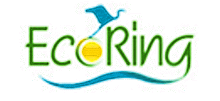 April 21: Earth Day at Jenner by the Sea
In addition to cycling, guided hikes, an electric car show, and live music, Earth Day at Jenner by the Sea (9am – 5:30pm) includes a ride in a historic Russian longboat, in honor of the Fort Ross Russian Bicentennial. Longboat rides available from 10am – 2pm only, $20. fee.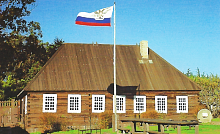 April 23rd – 27th: Fort Ross Conference
The Society of Living Traditions presents a five-day Bicentennial conference event, focusing on the area of Fort Ross from the establishment of the Russian American settlement to the present day. Scholars and tradition bearers will present Fort Ross research from historical, anthropological, and archaeological perspectives over 200 years.
Supporting events include: a pre conference tour of the State Archaeological Collections, Sacramento; Performance lunch; Fort Ross – Seaview AVA Wine Tasting; Banquet and Themed Historic Ball; April 27, Fort Ross Historic State Park tour followed by Fort Ross, a performance created for the Bicentennial by internationally acclaimed Liquid Theater Company (Moscow) in their US West Coast Debut.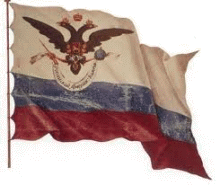 May 17: Natural History of the Russian American Company Era
Retired State Parks Ranger Dan Murley will be sharing his stories on the natural influences made during the Russian American Company era. Notable scientists and ethnographers studied the northern areas of California making many contributions of value today. Please join Dan as he highlights this era, giving special attention to the sea otter, with images, hands on opportunities, and stories of this fascinating time in California. May 17 – Dan Murley at the Golden Gate Club, Presidio, San Francisco, from 7pm to 8pm May 18 – Dan Murley at the Sonoma County Museum, 6pm to 8pm; SCM members $8; non-SCM members $10. May 19 – Dan Murley at Fort Ross, 1:30pm to 3:30pm. State Park day use fees apply.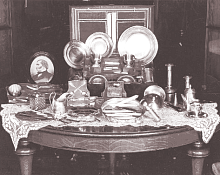 June 2: Vallejo's Silver Exhibit
The Society of California Pioneers will host a program to introduce the accounts of Spanish Mexicans and Russians in California, with an opening gala reception to be held June 2. The program will be presented by Martha Ann Francisca Vallejo McGettigan, great great granddaughter of General Vallejo and granddaughter of Francisca Vallejo McGettigan. The story of General Mariano Guadalupe Vallejo and the Princess Helena Gagarin will be presented to the music of Francisca Vallejo McGettigan.
An exquisite mahogany military chest, a gift to the General by the Russians, handed down through Francisca's family and now part of the Society's historical collection, will be on display. Martha Ann Francisco Vallejo-Mettigan. In addition, Vallejo's Silver exhibit will be on display at the Pioneer House in San Francisco. See the California State Park site for background on the relationship between Vallejo's silver and the Fort Ross colony.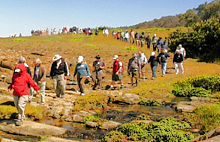 June 2: Twenty-five Mile Walk to Fort Ross
Would you walk a mile for Fort Ross? How about 25 miles? Sonoma County Historical Society will sponsor its annual 25 mile hike to Fort Ross. This hike will walk the hills above Fort Ross, highlighting some historic places along the way ending at Fort Ross for a BBQ and presentation by park staff. Contact lead Jeff Tobes to join.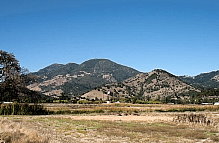 June 9: Hike up Mt Saint Helena
Join us for an ascent to the top of Mt Saint Helena to commemorate the climb by Ilya Voznesenski in 1841. Led by Robin Joy, Fort Ross State Historic Park, and Dan Murley, historian on local and Russian American History.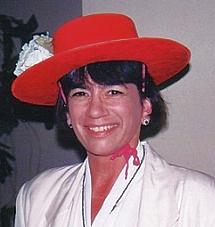 June 15 & 16: Lecture on Spanish / Russian Influences in California
June 15: Californian historian Martha Ann Francisca Vallejo-McGettigan will speak on the Spanish and Russian American Company influences in California, and how they tie into the Presidio's history. She will also share stories of her family, the Vallejos. Please join us as we learn more about this fascinating relationship of Spanish and Russians.
Sonoma County Museum, 6pm to 8pm. SCM members $8; non-members $10. June 16: Martha Ann Francisca Vallejo-McGettigan will give this lecture at Fort Ross State Historic Park from 1:30-3:30pm. Park entrance fees apply.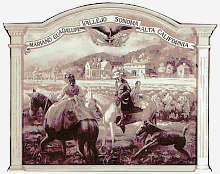 June 29: Evening Fandango — From Russia to Alta California with Love
Come join us for our last performance for the season: ¡FANDANGO XII! For the past eleven years, at the invitation of the Presidio Trust, Coro Hispano de San Francisco has been celebrating San Francisco's birthday with the music and dance of Hispano-Mexican California, each year with fresh songs, but all drawn from the cancioneros of the era of fiestas that would last a whole week-end. Each year, we've been rekindling that joy with love-songs, ballads, corridos for solo voices, for chorus and instruments – and danzas for the dancers; and always to a standing-ovation, standing-room-only crowd.
This year, music and dance from another and distant source: our invited artists are the Massenkoff Russian Folk Festival, who join us to celebrate the 200th anniversary of the arrival of the Russian American Company in 1812, on the shores of what is now Sonoma County. They bring balalaikas, bayans, dancers, and the glorious voice of world-renowned basso Nikolai Massenkoff. Afternoon Fun for Kids runs from 12pm to 3pm at the Presidio's Main Post.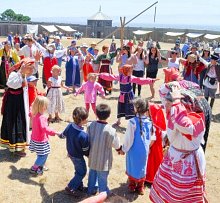 Fort Ross Bicentennial Weekend, July 28 & 29, 2012
Bicentennial Weekend Page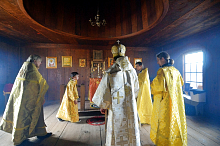 August 9 & 10: Between Heaven & Earth
Zoya Gradov brings together scholars and members of the Russian Orthodox choir to share and celebrate the history and rituals of the Russian Orthodox Church.
August 9 sponsored by Fort Ross Conservancy; August 10th sponsored by Sonoma County Museum. Entrance fees apply.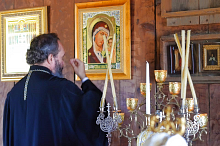 August 25: Fort Ross Bicentennial Russian Orthodox Con-Celebration
Please join us for this memorable spiritual, cultural and historic event where hierarchs and clergy of the Moscow Patriarchate, Russian Orthodox Church Outside of Russia, the Orthodox Church in America and other Orthodox jurisdictions will con-celebrate the Divine Liturgy in commemoration of the bicentennial of the establishment of the first Russian settlement in California at Fort Ross.
10:00 AM – Divine Liturgy, followed by a cross procession around the fort and to the cemetery where a memorial service and dedication of the bicentennial commemorative panels will take place. The Russian Orthodox community would like to thank Renova Fort Ross Foundation for their support of this historic event.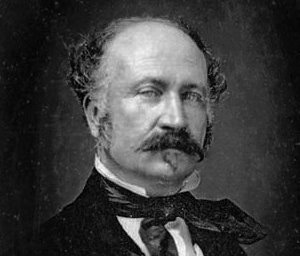 September 15: Lecture on Transition of Fort Ross to John Sutter
Transitions are by definition dynamic, and the sale of Fort Ross to John Sutter is no exception. Join Albert Hurtado, author of John Sutter: A Life on the North American Frontier and Travis Chair in American History, University of Oklahoma, for a lecture on Sutter's purchase of Ross, and the interactions between the Russians and Sutter in the years that followed. San Francisco Public Library, Main Branch, 2pm to 4pm. This event is free to the public.
For more information call 707-847-3437.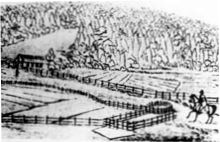 October 18: Settlement Ross and the Missions: A Breadbasket for Russian Alaska
7:00 PM The Presidio, Golden Gate Club, 135 Fisher Loop, San Francisco. Learn about Fort Ross and its early 19th century role including the farms, ranches and grain fields extending inland along the Russian River and the active trading between the Russians and the Spanish and Mexicans to secure foodstuffs for Russian settlements in Alaska. Presentation by Hank Birnbaum, Fort Ross Conservancy Programs Manager. For more information, see the Presidio website.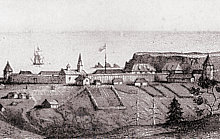 October 19: Beyond the Fort: The Ranches, Port & Hunting Station of Settlement Ross
6:00 PM Sonoma County Museum, Santa Rosa. Early 19th century Alta California hosted the Russian American Company not just at Fort Ross, but also inland farms, ranches, orchards and grain fields, Port Rumyantsev (Bodega Bay) serving as the Russian port, and a hunting station on the Farallon Islands. Presentation by Hank Birnbaum, Fort Ross Conservancy Programs Manager.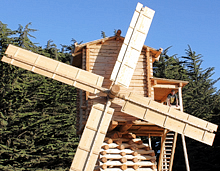 October 20: Fort Ross Harvest Festival
For this year's bicentennial Harvest Festival we will unveil the Fort Ross windmill, a full-size replica gifted to Fort Ross by Link of Times, a Russian-based cultural and historical foundation chaired by Viktor Vekselberg. The windmill was constructed by artisan craftsmen in Russia and shipped to Fort Ross for assembly.
2012 Fort Ross Harvest Festival Brochure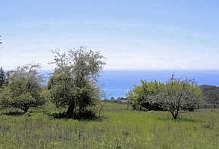 Oct 27, 2:30pm: Lecture on Fort Ross Historic Orchard
Susan Rudy will be giving a talk on the historic Fort Ross Orchard at Fort Ross Visitor Center, Saturday, October 27th, at 2:30. Her talk will focus on the Russian and American Ranch Era and the contemporary efforts to preserve this historic legacy. Working with the Fort Ross Conservancy, Susan has received $84,518.00 from Renova Fort Ross Foundation to stabilize and protect the historic Fort Ross orchard. We are tremendously grateful to both Susan and the Renova Fort Ross Foundation for their vision and dedication to protect this vulnerable living resource.
November 11: Fort Ross Community Picnic at Stern Grove, San Francisco
Fort Ross Conservancy and RussianEvents.org present Fort Ross in the Park Community Potluck & Party at Stern Grove, San Francisco 10:30am – 3:30pm. Seventy five years ago the wider Russian American community threw a party (Russian Yarmarka) in San Francisco's Stern Grove.
They were celebrating the construction of the Golden Gate Bridge, and many expressed particular pleasure that the new bridge would allow them to visit Fort Ross more easily.
We would like to emulate that celebration by inviting our friends and supporters to join us at Stern Grove on November 11, 2012, to celebrate the many places that draw us together, including the bridge's anniversary and of course 200 years of Fort Ross. This is a free, casual, family-style affair. There will be Russian song & dance, a bbq on which to prepare food (please bring something to barbeque), and an interior space for educational exhibit materials. We hope to make new friends, discuss future projects, and generally enjoy what has been an exemplary year for California's wider Russian community.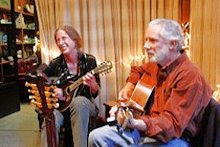 December 8: Annual FRC Board Meeting, Community Potluck, & Volunteer Awards Ceremony
Please join us at the Fort Ross Visitor Center auditorium for our annual community potluck where we'll show our appreciation for both our Fort Ross Conservancy and California State Parks volunteers. Enjoy live music, good food, and a slide-show retrospective of our historic bicentennial year. The FRC board meeting runs from 10:30am — 12:30pm; the community is welcome to attend. The potluck starts at 12:45pm. We will provide several main meat entrees, so please bring sides, salads, and beverages to share.