Fort Ross Harvest Festival 2014
October 18th, 2014
Harvest Festival 10am - 5:00pm
Fort Ross State Historic Park
Harvest is the time to enjoy autumn's fresh air with friends and family, acknowledging all that the seasons provide us. Harvest Festival starts out with a morning of gentle apple picking in the historic orchard, where we'll harvest fruit while enjoying the Eastern European harmonies of Kitka's Women's Ensembles and Russia House Kedry. The celebration then moves to the historic Fort Ross compound where we'll enjoy the old-world charm of the 19th century Russian settlement.
FORT ROSS HARVEST FESTIVAL
Saturday,October 18, 2014
Schedule (Rain or shine)
Morning in the Orchard
9:15-12:30 Van Shuttle: VC-orchard-VC, (12:30-5:15: VC-fort-VC)
10-11:30 Apple Harvest in Orchard - Harvest Songs – Kedry and Kitka singing
11-11:30 Fort Ross Orchard Talk – Susan Rudy, FRC Orchard Specialist
Midday at the Windmill & Beyond
12-4 Horse & Carriage Ride (between windmill & Fort Compound)
11:45-12:15 Windmill Presentation & Turning
Hank Birnbaum and John Sperry, Fort Ross Conservancy
Rob Grassi, Bale Grist Mill
10-3 Early Day Gas Engine & Tractor Assoc. (Branch 31) – Upper parking lot
Interpreting early California Ranch Era equipment
Afternoon in the Fort Compound
12-4 Juicing, Baking, Craft Demonstrations & Children's Activities – pumpkin carving too!
1:00 Storytelling Time – Georgia Churchill (Meet outside Fur Warehouse)
1:30 Harvest Circle Ritual, Songs, Dances & Games – Kedry & Kitka
2:15 Fort Ross History Presentation & Fur Warehouse Tour (meet at Fur Warehouse)
Robin Joy Wellman, California State Park Interpretive Specialist
Hank Birnbaum, Fort Ross Conservancy, Programs Manager
2:45 Kitka Women's Ensemble Concert - (Chapel and then Fur Warehouse)
3:30 Cannon Presentation
Afternoon on the Ocean Terrace
11-5 Seasonal Food – Ocean Terrace – Various food vendors
12-4 Fort Ross-Seaview AVA Wine Tasting
1-3 Harvest Festival Grand Luncheon – advance tickets required
4:00 Circle Dances & Songs - Kedry
4:30 Su Nu Nu Shinal Kashia Pomo Dancers
Special Event Fees
Harvest Special Event Fee: $20 per car (includes $8 State Parks fee).
Special event bus fee for small capacity (24 person or fewer) bus: $100.
Special event bus fee for large capacity (greater than 24 person) bus: $225
If you'd like to volunteer at the festival, email us at info@fortross.org. - four hours of volunteering gets you free admission to the Harvest Festival.
California State Parks supports equal access. Prior to arrival, visitors with disabilities who need assistance should contact (707) 847-3437.
Questions? Email us at info@fortross.org, call us at 707/847-3437.
And back by popular demand, Fort Ross-Seaview Wine Tasting and Luncheon -- see below.
Harvest Festival 2014, Fort Ross Conservancy
[nivo_image_slider id='3299']
Fort Ross-Seaview Wine Tasting & Grand Luncheon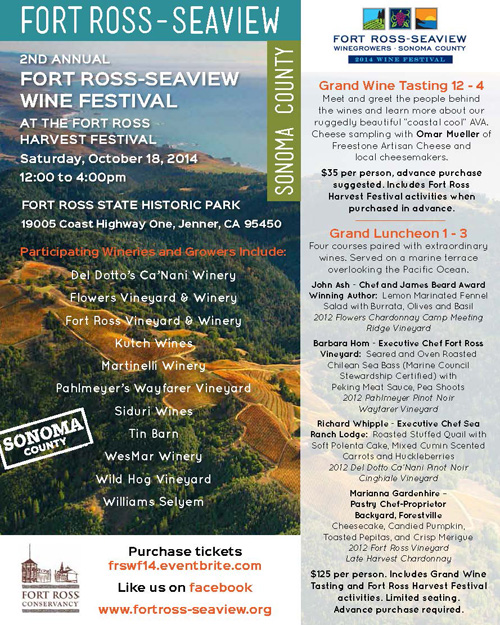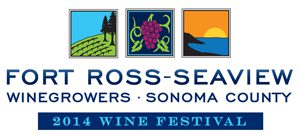 The Fort Ross-Seaview Wine Festival, in collaboration with Fort Ross Conservancy, introduces the grapegrowers, wineries and winemakers who produce and vinify the grapes grown on the steep ridges of the Sonoma Coast, overlooking the Pacific Ocean.
Grand luncheon (1pm-3pm, $125 per person): Enjoy a four-course luncheon served on a marine terrace overlooking the Pacific Ocean. Each course is prepared by renowned coastal chefs using locally-sourced ingredients selected from the bounty of Sonoma. Limited seating, advanced tickets only through Eventbrite.
Lunch includes:
Entrance to Grand Wine Tent (open from 12pm - 4pm),
Four-course meal with five specially-paired glasses of award-winning wines from the steep ridges overlooking the Sonoma Coast, and
Entrance into Fort Ross State Historic Park, with parking
Access to the day's Harvest Festival entertainment.
Grand Luncheon Menu
John Ash - Chef and James Beard Award Winning Author: Lemon Marinated Fennel Salad with Burrata, Olives and Basil
Barbara Hom - Executive Chef Fort Ross Vineyard: Seared and Oven Roasted Chilean Sea Bass (Marine Council Stewardship Certified) with Peking Meat Sauce, Pea Shoots
Richard Whipple - Executive Chef Sea Ranch Lodge: Roasted Stuffed Quail with Soft Polenta Cake, Mixed Cumin Scented Carrots and Huckleberries
Marianna Gardenhire – Pastry Chef and Proprietor Backyard, Forestville: Cheesecake, Candied Pumpkin, Toasted Pepitas​, and Crisp Meringue
Grand Wine Tasting (12pm-4pm, $35 per person): Presenting a remarkable selection of wines grown in the FORT ROSS-SEAVIEW VITICULTURAL AREA that consists of the steep ridge top vineyards that overlook the Pacific Ocean and produce wines of structure, balance and finesse. Advanced tickets available through Eventbrite or at the wine tent on the day of event.
Fort Ross-Seaview Winegrowers pouring at Harvest Festival 2014
Del Dotto Cinghiale Vineyard
Flowers Vineyard & Winery
Fort Ross Vineyards & Winery
Martinelli Winery
Pahlmeyer Wayfarer Vineyards
Siduri Wines
Tin Barn Vineyards
Wesmar Winery
Wild Hog Vineyard
Williams Selyem.
Growers Participating In The Fort Ross-Seaview Wine Festival
Blue Slide Ridge Vineyard (Martinelli Winery) Pinot Noir
Camp Meeting Ridge (Flowers Vineyard & Winery) Pinot Noir & Chardonnay & Pinot Meunier
Charles Ranch Vineyard (Martinelli Winery) Chardonnay
Cinghiale Vineyard (Del Dotto Vineyards) Pinot Noir & Chardonnay & Sauvignon Blanc
Coryelle Fields Vineyards (Tin Barn Vineyards) Syrah
Fort Ross Vineyard (Fort Ross Vineyard) Pinot Noir & Chardonnay & Pinotage
Hellenthal Vineyard (Hellenthal) Pinot Noir
Precious Mountain Vineyard (Donnie Schatzburg) Pinot Noir
Seaview Ridge (Flowers Vineyard & Winery) Pinot Noir & Chardonnay
Three Sisters Vineyard (Martinelli Winery) Pinot Noir & Chardonnay
Wayfarer Vineyard (Pahlmeyer Vineyards) Pinot Noir & Chardonnay
Wild Hog Vineyard (Wild Hog Vineyard) Pinot Noir & Chardonnay
Wild Thyme Vineyard (Martinelli Winery) Pinot Noir.
Photos from Harvest Festival 2013
FORT ROSS-SEAVIEW WINEGROWERS ASSOCIATION is an association of local grape growers and wineries dedicated to farming "coastal cool" grapes on the very edge of the continent. Here the vineyards are like islands in the sunshine above a sea of coastal fog that nips at their edges during the long, slow and temperate grape growing season. The maritime climate of the area is ideal for growing winegrapes of the highest caliber. The vineyards here produce pure, focused fruit with lively acidity, minerality and nunaced tannins. These exceptional grapes produce internationally acclaimed wines of balance, character, structure and finesse that tempt the palate with their elegance. See www.fortross-seaview.org or email us at info@fortross-seaview.org.