Fort Ross Harvest Festival 2015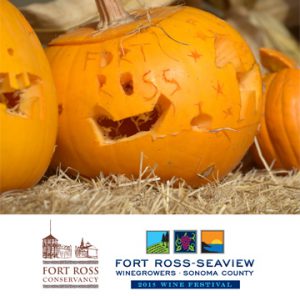 Harvest is the time to enjoy autumn's fresh air with friends and family, acknowledging all that the seasons provide us. Harvest Festival starts out with a morning of gentle apple picking in the historic orchard, where we'll harvest fruit while enjoying the Eastern European harmonies of Kitka Women's Ensemble and Russian House Kedry. The celebration then moves to the historic Fort Ross compound where we'll enjoy the old-world charm of the 19th century Russian settlement. Harvest Festival runs from 10am to 5pm.
Click here to download the Harvest poster.
Tickets are on sale at Eventbrite now!
Harvest Activities
In addition to the spectacular Fort Ross-Seaview Wine Tasting and Grand Luncheon, the day offers a wide variety of activities suitable for all ages:
Song, dance, and gentle apple harvesting in the historic orchard
Horse and buggy ride
Interpretive talks by dedicated experts on the historic orchard, replica windmill, and the Alaskan marine history at Ross
Working demonstration of replica Russian-style windmill
Demonstration boat build of a traditional nigilax, an open kayak used by the Alaska Natives at Fort Ross
Food trucks with delicious seasonal fare for sale
Local samples of heirloom apples, apple cider, apple baked goods, Sonoma cheese, and more
Su Nu Nu Shinal Kashia Pomo dances
Lovely Eastern European harmonies of Kitka Women's Ensemble
Russian House Kedry demonstrating old world Russian cooking, song, and dance
Alaska Native demonstrate their crafts
Historic Russian crafts, cannon firing, communal dances.
Schedule of Activities by Location
Morning in the Orchard
9:30-4 Van Shuttle: VC-Orchard (9:30-12:30), VC-Fort (12:30–4:00)
10-12 Apple Harvest in Orchard – Harvest Songs – Kedry and Kitka singing
11:30-12 Fort Ross Orchard Talk – Susan Rudy, FRC Orchard Specialist
Midday at the Windmill & Beyond
11:30-3:30 Horse & Carriage Ride (between Windmill & Fort Compound)
12:00-12:30 Windmill Presentation & Turning
Afternoon in the Fort Compound
12-4 Juicing, Baking, Craft Demonstrations & Kids' Activities – pumpkin carving too!
Early Day Gas Engine & Tractor Assoc. (Branch 31) – Interpreting early California Ranch Era equipment.
1:30 Russian folk songs, dance and ritual with Russian House "Kedry"
(Segment of traditional wedding ceremony)
2:15 Fort Ross History & Trade Presentation (in English & Russian) – Fur Warehouse
3:00 Kitka Women's Ensemble Concert – (Chapel & then Fur Warehouse)
3:45 Circle Dances & Songs – Kedry & Kitka
Afternoon on the Ocean Terrace
11-5 Seasonal Food – Ocean Terrace – International Food Bazaar
12-4 Fort Ross-Seaview AVA Wine Tasting – tickets available at the tent
1-3 Harvest Festival Grand Luncheon (advance tickets required)
1-1:45 Accordion Music with Roxanne Oliva
1:45-4:15 The Bootleg Honeys duo
4:15 Su Nu Nu Shinal Kashia Pomo Dancers
Visitor Center – Open All Day
Fort Ross Conservancy Bookshop in the Visitor Center offers great Fort Ross items for sale; enjoy the museum and our 18-minute introductory Fort Ross Video.




Grand Wine Tasting (12pm-4pm, $40 per person):

Presenting a remarkable selection of wines grown in the FORT ROSS-SEAVIEW VITICULTURAL AREA that consists of the steep ridge top vineyards that overlook the Pacific Ocean and produce wines of structure, balance and finesse. The Grand Tasting features local grape growers and winemakers, and a chance to meet and greet the people behind the wines.
Includes cheese sampling with Omar Mueller of Freestone Artisan Cheese and Sonoma County cheesemakers.
Wineries Pouring in the Tasting Tent
Flowers Vineyard and Winery – Michelle Forry
Flowers Chardonnay 2013 Camp Meeting Ridge Estates
Flowers Pinot Noir 2013 Camp Meeting Ridge Estates
Flowers Pinot Noir 2013 Sea View Ridge Estates 2013
Fort Ross Vineyard – Linda and Lester Schwartz
2013 Fort Ross Vineyard Chardonnay
2012 Fort Ross Vineyard Pinot Noir Special Cuvée "Top of Land"
2012 Fort Ross Vineyard Pinot Noir Special Cuvée "Stage Coach Road"
2010 Fort Ross Vineyard Pinotage
Kutch Wines – Jamie Kutch
Kutch Pinot Noir 2013 Sonoma Coast
Kutch Pinot Noir 2013 McDougall Ranch
Kutch Pinot Noir 2013 Bohan Vineyard
Martinelli Winery – Mary Rodgers
Martinelli Chardonnay 2009 Three Sisters Vineyard
Martinelli Chardonnay 2012 Charles Ranch
Martinelli Pinot Noir 2012 Three Sisters Vineyard
Precious Mountain Vineyard / Williams Selyem Winery
Williams Selyem Winery Pinot Noir 2013 Precious Mountain
Raen Winery
2014 RAEN Pinot Noir Fort Ross Seaview Home Field
Tin Barn Vineyards
Syrah 2012 Sonoma Coast, Coryelle Fields
Rose of Syrah 2014 "Joon" Rose of Syrah, Sonoma Coast, Coryelle Fields
Wayfarer – Cleo Pahlmeyer and Todd Kohn
Wayfarer Chardonnay 2013 Wayfarer Vineyard
Wayfarer Pinot Noir 2013 Wayfarer Vineyard
Wild Hog Vineyard – Daniel and Marion Schoenfeld
Wild Hog Vineyard Estate Pinot Noir 2011
Wild Hog Vineyard Estate Zinfandel 2012
Wild Hog Vineyard Cabernet Sauvignon 2009 Vista
Wineries at Luncheon Only
Piazza Del Dotto
Pinot Noir 2013 Fort Ross Seaview Sonoma Coast
Grand Luncheon (1pm-3pm, $125 per person):
Includes a four-course meal of seasonal fare expertly paired with wines from the area, prepared by renowned local chefs and served on a marine terrace overlooking the Pacific Ocean. Includes entrance to Grand Tasting and Fort Ross Harvest Festival activities. Grand Luncheon tickets are available by advance purchase only and will sell out.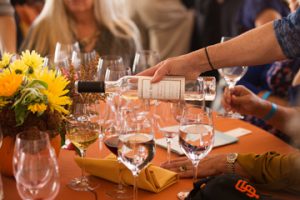 Grand Luncheon Menu
First course prepared by Barbara Hom
Trio of Corn: Chilled Soup of Corn Essence, Shellfish Oil
Corn and Crab Salad, Cherry Tomatoes, Arugula, Cilantro Lime Dressing, Chive Oil
Corn and Cheese Tuille
Wine pairing: Flowers Camp Meeting Ridge Estate Chardonnay 2013
Second course prepared by Andrew and Liya Truong, Michelin star chefs at Terrapin Creek Cafe
Marinated Black Cod served with sunchoke and potato puree, roasted mushrooms and celery
Wine pairing: Wild Hog Estate Pinot Noir 2011 and Fort Ross Pinot Noir Sea Slopes 2013
Third course prepared by Michele Anna Jordan
Grilled Sonoma County butterflied leg of lamb with extra-virgin olive oil, fresh garlic, smoked paprika, and a coriander and black pepper rub, accompanied by a warm farro salad with local Merguez, cherry tomatoes, local sheep milk yogurt, red onion, Italian parsley, smoked paprika and preserved lemon
Wine pairing: Piazza Del Dotto Pinot Noir 2013 and Wild Hog Estate Zinfandel 2012
Dessert prepared by Jamil Pedan, Applewood Inn
Buttermilk panna cotta with chardonnay poached quince, candied orange zest, puffed buckwheat, and brown butter
Wine pairing: 2013 Fort Ross Late Harvest Chardonnay
Special Event Fees
Tickets are on sale at Eventbrite now!
Harvest Special Event Fee: $20 per car (includes $8 State Parks fee) for General Admission to Harvest Festival – PER CAR- Does not include food or beverage
Wine Tasting $40 per person. Fort Ross-Seaview Wine Tasting Tent – includes general admission to Harvest Festival when purchased in advance
Grand Luncheon $125 per person. Must be purchased in advance; includes general admission to Wine Tasting Tent and Harvest Festival activities.
Special event bus fee for small capacity (24 person or fewer) bus: $100 – for entrance to Harvest Festival only
Special event bus fee for large capacity (greater than 24 person) bus: $225 – for entrance to Harvest Festival only
If you'd like to volunteer at the festival, email us at info@fortross.org. – four hours of volunteering gets you free admission to Harvest Festival.
California State Parks supports equal access. Prior to arrival, visitors with disabilities who need assistance should contact (707) 847-3437. We have one beach wheelchair available first come, first served.
Questions? Email Fort Ross Conservancy at info@fortross.org, call us at 707/847-3437. To see photos of past events or learn more, please see www.fortross.org.
FORT ROSS-SEAVIEW WINEGROWERS ASSOCIATION is an association of local grape growers and wineries dedicated to farming "coastal cool" grapes on the very edge of the continent. Here the vineyards are like islands in the sunshine above a sea of coastal fog that nips at their edges during the long, slow and temperate grape growing season. The maritime climate of the area is ideal for growing winegrapes of the highest caliber. The vineyards here produce pure, focused fruit with lively acidity, minerality and nuanced tannins. These exceptional grapes produce internationally acclaimed wines of balance, character, structure and finesse that tempt the palate with their elegance. See www.fortross-seaview.org or email us at info@fortross-seaview.org.
This event is underwritten by Chevron and Russian companies Sovcomflot and Transneft.