2015 Events at Fort Ross State Historic Park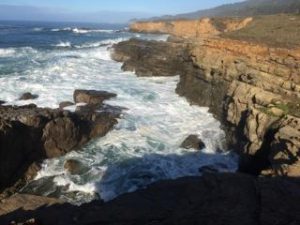 January 1st: Salt Point First Day Hike, 10:30 am
Step into the New Year hiking on our glorious Sonoma coast! This year's First Day Hike will be from Fisk Mill to Stump Beach, round-trip, in Salt Point State Park. Meet at the far northern trailhead at Fisk Mill. This moderate four mile, four hour hike, led by Fort Ross Conservancy's John Sperry & Tom Wright, features Sentinel Rock, bishop pine forests, ocean bluff vistas and the white sandy Stump Beach, our lunch stop. Bring hiking boots (be prepared for some moisture), binoculars, layered clothing and sack lunch. The hike is recommended for ages 10 and above and is cancelled if moderate or heavy rain. Park entrance fees apply. Sorry, no dogs allowed.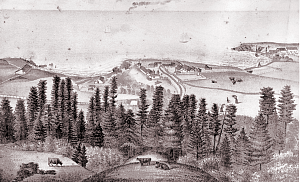 February 14th: Fort Ross Conservancy Members Only Annual Meeting
All Fort Ross Conservancy members in good standing are invited to join us for our annual meeting, held at the Fort Ross Visitor Center. If you would like to add an item to our agenda please contact Sarjan at sarjanh (at) fortross(dot) org or call us at 707/847-3437. We will send out an agenda at least 30 days in advance to all active FRC members.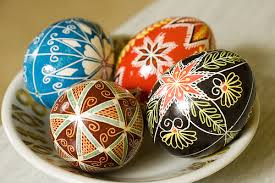 February 21st: Pysanki Egg Decorating Workshop, 1pm – 3pm
Join us for this FREE illustrated lecture on ancient folk art of Eastern European egg decorating, followed by a live demonstration by Lenka Glassner herself. We will have fresh goodies from Raymond's Bakery for sale. Original, one of a kind Pysanky eggs will be available in the Fort Ross Bookshop.
'Decorating hollowed chicken, duck or goose eggs is one of the few ancient still-surviving art forms of Eastern Europe. Styles, colors and techniques of decorating vary depending on the region. Well known Ukrainian Pysanky are made by applying bees wax on eggs in exact geometrical shapes. I use the etching technique of southern Moravia where, as a little girl, I learned the art from my mom, who learned from her mom. Even though primarily associated with Easter, decorated eggs were given year-round to communicate love and hope on special occasions as birth, death, wedding, anniversaries or graduations. I mix traditional technique of decorating eggs with my own contemporary motives. I'm proud to continue the long lived tradition of my people.' -Lenka Glassner
This event is brought to you by Fort Ross Conservancy. Donations gratefully accepted. Standard California State Parks kiosk entrance fees apply ($8 per car.)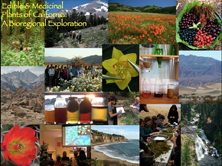 March 1st: Edible and Medicinal Plants of Sonoma County
Classroom Lecture and Field Exploration
10am – 4pm
Although best known for its famous vineyards and the non-native Vitis vinifera (Common Grape Vine), Sonoma County also happens to be home to quite a variety of other very useful but often overlooked native plants. From the mouth of the Russian River where it empties into the Pacific Ocean eastward to the top of Mt. St. Helena (at 4344'), one can witness a stunning array of botanical specimens growing within a number of different plant communities.
Join us as we explore the trails of Fort Ross State Historic Park with Tellur Fenner, clinical herbalist/educator and owner of Blue Wind Botanical Medicine Clinic and Education Center, while we learn about the many amazing and useful plants which grow here. The tickets for this event are available at Eventbrite.
During this workshop we will explore both the common and lesser known native/naturalized plants found growing throughout the region, with a focus on historical as well as modern use. This course will engage students through a combination of classroom lecture and field exploration. Topics/activities to be covered include: botany basics taught from a plant family perspective, plant identification in the field, medicinal/edible/utilitarian uses, California ethnobotany, ethical harvesting guidelines and information about at-risk medicinal plants, safety issues and tips on how to avoid toxic/poisonous plants, medicine making basics, sampling of a variety of medicinal plant preparations, and more! Please note that harvesting on State Park property is not allowed. For more information, please contact Fort Ross Conservancy Special Events Manager Sondra Hunter at songh@fortross.org 707.847.3437
Special event fee is $45/person, plus California State Parks fee of $8/car at the kiosk. Please carpool!
March 28th, 10:30am: Restoration of the St. Nicolas Holy Trinity Chapel: History and Techniques, 1812 thru 1974
Alongside the natural and cultural history stories of the place we now call Fort Ross is the history and personal stories of the construction, maintenance and restoration of the structures in the fort compound in the twentieth century. We are fortunate to have Maria Sakovich, a leading historian and independent scholar on the Chapel; Bruce Johnson, master craftsman who worked on the reconstruction; and Deva Rajan, lead contractor in the construction of the Chapel. Our presentation will start in the visitor center auditorium with a slide show and discussion from the people who contributed to the research and restoration efforts under the leadership of California State Parks, starting with the first restorations in 1916 up through the early 1970s. Leaving the auditorium, we'll head down to the compound with our presenters, where we can see the structure and discuss the building techniques with people who had a hand in the reconstruction.
Park entrance fees apply and there will be a special event fee of $5. Contact California State Parks interpreters at fortross.interp@parks.ca.gov for more information or call 707-847-4777.
April 4th, 1pm – 3:30pm: Fort Ross Redwoods; Save The Redwoods League Presentation and Hike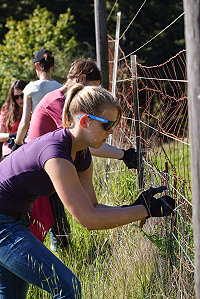 March 28th, 10am – 2pm: Park Champions Volunteer Opportunity
Feeling the volunteer spirit? Here's another chance to do good for your public lands: Help park staff and FRC prepare beautiful Reef Campground for its Spring opening by volunteering with CSPF's Park Champions. Brush back vegetation, clean sites, and replace sections of split rail fence. A light lunch will be provided.
Free camping in a group setting for registered volunteers at nearby Salt Point State Park available on Friday & Saturday nights. Kids 12+ welcome with legal guardian, community service hours available. Register at California State Parks Foundation.
Questions? Email us at info@fortross.org.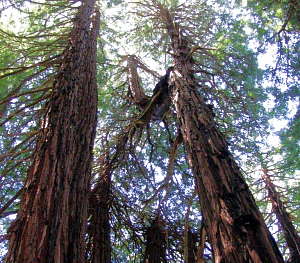 April 4th, 1pm – 3:30pm: Fort Ross Redwoods; Save The Redwoods League Presentation and Hike
Come join Deborah Zierten, Education and Interpretation Manager for Save the Redwoods League, for a presentation on the current state of the redwoods. The coast redwood range was greatly reduced in the past 200 years due to land conversion from development and agriculture. But what are the current threats to the redwoods and how are these iconic trees responding to dramatic changes in climate? We will also learn about the historical connection between the redwoods, Fort Ross and the League. After a brief presentation, join us for an interpretive walk in the forest where we will learn what makes Fort Ross' Stanley Spyra Memorial Grove unique. Questions? Email us at info@fortross.org.
April 19th, 3:00pm: Migrating Whales Along our Coast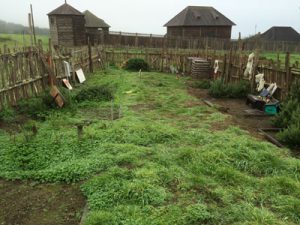 April 18th, 10:30am – 1:00pm: Earth Day at Fort Ross!
Join Fort Ross Conservancy and California State Parks and give back to the community for Earth Day! Help to restore the ELP (Environmental Living Program) student garden. It'll be a great day with friends and neighbors. California State Parks Foundation's 17th Earth Day Restoration and Clean-up is presented by Pacific Gas and Electric Company. Click here for the flyer.
Hope to see you there!
For more information please contact us at 707.847.3437 or info@fortross.org.
April 19th, 3:00pm: Migrating Whales Along our Coast
Join Jodi Smith, Founder and Executive Director of Naked Whale Research, for a lecture to learn more about the types of and differences between whale species found in our local waters. She will describe the basic biology of the three ecotypes of killer whale found here and the role played by volunteers in helping to identify and report killer whale sightings.
Naked Whale Research specializes in the behavioral biology of rare and endangered killer whales. Their mission is to create public awareness as to the threats of the long term survival of the Northern California killer whales frequenting Sonoma and Mendocino coastal waters. Current concerns can broadly be defined as environmental contamination, reduction in availability of prey, and both physical and acoustic human disturbances.
As part of her research Smith relies on the public to observe and report sightings. Recently the nonprofit developed a mobile iPhone application for real-time reporting of whale encounters. They have also developed a laminated field guide to killer whale behaviors for public identification purposes. Smith is currently working on a project to listen in on whale conversations through underwater microphones (or hydrophones) placed at strategic locations along the coast. Recent grant funding will allow the first hydrophone node to be placed off the Point Arena lighthouse this spring. Once in place, live underwater audio will be uploaded to the internet and anyone can hear the whales communicating through the NaWhaRe web page connection.
California State Park entrance fees apply ($8/car) and FRC is asking for a special event fee of $5 per person. Questions? Email Fort Ross Conservancy at info@fortross.org.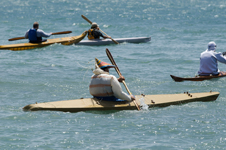 May 16th, 10am – 4pm: Alaska Native Day
Fort Ross Conservancy is pleased to welcome the Alaska Native community to Fort Ross to teach their arts and crafts on the land they once shared with the Native Kashia and Russian communities. Click here for the program of the day. The day will include:
Reno Franklin, Chairman of the Kashia Band of Pomo Indians, welcomes the Alaska Natives to Metini (Fort Ross) to dance with Su Nu Nu Shinal,
Performances by Anchorage Unangax Dancers,
Dr. Gordon L. Pullar, associate professor emeritus at the University of Alaska Fairbanks and a Kodiak Island Sugpiaq (Alutiiq), will be speaking on The Russian-Alaskan Creole, Then and Now. He has an intense interest in researching the ethno-history of Kodiak Island and his own family history that includes ancestry from indigenous people of Kodiak Island as well as Russians who worked in the fur trade in Russian America,
Traditional Russian Orthodox blessing of the boats, followed by Iqyan (kayak) race in Sandy Cove. See 2015 race map for rules — no plastic kayaks allowed),
A hands-on demonstration build of a Nigilax (baidara, or large open kayak),
Kids' crafts: Face "tattooing," language games, petroglyph rock painting, Chagudax (hunter's hats), spear throwing,
Demonstrations—Beading, Chagudax carving,
Slow smoked BBQ with fresh coleslaw for sale from BBQ Smokehouse Bistro & Catering will be available, with vegetarian options. Click here for the menu of the day. Or pack a picnic lunch if you desire.
All that and dried fish!
SCHEDULE
10:00 Welcome — Reno Franklin, Chairman of the Kashia Band of
Pomo Indians, welcomes the Alaska Natives to Metini (Fort Ross) (Sandy Cove)
10:15 Su Nu Nu Shinal dances (Ocean Terrace)
11:00 Dr. Gordon L. Pullar — The Russian-Alaskan Creole, Then and Now (Visitor Center Auditorium)
12:00 Walk to bluff & Sandy Beach Cove
12:20 Iqyan race (Sandy Beach Cove & bluff)
1:00 Lunch (Fort Compound)
1:30 Crafts, baidar build and California sea otter interpretation (Fort Compound)
2:00 Fort Ross History Talk (Fort Compound)
2:30 Unangan dancers (Fort Compound)
4:30 Event Ends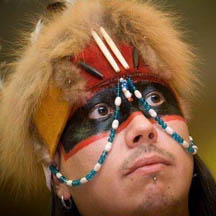 This is a new event for us and sponsorship is needed – contributions Face Paintingtowards AND can be made at www.fortross.org/donate. For event updates and more, please consider joining the Alaska Natives at Fort Ross Facebook group. Download our AND poster and spread the word!
Special event fees apply: $10 collected at the Visitor Center for the presentation, children free. California State Parks entrance fees also apply. Please carpool!
See photos from last year's AND skinboat iqyax race and learn more about this fantastic partnership between Fort Ross and the diaspora Alaska Native community.
June 6th, 8:30am: Seaweed Workshop
Start your day early! 8:30 am low-tide foray and field work, followed by 12pm illustrated presentation at Fort Ross Visitor Center auditorium.
We live in abundance, including a rich variety of seaweeds! Seaweeds can be used as food, medicine and fertilizer. Nori, wakame, bladderwrack and kombu are just a few of the local seaweeds that we'll learn about. The informative illustrated presentation includes how to identify, sustainably harvest and use our coastal "sea vegetables" and will also discuss pollutants, the health of our coastlines, harvest cycles and the health benefits of seaweed. Heidi Herrmann is a farmer and owner of Strong Arm Farm in Healdsburg. Last year's event was well attended and the feedback we received encouraged us to hold this event again. The tickets are available at Eventbrite. Special event fees: $40 for the workshop foray and the lecture; $20 for the lecture only.
$20 per car (includes $8 State Parks fee).
Special event bus fee for small capacity (24 person or fewer) bus: $100.
Special event bus fee for large capacity (greater than 24 person) bus: $225
Food and drink purchased separately. Questions? Email us at info@fortross.org, call us at 707/847-3437.
Click here for our event poster. Here is the map of the day's activities and here is the day's schedule.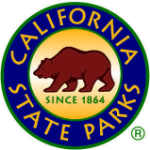 California State Parks and Fort Ross Conservancy are pleased to welcome you to Fort Ross Festival, where we celebrate the wonderful diverse international flavors and cultures of Fort Ross. This year's event, sponsored by Renova Fort Ross Foundation, will highlight the Kashia, Russian, Alaska Native, and California ranch era peoples who have called Fort Ross home over the centuries. We'll offer costumed historical vignettes, hands-on crafts, militia cannon firings, horse and buggy rides, music & dance from numerous cultures, an international food bazaar — and of course, the Fort Ross Beer Garden!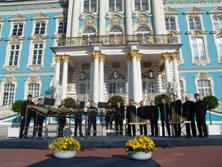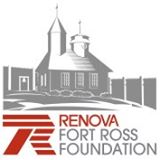 We are thrilled to welcome the St Petersburg's Horn Orchestra of Russia. This ensemble successfully revives the traditions of horn music performance from 19th Century Imperial Russia. Today the 18-person orchestra possesses 74 instruments with the range of 4 octaves which are unique because of their form and sound. The band plays pieces from both modern composers as well as the works of old masters. They will hold two performances during the day. Thanks go to Renova Fort Ross Foundation and Russia's Ministry of Culture for bringing this unique ensemble to our event.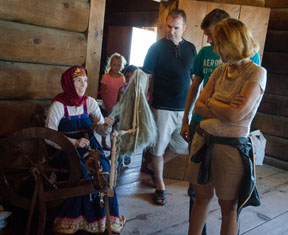 Craftspeople with hands-on crafts
Settlement Ross was one of the first industrial centers of California, and many skilled craftspeople were hard at work here, building California's first ships, windmill, clay bricks, barrels, and much more. Today you can watch a blacksmith, tinsmith, weaver, spinner, felt maker, laundress, soap maker, carpenter, broom maker and many others busily preparing their wares, perhaps to trade with the Spanish, Mexicans or Bostonians. Several of the crafts allow you to join the fun–learn to make your own rope, mini-basket, or candle.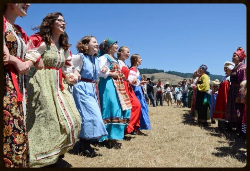 Russian House Kedry generously brings Fort Ross to life during the festival and each season with interactive celebrations including traditional Russian folk songs, dances, rituals, games, crafts and baking.
Kitka
East Bay women's vocal arts ensemble Kitka is inspired by traditional songs and vocal techniques from Eastern Europe. Their exquisite harmonies resonate as if energized by the universe itself. A Kitka trio will perform at this year's festival.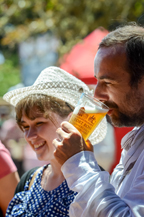 Beer Garden
From 11:30pm – 5:30pm, join us in the historic Call Picnic area for our second annual Beer Garden made possible by generous donations from local breweries Lagunitas Brewing Company of Petaluma, Sierra Nevada Brewing Co. of Chico, Anchor Brewing of San Francisco. In honor of the Fort Ross historic orchard, Tilted Shed Ciderworks of Sebastopol has donated cider from their small batch, dry-farmed, organic, Sonoma County made, heritage apples. Enjoy your beer and BBQ while listening to live music. Our sponsors: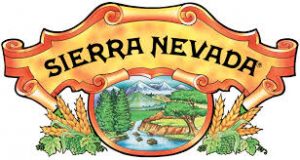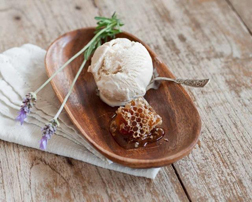 International Food Bazaar
Also in the Call Picnic area, enjoy our International Food Bazaar. Choose from a wonderful variety of local vendors, including traditional Russian Borscht, Pelmeny (meat dumplings), Bliny (pancakes) with stuffings, Vinegret (beet root salad) from the brand new Russian House #1 in Jenner, to slow smoked BBQ with fresh coleslaw from BBQ Smokehouse Bistro & Catering, both Californian & European style crepes filled with sweet or savory options from Ultra Crepes, for a taste of India with Curry Sensations, try their Punjabi Style Burritos, Chicken or Butternut Squash Curry Rice plates, or Fried Fish Pakora. For vegetarian, vegan and gluten free options try one of the many choices from Turkish/Mediterranean, Vegeteranean. For a refreshing and healthful treat, have a serving of Juice Runners Red, Gold & Green veggie/fruit juice mixes, or warm up with an organic hot espresso from Julianne's Espresso Connection. If you have a sweet tooth, choose one of the many absolutely incredible flavors of homemade, award-winning, small batch ice cream from Nimble & Finn's.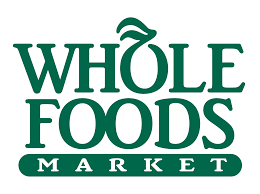 Greens for the Blue Salad Booth
Support the Fort Ross Youth Marine Ecology Program
Every Dollar You Spend Goes to our Marine Ecology Scholarship Fund
Fort Ross Conservancy has launched a Marine Ecology Program (MEP). Our program offers a wonderful opportunity for youth to learn about California Marine Ecology as they hike the coastline of Fort Ross State Historic Park, interact with and observe marine species, and experience camping on the beautiful Sonoma Coast, all while immersed in marine biology and citizen science. Help us bring under-served kids to our program by purchasing a fresh and delicious organic salad at our first-ever MEP Salad Booth. One hundred percent of the proceeds go to our new Marine Ecology Scholarship Fund. Choose between three amazing salad choices generously donated by Whole Foods Sebastopol. FRC's Marine Ecology Program is underwritten in part by the California Coastal Commission.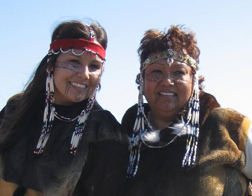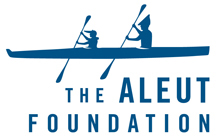 Bering Sea Style Beading
At Fort Ross Festival 2015 we welcome beautiful Unangax elder Becky Bendixen to demonstrate headdress beading in the Bering Sea style like the one Becky and her daughter are wearing. FRC Advisor Lauren Peters secured a grant with Aleut Foundationthe Aleut Foundation to bring Becky to join us. Originally from King Cove, Alaska, Becky has dedicated her life to Unangan culture and history. She is also the leader of the dance troupe Sngagim Axasniikangin, which means Dream Dancers because "we are dancing the dream of our people to keep our culture and traditions alive and active."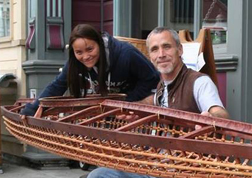 Nigilax Demonstration Build
The Kashia Pomo called the Alaskans Underwater People because their boats sat so low in the water it seemed as if they were coming out of the sea. Join us in the fortcompound at Fort Ross Festival to watch Marc Daniels continue to build FRC's nigilax, or what the Russians called a baidara. Marc's Make Access Iqyax explores the science and tradition of iqyax building as it relates to contemporary Unangax life, with the goal to inspire new tradition bearers. "Spending time cutting, carving, and shaping parts and pieces is fun enough, but it gets really exciting when all of those parts start being assembled. In no time at all a beautiful vessel takes shape. And of course the ultimate fun will be exploring local waters in a hand-made, community-made nigilax!" –Marc Daniels
Boat building sponsored by Fort Ross Conservancy. Please stop by the Alaska Native crafts area and say hello!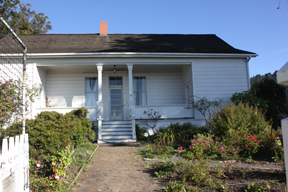 Ranch era Call House Museum Walkthrough
George W. Call built this residence in 1878 as a headquarters for the ranch and shipping operations, and a home for their family, which eventually included nine children. The house museum, first open to visitors in May, 2003, is an excellent example of the Early California Ranch period. Volunteers maintain the historic garden and give guided tours on the first weekend of each month from 1 to 4 PM. Many of the furnishings belonged to the Call family. During Fort Ross Festival the Call House Museum will be open for limited viewing only.
After you exit the Call House, stop by the fire circle, just off the back porch, to visit with members of some of the families who have ranched on this stretch of the Sonoma Coast from as long ago as 1843. Listen to their reminiscences and converse with them about ranch life while enjoying a complimentary cup of tea.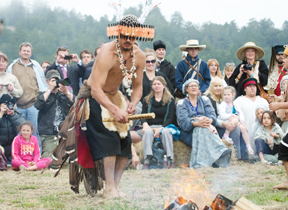 Su Nu Nu Shinal
The Kashia were the first people known to have lived in the area that is now Fort Ross, and they continue to live on these lands today. Su Nu Nu Shinal, which means Huckleberry Heights, are Kashia Pomo and Coast Miwok Indians from California who have been performing traditional dance for over 40 years. They will dance in their traditional dance circle on the ocean terrace outside the fort compound.
Fort Ross Festival Activities Throughout the Day
10:00 to 6:30 Fort Ross Conservancy Bookshop in the Visitor Center offers great Fort Ross items for sale; enjoy the Museum and our 18-minute introductory Fort Ross video.
10:00 to 4:00 Horn Orchestra of Russia, historic crafts, Alaska Native displays, and cooking demonstrations in the fort compound
11:00 to 5:30 International Food Bazaar (Call Picnic Area)
11:30 to 5:30 Beer Garden (Call Picnic Area), also serving coffee & tea
12:30 to 4:30 Horse and Carriage ride (free!) between Windmill and Fort Compound
1:00 to 4:00 Ranch-era Call House walk through, and tea with Ranch-era descendants
4:30 to 5:00 Kedry and Kitka (Marine Terrace)
5:00 to 5:30 Su Nu Nu Shinal (Dance Circle)
Schedule of Events (subject to change)
10:00 Divine Service – St Nicholas Cathedral (Fort Ross Chapel)
10:30 Windmill Presentation
11:00 Russian Orthodox Procession to the cemetery and Panikhida
11:15 Fort Ross History Interpretive Talk, in English (Outside Fort Compound Ocean Gate)
11:15 Storytelling (Apple trees at Rotchev House, Fort Compound)
11:45 Militia drill and cannon firing (Fort Compound)
12:30 Horn Orchestra of Russia (Fort Compound)
1:30 Russian House Kedry & Kitka Women's Ensemble perform traditional Russian song & dance
2:00 Fort Ross History Interpretive Talk, English–Outside Fort Compound Ocean Gate, Russian–Near Well in Fort Compound
2:00 Storytelling (Apple trees at Rotchev House, Fort Compound)
2:00 Windmill Presentation
2:30 Kitka Women's Ensemble (trio) (Outside Fur Warehouse)
3:00 Horn Orchestra of Russia (Fort Compound)
3:45 Militia drill & cannon firing (Fort Compound)
4:35 Russian House Kedry Russian song & dance (Marine Terrace outside Fort Compound)
5:00 Su Nu Nu Shinal Kashia dancers (Dance Circle outside Fort Compound)
California State Parks supports equal access. Prior to arrival, visitors with disabilities who need assistance should contact 707/847-3437. Please leave your dogs at home. Thank you!
August 23rd, 1pm – 2:30pm
Cougars in Your Neighborhood
by Matt Nelson
I will share information on the cougar studies I've been working on, explaining the purpose of them as well as the day-to-day mechanics of running a scientific study on cougars — how we catch them, an overview of GPS collars, how we gather data, and what results we've seen thus far. I'll share some surprising and interesting findings about cougar behavior. I'll also talk a fair bit about cougar diet, biology (size, home range, breeding, interacting, specialization, individuality, etc.). I'll explain how this animal is adapting to continual encroachment into their home ranges, living very close amongst humans yet it is hardly ever seen by humans. I'll also share how to recognize cougar sign and tracks in the field, and why we should feel comfortable and safe in the wild lands that we share. The presentation includes lots of photos and some video highlighting interesting behaviors. Matt's website, Redwood Coast Animal Tracking, includes more information on his background and skillset.
Special event fees apply: $10 collected at the Visitor Center for the presentation, children free. California State Parks entrance fees also apply. Please carpool!
PINE NEEDLE BASKET MAKING WORKSHOP
September 6th, 10:30am – 3:30pm
Learn how to make a pine needle basket using pine needles from the forest floor. Patience and pine needles are the main ingredients for this natural and versatile basket. This class is perfect for the beginner and for students that just need a refresher course. You will also be shown completed baskets that you will be able to make on your own once you learn the basics. All students should be able to complete their basket in class. All materials will be included in the class fee.
I have always loved making things from nature and have been making pine needle baskets for about 6 years. The thrill of seeing an object come to life using natures bounty gives me so much enjoyment. — Gail Golden
$45 ticket cost covers your State Park entrance fee. They can be purchased at Eventbrite. This will be an all day event, please bring a lunch and water.
September 13th, 11 am – 2 pm
Natural Plant Dyes of California by Vino Satchithananthan
Join Fort Ross Conservancy on Sunday, September 13th at Fort Ross State Historic Park for Vino Satchithananthan's afternoon workshop of natural dyeing. Vino will provide an overview of the importance and uses of this craft throughout history. Participants will learn about several local plants that can be used for extracting color, and the process of dyeing using these extracts. We'll have two dye vats set up to allow the group to work with prepared samples of both yarn and fabric. Each participant will be given a silk scarf to dye and take home.
Eventbrite ticket of $43 includes California State Parks parking fee of $8/car at the kiosk. Please carpool!
For more information, please contact Special Events Manager Sondra Hunter at info@fortross.org 707.847.3437
October 8th, 6:30pm
October 7th, 11am Master Class with Illustrator Vera Belyus
Fort Ross Visitor Center Auditorium
Vera Belyus, a young and very talented artist from Russia, will be giving her one and only art workshop at Fort Ross State Historic Park, for children ages 5 and up. Born and raised in Pskov, Vera studied graphic design at Saint Petersburg University of Technology and Design and has worked on a variety of visual art projects for half a decade. In 2012 Vera was commissioned to illustrate Georgiy Belyi's book of poetry Rubai and found her passion – illustration. At the end of 2015 a new children's book A Tale of Fort Ross will be published, commissioned by the Renova Fort Ross Foundation, and illustrated by Vera. Participants of the workshop will be able to see the original artwork that Vera created for the book, as well as learn how to draw one of the book's characters. This is a free seminar for the public; State Parks gate fees apply.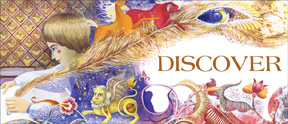 October 8th, 6:30pm
Bay Area Discovery Museum
Our friend and partner Renova Fort Ross Foundation is throwing a great party to benefit Fort Ross and you are invited!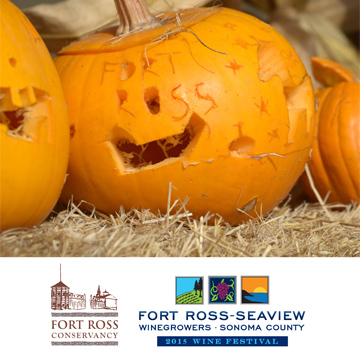 Fort Ross-Seaview Harvest Festival
October 17th – 10am-5pm
Harvest is the time to enjoy autumn's fresh air with friends and family, acknowledging all that the seasons provide us. Harvest Festival starts out with a morning of gentle apple picking in the historic orchard, where we'll harvest fruit while enjoying the Eastern European harmonies of Kitka Women's Ensemble and Russian House Kedry. The celebration then moves to the historic Fort Ross compound where we'll enjoy the old-world charm of the 19th century Russian settlement. Harvest Festival runs from 10am to 5pm.
Click here to download the Harvest poster. Tickets are on sale at Eventbrite now!
Harvest Activities
In addition to the spectacular Fort Ross-Seaview Wine Tasting and Grand Luncheon, the day offers a wide variety of activities suitable for all ages:
Song, dance, and gentle apple harvesting in the historic orchard
Horse and buggy ride
Interpretive talks by dedicated experts on the historic orchard, replica windmill, and the Alaskan marine history at Ross
Working demonstration of replica Russian-style windmill
Demonstration boat build of a traditional nigilax, an open kayak used by the Alaska Natives at Fort Ross
Food trucks with delicious seasonal fare for sale
Local samples of heirloom apples, apple cider, apple baked goods, Sonoma cheese, and more
Su Nu Nu Shinal Kashia Pomo dances
Lovely Eastern European harmonies of Kitka Women's Ensemble
Russian House Kedry demonstrating old world Russian cooking, song, and dance
Alaska Native demonstrate their crafts
Historic Russian crafts, communal dances.
We are currently reviewing our black powder program. The cannons and muskets will not be fired at Harvest Festival 2015 but we will offer a presentation and historical overview of Colony Ross' militia.
Please note that the photo that ran in the San Francisco Chronicle showed an image from our bicentennial event. Performers will not utilize a stage at this year's event.
Schedule of Activities by Location
Morning in the Orchard
9:30-4 Van Shuttle: VC-Orchard (9:30-12:30), VC-Fort (12:30–4:00)
10-12 Apple Harvest in Orchard – Harvest Songs – Kedry and Kitka singing
11:30-12 Fort Ross Orchard Talk – Susan Rudy, FRC Orchard Specialist
Midday at the Windmill & Beyond
11:30-3:30 Horse & Carriage Ride (between Windmill & Fort Compound)
12:00-12:30 Windmill Presentation & Turning
Afternoon in the Fort Compound
12-4 Juicing, Baking, Craft Demonstrations & Kids' Activities – pumpkin carving too!
Early Day Gas Engine & Tractor Assoc. (Branch 31) – Interpreting early California Ranch Era equipment.
1:30 Russian folk songs, dance and ritual with Russian House "Kedry"
(Segment of traditional wedding ceremony)
2:15 Fort Ross History & Trade Presentation (in English & Russian) – Fur Warehouse
3:00 Kitka Women's Ensemble Concert – (Chapel & then Fur Warehouse)
3:45 Circle Dances & Songs – Kedry & Kitka
Afternoon on the Ocean Terrace
11-5 Seasonal Food – Ocean Terrace – International Food Bazaar
12-4 Fort Ross-Seaview AVA Wine Tasting – tickets available at the tent
1-3 Harvest Festival Grand Luncheon (advance tickets required)
1-1:45 Accordion Music with Roxanne Oliva
1:45-4:15 The Bootleg Honeys duo
4:15 Su Nu Nu Shinal Kashia Pomo Dancers
Visitor Center – Open All Day
Fort Ross Conservancy Bookshop in the Visitor Center offers great Fort Ross items for sale; enjoy the museum and our 18-minute introductory Fort Ross Video.

Photos from Harvest Festival 2013.
Grand Wine Tasting (12pm-4pm, $40 per person):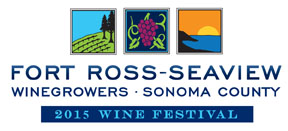 Presenting a remarkable selection of wines grown in the FORT ROSS-SEAVIEW VITICULTURAL AREA that consists of the steep ridge top vineyards that overlook the Pacific Ocean and produce wines of structure, balance and finesse. The Grand Tasting features local grape growers and winemakers, and a chance to meet and greet the people behind the wines. Includes cheese sampling with Omar Mueller of Freestone Artisan Cheese and Sonoma County cheesemakers.
Wineries Pouring in the Tasting Tent
Flowers Vineyard and Winery – Michelle Forry
Flowers Chardonnay 2013 Camp Meeting Ridge Estates
Flowers Pinot Noir 2013 Camp Meeting Ridge Estates
Flowers Pinot Noir 2013 Sea View Ridge Estates 2013
Fort Ross Vineyard – Linda and Lester Schwartz
2013 Fort Ross Vineyard Chardonnay
2012 Fort Ross Vineyard Pinot Noir Special Cuvée "Top of Land"
2012 Fort Ross Vineyard Pinot Noir Special Cuvée "Stage Coach Road"
2010 Fort Ross Vineyard Pinotage
Kutch Wines – Jamie Kutch
Kutch Pinot Noir 2013 Sonoma Coast
Kutch Pinot Noir 2013 McDougall Ranch
Kutch Pinot Noir 2013 Bohan Vineyard
Martinelli Winery – Mary Rodgers
Martinelli Chardonnay 2009 Three Sisters Vineyard
Martinelli Chardonnay 2012 Charles Ranch
Martinelli Pinot Noir 2012 Three Sisters Vineyard
Precious Mountain Vineyard / Williams Selyem Winery
Williams Selyem Winery Pinot Noir 2013 Precious Mountain
Raen Winery
2014 RAEN Pinot Noir Fort Ross Seaview Home Field
Tin Barn Vineyards
Syrah 2012 Sonoma Coast, Coryelle Fields
Rose of Syrah 2014 "Joon" Rose of Syrah, Sonoma Coast, Coryelle Fields
Wayfarer – Cleo Pahlmeyer and Todd Kohn
Wayfarer Chardonnay 2013 Wayfarer Vineyard
Wayfarer Pinot Noir 2013 Wayfarer Vineyard
Wild Hog Vineyard – Daniel and Marion Schoenfeld
Wild Hog Vineyard Estate Pinot Noir 2011
Wild Hog Vineyard Estate Zinfandel 2012
Wild Hog Vineyard Cabernet Sauvignon 2009 Vista
Wineries at Luncheon Only
Piazza Del Dotto
Pinot Noir 2013 Fort Ross Seaview Sonoma Coast
Grand Luncheon (1pm-3pm, $125 per person) Advanced Purchase Required!
Includes a four-course meal of seasonal fare expertly paired with wines from the area, prepared by renowned local chefs and served on a marine terrace overlooking the Pacific Ocean. Includes entrance to Grand Tasting and Fort Ross Harvest Festival activities. Grand Luncheon tickets are available by advance purchase only and will sell out.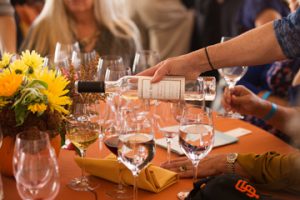 Grand Luncheon Menu
First course prepared by Barbara Hom
Trio of Corn: Chilled Soup of Corn Essence, Shellfish Oil
Corn and Crab Salad, Cherry Tomatoes, Arugula, Cilantro Lime Dressing, Chive Oil
Corn and Cheese Tuille
Wine pairing: Flowers Camp Meeting Ridge Estate Chardonnay 2013
Second course prepared by Andrew and Liya Truong, Michelin star chefs at Terrapin Creek Cafe
Marinated Black Cod served with sunchoke and potato puree, roasted mushrooms and celery
Wine pairing: Wild Hog Estate Pinot Noir 2011 and Fort Ross Pinot Noir Sea Slopes 2013
Third course prepared by Michele Anna Jordan
Grilled Sonoma County butterflied leg of lamb with extra-virgin olive oil, fresh garlic, smoked paprika, and a coriander and black pepper rub, accompanied by a warm farro salad with local Merguez, cherry tomatoes, local sheep milk yogurt, red onion, Italian parsley, smoked paprika and preserved lemon
Wine pairing: Piazza Del Dotto Pinot Noir 2013 and Wild Hog Estate Zinfandel 2012
Dessert prepared by Jamil Pedan, Applewood Inn
Buttermilk panna cotta with chardonnay poached quince, candied orange zest, puffed buckwheat, and brown butter
Wine pairing: 2013 Fort Ross Late Harvest Chardonnay
Special Event Fees
Tickets are on sale at Eventbrite now!
Harvest Special Event Fee: $20 per car (includes $8 State Parks fee) for General Admission to Harvest Festival – PER CAR- Does not include food or beverage
Wine Tasting $40 per person. Fort Ross-Seaview Wine Tasting Tent – includes general admission to Harvest Festival when purchased in advance
Grand Luncheon $125 per person. Must be purchased in advance; includes general admission to Wine Tasting Tent and Harvest Festival activities.
Special event bus fee for small capacity (24 person or fewer) bus: $100 – for entrance to Harvest Festival only
Special event bus fee for large capacity (greater than 24 person) bus: $225 – for entrance to Harvest Festival only
If you'd like to volunteer at the festival, email us at info@fortross.org. – four hours of volunteering gets you free admission to Harvest Festival.
California State Parks supports equal access. Prior to arrival, visitors with disabilities who need assistance should contact (707) 847-3437. We have one beach wheelchair available first come, first served.
Questions? Email Fort Ross Conservancy at info@fortross.org, call us at 707/847-3437. To see photos of past events or learn more, please see www.fortross.org.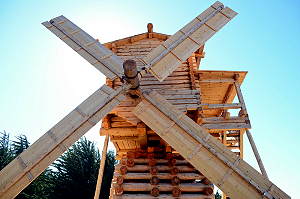 November 6th: SPOOM Windmill Visit
Fort Ross Windmill Presentation & Turning
Sponsored by Fort Ross Conservancy
Hosting at Fort Ross a visit by members of the Society for the Protection of Old Mills (SPOOM) annual conference.
1:15 pm: The Mills of Fort Ross (Illustrated Presentation)
by Glenn Farris, former CSP historical archeologist, leading Fort Ross scholar & author of So Far From Home.
2:00 pm: Windmill Turning & Presentation
Click here for Society for the Protection of Old Mills (SPOOM) 2015 conference schedule. For more info please contact (707) 847-343 or Email info@fortross.org. California State Parks entrance fees apply.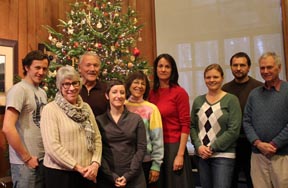 December 12th:
Fort Ross Conservancy Holiday Party and Community Potluck
Please join us for our end-of-year celebration as we bring friends and family together to celebrate the holiday season and make plans for the new year. In the morning we have our final Fort Ross Conservancy board of directors meeting of 2015, which is open to the public. Lunch starts at 12:30 — we'll provide some hearty protein but bring something to share. Questions? Email info@fortross.org
Sessions Framework: The Importance of 'Second Track'
Sessions Framework: The Importance of 'Second Track' The 'second track' of non-governmental relations is of increasing importance between Russia and the United States. While governmental representatives are invited to participate, this second track focuses on engagement of business, academics, NGOs, and others outside government. Gatherings such as the Dartmouth Conference have long played this role in the Atlantic dimension, and Fort Ross Dialogue can and should play a similar role in the Pacific dimension of US-Russian relations. Principal benefits are two-fold. First, these conversations can generate new, creative ideas to be implemented by government and society. Second, they can reinforce the upswings and mitigate the downswings in the US-Russia relationship.