Fort Ross Harvest Festival 2016
October 15th – 10am-6pm
Grand Wine Tasting:12pm-5pm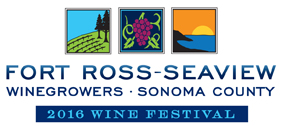 Join Fort Ross Conservancy, California State Parks, and the Fort Ross-Seaview Winegrowers Association at our 4th Annual Fort Ross-Seaview Wine and Harvest Festival for an incredible day of world-class Wine Tasting, delicious local foods, music and much more, all set on the spectacular Sonoma Coast at Fort Ross State Historic Park.

Harvest is the time to enjoy autumn's fresh air with friends and family, acknowledging all that the seasons provide us. Harvest Festival starts out with a morning of apple picking in the orchard, where we'll gently harvest fruit from these historic trees while enjoying Eastern European singing with Kedry. Next are the windmill turning and Russian bell ringing.The celebration then moves to the historic Fort Ross compound where we'll enjoy the old-world charm of the 19th century Russian settlement.
Harvest Festival ($20/car) runs from 10am to 6pm. If you purchase advance tickets for the wine seminar or wine tent your entrance fee to Harvest Festival is included. Click here to download our Harvest poster.
---
Grand Wine Tasting (12pm-5pm, $40 per person)
Presenting a remarkable selection of wines grown in the FORT ROSS-SEAVIEW VITICULTURAL AREA that consists of the steep ridge top vineyards that overlook the Pacific Ocean and produce wines of structure, balance and finesse. The Grand Tasting features local grape growers and winemakers, and a chance to meet and greet the people behind the wines. Also enjoy cheese sampling with Omar Mueller of Freestone Artisan Cheese and Sonoma County cheesemakers. This ticket includes general admission to Harvest Festival when purchased in advance.
"Pinot Noir – Elevated" Wine Growers Seminar ~ Featured wineries: Flowers Vineyards & Winery, Fort Ross Vineyard, Martinelli Winery, and Wild Hog Vineyard 11:00am – 12:30pm, $60 per person, at the Fort Ross Historic State Park Visitor Center, 19005 Coast Highway, Fort Ross, CA 95450 (707) 847-3437
These renowned vintners from the Fort Ross – Seaview AVA will present wines produced from grapes grown in this remote, steep, mountain top region at a Private Seminar. Come meet and talk with the winemakers while experiencing this very distinctive geography of Sonoma County. Each winery will show a current vintage alongside an older one, demonstrating the beauty, power of ageability, and consistent integrity that the magic of this American Viticultural Area creates.
Participating Wineries Pouring at the Grand Wine Tasting
Apriori Cellars
Blue Farm Wines
Brick & Mortar
Flowers Vineyards & Winery
Fort Ross Vineyard
Gary Farrell
Martinelli Winery
Raen
Ramey Wine Cellars
Unturned Stone Wines
Wesmar Winery
Wild Hog Vineyard
Williams Selyem Winery
---
With kind and generous donations from local businesses, we will be holding a silent auction at the Wine Tent. Come and place your bid as you sip some of the best wine California has to offer!
Special Thanks to:
Timber Cove Resort donated a 2-night stay in their beautiful Ocean View room valued at $680!
Fort Ross Conservancy donated an hour-long tour of Fort Ross worth $125!
All auction proceeds go to Fort Ross Conservancy's Marine Ecology Program (MEP) which offers a wonderful opportunity for youth to learn about local marine ecology as they hike the coastline of Fort Ross State Historic Park, interact with and observe marine species, and enjoy optional camping on the beautiful Sonoma Coast. Middle and high school students spend one or two days immersed in the day-to-day tasks of a marine biologist. They will learn the proper way to conduct themselves around wildlife, be introduced to the intricacies of data protocols and collection, and observe the abundant marine life.
Schedule of the day (subject to change)
9:30-12:30 Van Shuttle (VC-orchard)
12:30-4:00 Van Shuttle (VC-fort compound)
Morning in the Orchard
10:00 Apple Picking & Singing
Midday at the Windmill, Visitor Center & Beyond
10:30 Windmill Talk & Turning
11:00 Wine Growers Seminar at the Visitor Center Auditorium
11:00 Early California Ranch Era Equipment at Call Picnic Area
12:30 Windmill Talk, Turning & Song
12:30 Horse & Wagon Rides
1:10 Bell Concert
Afternoon in the Fort Compound
12:00 Juicing, Baking, Pumpkin Carving, Crafts Demonstrations
1:30 Kedry: Traditional Russian Folk Songs & Ritual
2:10 Storytelling with Georgia Churchill
2:45 Zabavushka: Russian Folk Skit
3:05 Dolina: Authentic Russian Folk Music & Dances
3:30 Fort Ross History & Trade Presentation at the Fur Warehouse (in English)
4:00 Kedry: Traditional Russian Games & Dances
4:30 Fort Ross History & Trade Presentation at the Fur Warehouse (in Russian)
Afternoon on the Ocean Terrace
12:00 Seasonal Food
12:00 Fort Ross-Seaview AVA Wine Tasting
12:00 The Bootleg Honeys
1:15 Nikolai Massenkov
1:45 The Bootleg Honeys
3:00 Accordionist Roxanne Oliva
3:30 Nikolai Massenkov
5:00 Su Nu Nu Shinal: Kashia Pomo Dances
6:00 Festival Ends
Fort Ross-Seaview Harvest Festival
Harvest Activities
In addition to the spectacular Fort Ross-Seaview Wine Tasting, the day offers a wide variety of activities suitable for all ages:
Song, dance, and gentle apple harvesting in the historic orchard
Horse and buggy rides
Live Americana music from The Bootleg Honeys – The Bootleg Honeys has quickly become one of the Bay Area's favorite Americana acts. Their sweet and lively sound features impeccable three-part harmony and musicianship, as well as a hefty collection of finely crafted original material that will pull your heartstrings and get your boots stompin'. Accordionist Roxanne Oliva will also be performing on the ocean terrrace.
Bell Ringing – Victor Avdienko, Bell Ringer and Percussionist of San Francisco Symphony Orchestra, will perform the orchestral musical instrument zvonnitsa
Interpretive talks by dedicated experts on the replica windmill and fort compound
Demonstration boat build of a traditional nigilax, an open kayak used by the Alaska Natives at Fort Ross
Working demonstration of replica Russian-style windmill
International Food Bazaar with delicious seasonal fare for sale
Local samples of heirloom apples, apple cider, apple baked goods, Sonoma cheese, and more
Su Nu Nu Shinal Kashia Pomo dances
Kedry demonstrating old world Russian cooking, song, and dance
Historic Russian crafts and communal dances
Pumpkin Carving
Special event bus fee for small capacity (24 person or fewer) bus: $100 – for entrance to Harvest Festival only
Special event bus fee for large capacity (greater than 24 person) bus: $225 – for entrance to Harvest Festival only
If you'd like to volunteer at the festival, email us at info@fortross.org. Four hours of volunteering gets you free admission to Harvest Festival.
California State Parks supports equal access. Prior to arrival, visitors with disabilities who need assistance should contact (707) 847-3437. We have one beach wheelchair available first come, first served.
Questions? Email Fort Ross Conservancy at info@fortross.org, call us at 707/847-3437. To see photos of past events or learn more, please see www.fortross.org.
FORT ROSS-SEAVIEW WINEGROWERS ASSOCIATION is an association of local grape growers and wineries dedicated to farming "coastal cool" grapes on the very edge of the continent. Here the vineyards are like islands in the sunshine above a sea of coastal fog that nips at their edges during the long, slow and temperate grape growing season. The maritime climate of the area is ideal for growing winegrapes of the highest caliber. The vineyards here produce pure, focused fruit with lively acidity, minerality and nuanced tannins. These exceptional grapes produce internationally acclaimed wines of balance, character, structure and finesse that tempt the palate with their elegance.
See www.fortross-seaview.org or email us at info@fortross-seaview.org.

This event is underwritten by Chevron and Russian companies Sovcomflot and Transneft.