Fort Ross Festival 2017
Fort Ross Festival
Fort Ross State Historic Park 10am-6:30pm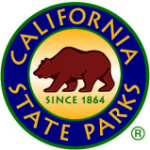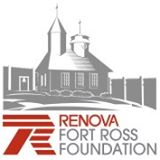 ---

Driving to Fort Ross Festival with an extra seat in your car? Or -- looking for a ride to Fort Ross Festival? Visit our page ridevu.com/events/1820 and share your ride.
$20 per car (includes $8 State Parks fee). Special event bus fee for small capacity bus (24 person or fewer): $100. Special event bus fee for large capacity bus (greater than 24 person): $225. Food and drink purchased separately. Questions? Email us at info@fortross.org, or call us at 707/847-3437. Download the festival poster here. Join Fort Ross Conservancy and California State Parks as we celebrate summer at our annual Fort Ross Festival! FRF is an incredibly diverse event that reflects the rich history of Fort Ross. Our beloved cadre of skilled volunteers will be working alongside our Kashia, Russian, Alaska Native, and early Ranch communities to offer family-friendly activities, both soulful and rollicking performances, hands-on crafts, and live demonstrations. Join the fun as we celebrate with music, song and dance, great food, and our fourth annual Beer Garden with live Americana music, all in the beautiful coastal setting that is Fort Ross. Thank you Renova Fort Ross Foundation for making this day possible.
---
Activities in the bustling Fort Compound Performers in the Compound
While the Call Picnic Area is alive with Americana music, the historic Fort Ross compound will have a variety of traditional performers. And outside the compound the Kashia Pomo group Su Nu Shinal will dance traditional dances in their spiritual dance circle.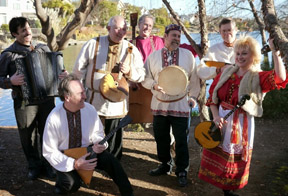 San Francisco Balalaika Ensemble keeps tradition alive by performing Russian, Ukrainian, Russian Roma (Gypsy), and Crimean Tatar music in a traditional folk instrument orchestra of balalaikas, domras, bayan (Russian button accordion), zhaleika/brelka (Russian reed pipes) and sopilka (Ukrainian flute).
---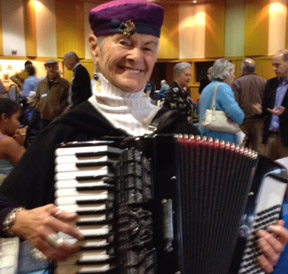 Laurie Lippin is an accomplished Sonoma County accordionist who has been playing music since childhood. She will be strolling the fort compound playing a wide variety of lively and mournful Eastern European-esque klezmer.
---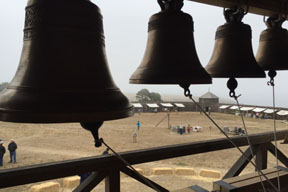 Bells! Enjoy the joyful sound of ringing bells (zvonnitsa) emanating from on high, with performances by soloist Ty Gale, Bellringer of St. Nicholas Orthodox Church in San Anselmo, California. Bells provided by Blagovest Bells of Novato, California. See the flyer here
---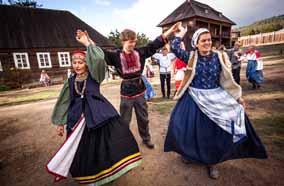 Russian House Kedry generously brings Fort Ross to life during the festival with their traditional Russian folk songs, dances, rituals, games, crafts and baking. Get ready to join in!
---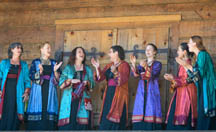 East Bay women's vocal arts ensemble Kitka is inspired by traditional songs and vocal techniques from Eastern Europe. Their exquisite harmonies resonate as if energized by the universe itself. Special thanks to the California Arts Council for supporting Kitka's performances at Fort Ross.
---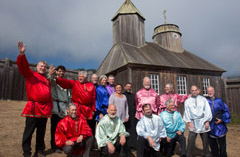 Slavyanka Chorus brings their rich program of Russian sacred and folk music to Fort Ross, where we'll hear ancient church music from Russia's past sung in the Chapel…and wild Cossack songs in the yard! Don't miss this wonderful choral group, a long standing tradition of Fort Ross Festival.
---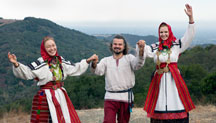 The Bay Area folk group Dolina revives traditions of the southern regions of Russia, focusing on authentic folklore singing and dancing. They are proud owners of the museum-worthy peasants costumes from the end of 19th century which they will show to the festival guests. This year the group will sing songs that were recorded in Belgorod and Voronezh regions of Russia and will speak about traditions associated with the summer season.
---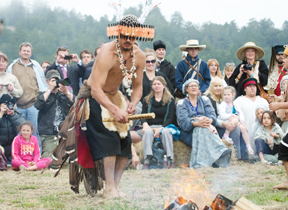 Su Nu Nu Shinal, which means Huckleberry Heights, are Kashia Pomo and Coast Miwok Native Americans from California who have been performing traditional dance for over 40 years. They will dance in their traditional dance circle on the ocean terrace outside the fort compound. The Kashia were the first people known to have lived in the area that is now Fort Ross, and they continue to live on these lands today.
---
Local Crafts Marketplace
Kashia Pomo Jewelry
Local handmade soaps
Beautiful handmade brooms by Melinda Napier
Matryoshka – Russian/Eastern European style dolls and other gifts and souvenirs by Elena Gabriel
Paintings from Valeriy Kagounkin and Tamara Magdalina, Permanent Honorable Members of the Russian Art Academy
Traditional Russian Orthodox Icons and original vintage embroidery featuring traditional Russian motifs as well as books, magazines, coins and postcards dated back to the end of XIX century from the Russian Cultural Center, Los Angeles
Wood carved products and gift cards with flowers
Hands-On Crafts Demonstrations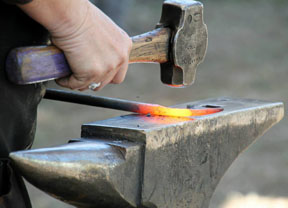 Settlement Ross was one of the first industrial centers of California, and many skilled craftspeople were hard at work building California's first ships, windmills, clay bricks, barrels, and much more. At Festival you can watch blacksmiths, coopers, spinners, carpenters, woodworkers, broom makers, and many others skilled craftspeople busily preparing their wares, reminiscent of the Fort Ross era when they traded with the Spanish, Mexicans or Bostonians. Try your hand at making rope, weaving a mini-basket, or rolling a candle.
---
Alaska Native Crafts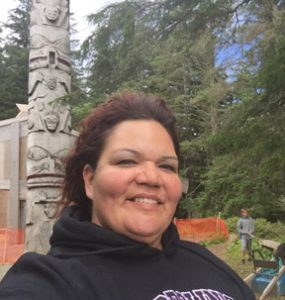 This year we are thrilled to have DonnaRae James (Klinklia), a Haida culture bearer from Craig, Alaska. She is Hawaiian, Tlingit, Haida, EagleFrog of the Kooskadee Clan. She will be teaching Alaska Natives community members how to make traditional leather footwear. Please stop by to learn about the rich history of the Alaska Natives at Fort Ross. We thank the Aleut Foundation for funding Alaska Native participation in our event.
---
Irkutsk-Fort Ross Club
For two decades, the Irkutsk-Fort Ross Club has engaged Irkutsk children and adults in local and global history projects. This year, they established "Along the Path of St. Innocent Veniaminov" «По пути Святителя Иннокентия Вениаминова», to mark the 220th anniversary of St. Innocent with the group traveling to Alaska and Fort Ross sharing children's art exhibits, films and plein air workshops. Welcome back to Fort Ross, Irkutsk-Fort Ross Club!
---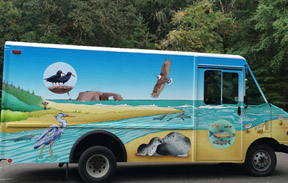 Stewards of the Coast and Redwoods Mobile Marine Education Van (the Steward Ship) will be outside the fort compound offering videos, interpretive displays, skulls, pelts, and bones for visitors to touch and feel.
---
Call Picnic Area Activities
Grab a Pint at our 4th Annual Beer Garden!


Fort Ross Festival's Beer Garden, with its incredible front row seat to the Pacific Ocean, offers a great variety of delicious food and cold beverages for you to enjoy while listening to live Americana music. This year is bigger than ever! We are thrilled to have the continued support from local North Coast Brewing Company and Lagunitas Brewing Co. We'll have a wide variety of beers from each brewer, from hoppy IPAs to rich, roasty Stouts.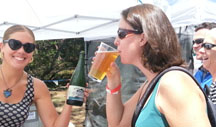 All profits from the Beer Garden go to support Fort Ross Conservancy's Education Fund, bringing under-served school groups to Fort Ross for our Marine Ecology Program and Environmental Living Program.
---
Call Picnic Area Music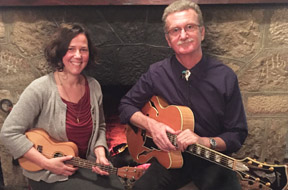 Pocket Swing, an acoustic duo featuring popular swing and jazz tunes from the Great American Songbook, along with a selection of American folk and country classics.
---
International Food Bazaar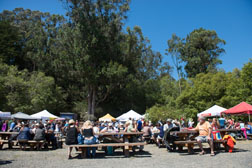 Choose from a wonderful variety of local vendors in our International Food Bazaar! Try traditional Russian borscht and piroshki from Russian House #1 in Jenner, slow smoked BBQ with fresh coleslaw from BBQ Smokehouse Bistro & Catering, Californian & European style crepes filled with sweet or savory options from Ultra Crepes, or for a taste of India check out Lata's curries and samosas, paired with a mango lassi or chai tea, or a delicious chicken tikka from Curry Sensations, and warm up with an organic hot espresso from Julianne's Espresso Connection. We're also thrilled to welcome back the incredible flavors of homemade, award-winning, small batch ice cream from Nimble & Finn's and the Metini Native Cultural Foundation food booth.
---
Greens for the Blue Salad Booth!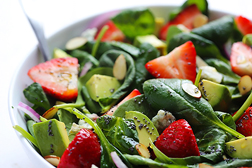 Design your own salad with fresh, organic ingredients generously donated by Whole Foods. Support Fort Ross Conservancy's Marine Ecology Program - Profits from the Salad Booth Go to our Fort Ross Conservancy Education Fund. Fort Ross Conservancy's Marine Ecology Program (MEP) offers a wonderful opportunity for youth to learn about local marine ecology at Fort Ross. Elementary, middle, and high school students spend one or two days immersed in the day-to-day tasks of a marine biologist.
2017 FORT ROSS FESTIVAL SCHEDULE (subject to change)
Ongoing
10-6:30 Fort Ross Visitor Center Bookshop, museum, films & displays.
10-4 Fort Compound crafts, music, dance, cooking and more from the Russian, Alaska Native & Kashia communities
10-5 "Along the Path of St. Innocent Veniaminov" Exhibit (Auditorium & Fort Compound)
10-3 Ranch Era Farm Equipment (adjacent to upper parking area)
10-4 Fort Ross Marketplace (handmade traditional crafts & art) in the Fort Compound
10-1 Harbor Seal Interpretation (above Fort Ross Cove, opposite Call Picnic Area)
11-4 Marine Mammal & Fur Trade Interpretation (Fur Warehouse)
11-5:30 International Food Bazaar (Call Picnic Area)
11-5:30 Beer Garden (Call Picnic Area)
12-4 Horse & Carriage ride (free!) between Windmill & Fort Compound
12:30 & 2:30 Fort Ross Quest (Auditorium)

Schedule of Events
10:00 Divine Service – St. Nicholas Cathedral, San Francisco (Fort Ross Chapel)
11:00 Russian Orthodox Procession to the cemetery & Panikhida
11:00 Bell Ringing, Ty Gale, St. NIcholas Orthodox Church, San Anselmo (Fort Ross Chapel)
11:30 "The Windmill as a Monument to Peace and Goodwill" (Windmill) – Breck Parkman, past State Archaeologist & Fort Ross~Global Village Project director
11:30 Tea with the Rotchevs (Rotchev House)
11:45 Zabavushka – Children's Slavic Folk Ensemble (Fur Warehouse)
12:00 "Along the Path of St. Innocent Veniaminov" «По пути Святителя Иннокентия Вениаминова» – Presentation by Irkutsk-Fort Ross Club, from Irkutsk, Siberia (Visitor Center Auditorium)
12:00 San Francisco Balalaika Ensemble (Fur Warehouse)
12:15 Fort Ross Archaeology Walk – Glenn Farris, Past State Archeologist (Meet at ocean gate)
12:30 Slavyanka Chorus – Sacred songs (Fort Ross Chapel)
12:45 История Форта Росс и морского промысла (Fur Warehouse)
1:00 Kedry – Traditional Russian games & circle dances (Fort Compound)
1:30 Kitka – Balkan, Slavic & Caucasian Harmonies (Fur Warehouse)
1:45 Tea with the Rotchevs (Rotchev House)
2:00 Bell Ringing, Ty Gale, St. NIcholas Orthodox Church, San Anselmo (Fort Ross Chapel)
2-3:30 Traditional Games (MAS wrestling, tug-of-war, etc.) – (Inside fort, SE corner)
2-4 Plein Air Painting, for kids & adults (Meet just below chapel)
2:15 Dolina: Traditions, Songs & Costumes of Southern Russia (Rotchev House)
2:30 Slavyanka Chorus – Russian folk, patriotic & Cossack songs (Fur Warehouse)
3:00 San Francisco Balalaika Ensemble (Fur Warehouse)
3:30 Kedry – Traditional Russian village dances (Fort Compound)
4:00 Kitka – Balkan, Slavic & Caucasian Harmonies (Fur Warehouse)
4:30 Su Nu Nu Shinal – Kashia Pomo Dancers (Marine Terrace)
6:30 Festival Ends

California State Parks supports equal access. Prior to arrival, visitors with disabilities who need assistance should contact 707/847-3437.
Please leave your dogs home, Thank you.
---
Fort Ross Festival Highlights