Fort Ross Dialogue 2017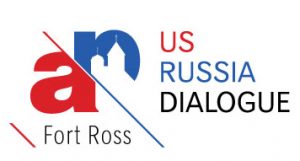 Monday, October 16th, 10am – 3:00pm
Fort Ross' history provides a symbolic backdrop for shared US-Russia relations, and Fort Ross Conservancy strives to continue that tradition. Fort Ross Conservancy, in partnership with the Kennan Institute, invites you to attend our sixth annual Fort Ross Dialogue, scheduled for Monday, October 16th, 2017, at the Golden Gate Club in the Presidio of San Francisco. Fort Ross Dialogue is an independent forum where Americans and Russians meet in a constructive atmosphere to encourage conversation and collaboration. This event generously sponsored by Chevron, Renova Fort Ross Foundation, Transneft, and Sovcomflot.

Presidio's Golden Gate Club, Presidio, San Francisco
Directions to Golden Gate Club
Fort Ross Dialogue 2017 Program
10am – 11:00am
Opening Remarks
Sarah Sweedler, Fort Ross Conservancy CEO
Edmund G. Brown Jr., Governor of California
Denis Gonchar, Deputy Chief of Mission, Russian Federation
Oleg Kuvshinnikov, Governor of the Vologda Region, Russian Federation
Andrey Shalnev, Acting Deputy Governor of the Tyumen Region, Russian Federation
Mikhail Margelov, Vice President, Transneft
Andrew McGrahan, President of Chevron Neftegaz
Nikolay Kolesnikov, Executive Vice-President, Sovcomflot
Olga Miller, Director, Renova Fort Ross Foundation
Olga Bashkirova, Charitable Foundation Renova
11:15am –12:30pm
Encouraging Collaboration: Young professionals from the Stanford U.S.-Russia Forum (SURF) address three areas ripe for collaboration between the United States and Russia. Presenters share their real-world experiences and aim to challenge perceptions in these area of collaboration. Moderated by the Kennan Institute's Matt Rojansky and led by the Stanford U.S.-Russia Forum (SURF), the goal is to engage the audience to shed light on these complex matters and walk away with a roadmap for next steps. Topics to explore:
1) Climate and Environment
Transitioning to low-carbon development is a reality of the 21st century world economy. Russia is a party to the Paris Climate Accords and California is a global leader in the fight against climate change. Cooperation on climate change is not limited to the interstate level—country regions, cities, international institutions, business players and non-governmental organizations are vital contributors. How can we capitalize on this opportunity to build bridges between subnational actors? What are the main barriers government, businesses and researchers encounter in efforts to collaborate on this issue?
Ellen Ward
Ellen is a Ph.D. candidate in the Hydro Program at Stanford University's School of Earth, Energy, & Environmental Sciences. Previously, she earned a master's degree in earth system science at Stanford University and her bachelor's degree in physics at Columbia University.
Ilya Stepanov
Ilya Stepanov graduated from National Research University Higher School of Economics (NRU HSE) with a bachelor's and master's degrees in economics. Ilya is currently a Ph.D. candidate at the Doctoral School of Economics and works for the Center for Comprehensive European and International Studies at HSE.
2) Fostering Entrepreneurship
Did you know that the majority of successful Russian technological startups expand to Silicon Valley? Are there American entrepreneurs in Russia? What does it mean to be a Russian entrepreneur and what are the leading trends? What is the future for entrepreneurship across the globe? Two young entrepreneurial thought-leaders will share unique insights, diverse perspectives and what entrepreneurship means for the United States, Russia, and the world as they address these questions and more.
Katarina Sabova
Katarina recently graduated with an MBA degree from Columbia Business School. Currently she is on a secondment as a Product Manager for Business Intelligence Solutions at Symphony, a Silicon Valley startup that provides secure messaging solutions for financial institutions and other organizations.
Andrey Bakalenko
Andrey is mobile apps product lead at Sberbank where he leads the development of its mobile app, most popular financial mobile application in Eastern and Central Europe. He is also a doctoral candidate at the Institute of Economics of the Russian Academy of Sciences and holds Bachelor of Arts and Master of Arts degrees in Economics from Lomonosov Moscow State University.
3) Rethinking Academic Collaboration: Encouraging Exchanges in the Sciences and Humanities
Russia and the United States are both historic leaders in technical and scientific disciplines, yet cooperation between academic institutions from our countries in these areas remains underdeveloped. The same trend is apparent in the social sciences and in the humanities. How can we better foster academic research collaboration between these two states? Have we neglected certain research areas that could pave paths toward better cooperation? And can stronger educational exchanges advance relations? In an era of doubts and mistrust, we explore the answers to these questions that may, perhaps, help to bring these two countries closer together.
Tanveer Karim
Tanveer Karim is a first year PhD student of Astronomy at Harvard University. While he was an undergraduate, Tanveer became interested in both astronomy and Russian culture. His interests inspired him to become a delegate for the Science Collaboration working group in the SURF 2016-17 cohort. As a delegate of SURF, Tanveer and his teammates investigated topics pertaining to university-level collaboration between the United States and Russia. This project, in turn, motivated Tanveer to become more engaged in science diplomacy and he intends to continue his involvement in science diplomacy in the future.
Alexis Lerner
Alexis M. Lerner is a PhD student in the Department of Political Science and at the Anne Tanenbaum Centre for Jewish Studies at the University of Toronto, where she is supervised by Lucan A. Way. She is a 2017-2018 Visiting Scholar at Columbia University's Harriman Institute. She has a Master's Degree from Georgetown University's Center for Eurasian, Russian, and East European Studies (CERES), and a bachelor's degree in Political Science and Russian & Slavic Studies from McGill University.
== Lunch ==
1:30pm – 1:45pm
The 1817 Protocol: Commemorating 200 Years of Russian-Kashia Relations
Tribal Chairman Reno Franklin and Oleg Stepanov, Director of Policy Planning Department, Russian Ministry of Foreign Affairs
Two hundred years ago the Russians and Kashia exchanged gifts and an Allies of Russia medallion to formalize their peaceful relationship at Fort Ross. Officials from the Russian Federation and Kashia Tribal Chairman Reno Franklin will commemorate this event between their two sovereign nations.
At Ross on 22 September 1817 an official meeting was held between Captain-Lieutenant Leonty Hagemeister, who was soon to replace Baranov as governor of the colonies, and local Indian leaders, and it was recorded in a special document that was signed by Hagemeister, Kuskov, Khlebnikov, and a number of officers from the ship Kutuzov (Document 38). The native side was represented by 'the Indian leaders Chu-gu-an, Amat-tan, Gem-le-le, and others'.
1:45pm – 2:15pm
The Fort Ross Metini Cultural Trail
A panel discussion and slide show describing the archaeology, interpretation, and planning of the proposed Fort Ross Metini Cultural Trail, a path that interprets the long history of Kashia at Metini (Fort Ross). The Fort Ross Metini Cultural Trail is the product of over 20 years of collaboration between the Kashia Band of Pomo Indians, California State Parks, and UC Berkeley archeaologists. The physical trail itself is part of the California Coastal Trail project which will connect Fort Ross to neighboring open spaces to our north and south.
Speakers
Dr. Kent Lightfoot, Professor of Anthropology, University of California Berkeley
Dr. Sara Gonzales, Assistant Professor of Anthropology, University of Washington-Seattle
Reno Franklin, Kashia Tribal Chairman.
2:15pm – 2:45pm
Preservation of Russian Historical and Cultural Heritage in the USA
Speaker Margarita Meniailenko: Деятельность русской эмиграции по сохранению историко-культурного наследия
Activities of the Russian Emigration Preserving Historical and Cultural Heritage
PhD in history, Museum of Russian Culture, San Francisco Chief Archivist (1998-present) Education: – National Research University of Electronic Technology (1973-1979) – Russian State University for the Humanities (1991-1997) – Russian Academy of Public Administration under the President of the Russian Federation (2008)
Speaker Larisa Alexandrovna Rogovaya, professional archivist: Возвращенная история. Опыт Государственного архива Российской Федерации по собиранию и сохранению архивов эмиграции History Recovered: Work of the Federal Archives of the Russian Federation of Compiling and Preserving Archives of Emigration
March 2016: Director of the State Archives of the Russian Federation. 2005-2016: Deputy Director of the State Archives of the Russian Federation, Head of the Scientific Information Center, whose tasks are the organization and functioning of the reading rooms of the archive, the creation and development of information retrieval systems to expand access to archival documents, the fulfillment of requests of citizens and organizations. 1978 to 2005: Worked in the Russian State Archive of Social and Political History (formerly the Central Party Archive of the Institute of World History under the Central Committee of the CPSU, RTSKHIDNI) as a research officer, head of the department. Specializes in the field of Soviet history. Editor and compiler of more than 50 collections of documents on the political history of Russia 1920-1950s.
2:45pm
Closing Remarks
3pm – 4pm Closing Reception and Exclusive Preview
Presented and sponsored by the Renova Fort Ross Foundation
Cyprus Room, Golden Gate Club
Concluding the conference, please join us in the Cyprus Room, Golden Gate Club, for a lovely reception and an exclusive preview of A Most Beautiful Country, an art photography exhibit of vast expanses of Russia. The exhibition features winners and runner-ups of the Russian Geographical Society's international competition, devoted to the conservation of Russian nature and the development of responsible attitudes toward the environment.
Since the project's launch three years ago, some eight million from across the Russian Federation and Europe have seen the exhibit. In 2016, 23,000 national and international photographers captured more than 110,000 images of Russia. The youngest artist was only five year old, while the eldest was 87 years young! The images presented in this exhibit address Sacred Russia, Animals, Heritage Slipping Away and the Peoples of Russia. They showcase the beauty and vastness of Russian nature, wildlife, conservation and Russia's ethnic and cultural heritage.