Fort Ross Festival 2018
Saturday July 28: 10 am – 6:30 pm
Advance tickets available through Eventbrite or pay by cash at the park on the day of the event.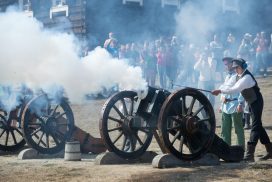 Looking for the perfect way to celebrate Summer in Sonoma County? Join us on July 28th for Fort Ross Festival! Where else can you witness Kashia Pomo ceremonial dancing, sing along to Americana Swing, learn from Alaska Native craftspeople, and take in traditional Russian performances, all together on the most beautiful stretch of the Sonoma coast? Grab a pint from our Beer Garden (closes at 5:30 pm) and enjoy an amazing day celebrating different cultures. Back by popular demand, join the Fort Ross Militia for Musket and Cannon Firings, and have a BLAST at Fort Ross!
Fort Ross Conservancy suggests you leave your dog at home during Festival because the park will be very crowded and the cannon firing is not dog-friendly. However, well behaved dogs on leash are legally allowed in the parking lot, on roads, and inside the fort compound. Dogs are not allowed on the beach. Thank you.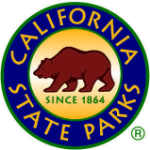 California State Parks supports equal access. Prior to arrival, visitors with disabilities who need assistance should contact (707) 847-3437.
FESTIVAL ACTIVITIES
Ongoing Activities
10-5 Fort Ross Visitor Center Bookshop, museum, films, & displays.
10-4 Fort Compound crafts, music, dance, cooking & more from the Russian, Alaska Native & Kashia communities
10-4 Fort Ross Marketplace: handmade traditional crafts & art (Fort Compound)
10-12 Harbor Seal Interpretation (above Fort Ross Cove, opposite Call Picnic Area)
11-4 Marine Mammal & Fur Trade Interpretation (Fur Warehouse)
11-5:30 International Food Bazaar (Call Picnic Area)
11-5:30 Beer Garden (Call Picnic Area) – Music by Pocket Swing
12-4 Horse & Carriage ride (free!) between Windmill & Fort Compound
Scheduled Activities
10:00 Divine Service – St. Nicholas Cathedral, San Francisco (Chapel)
10:55 Russian Orthodox Procession to the cemetery & Panikhida
11:00 Bell Ringing – Victor Avdienko, Bell Ringer & Percussionist, SF Symphony (Chapel) Details here.
11-12:30 Celebrating the Return of the SS Pomona Sign (Visitor Center auditorium)
11:00 Windmill presentation
11:10 Fort Ross History & Trade Presentation (Fur Warehouse)
11:30 Tea with the Rotchevs (Rotchev House)
11:45 Story Time – in Russian & English, with Marina Pavlova (near Chapel)
11:45 Zabavushka – Children's Slavic Folk Ensemble (Fur Warehouse)
12:00 Militia & Cannon Demonstration
12:30 San Francisco Balalaika Ensemble (Fur Warehouse)
12:30 First Annual Fort Ross Borscht Cook-Off (Fort Compound Kitchen)
12:45 Fort Ross Quest – Students from Russia share their videos (Visitor Center auditorium)
1:00 Kitka – Balkan, Slavic & Caucasian Harmonies (Fur Warehouse)
1:00 Tea with the Rotchevs (Rotchev House)
1:00 Storytelling – with Georgia Churchill (near Chapel)
1:30 Kedry – Traditional Russian games & circle dances (Fort Compound)
1:30 Slavyanka Chorus – Sacred songs (Fort Ross Chapel)
1:45-3:00 Traditional Games– MAS wrestling, tug-of-war, etc. (Inside fort, SE corner)
2:00 Dolina – Traditions, Songs & Costumes of Southern Russia (Rotchev House)
2:00 Bell Ringing – Victor Avdienko, Bell Ringer & Percussionist, SF Symphony (Chapel)
2:10 История Форта Росс и морского промысла (Fur Warehouse)
2:30 Militia & Cannon Demonstration
3:00 Slavyanka Chorus – Russian folk, patriotic & Cossack songs (Fur Warehouse)
3:30 Kitka – Balkan, Slavic & Caucasian Harmonies (Fur Warehouse)
3:30 Story Time – in Russian & English, with Marina Pavlova (near Chapel))
3:45 Yamalia – The Back of Beyond: Indigenous of the Siberian North (Visitor Center Auditorium)
3:55 San Francisco Balalaika Ensemble (Fur Warehouse)
4:00 Windmill Presentation
4:20 Kedry – Traditional Russian village dances (Fort Compound)
4:40 Su Nu Nu Shinal – Kashia Pomo Dancers (Marine Terrace)
5:30 Beer Sales Close
6:30 Festival Ends
Performers in the Compound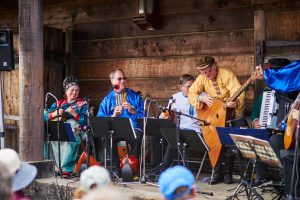 San Francisco Balalaika Ensemble keeps traditional alive by performing Russian, Ukrainian, Russian Roma (Gypsy), and Crimean Tatar music in a traditional folk instrument orchestra of balalaikas, domras, bayan (Russian button accordion), zhaleika/brelka (Russian reed pipes) and sopilka (Ukrainian flute).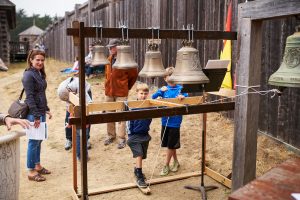 Bells! Enjoy the joyful sound of ringing bells (zvonnitsa) emanating from on high, with performances by soloist Victor Avdienko, Bell Ringer and Percussionist of San Francisco Symphony Orchestra. Bells provided by Blagovest Bells of Novato, California.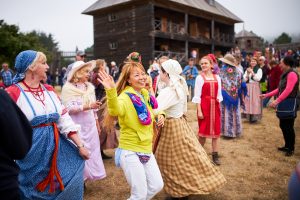 Russian House Kedry generously brings Fort Ross to life during the festival with their traditional Russian folk songs, dances, rituals, games, crafts and baking. Get ready to join in!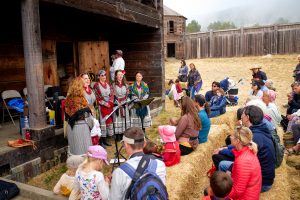 East Bay women's vocal arts ensemble Kitka is inspired by traditional songs and vocal techniques from Eastern Europe. Their exquisite harmonies resonate as if energized by the universe itself. Special thanks to the California Arts Council for supporting Kitka's performances at Fort Ross.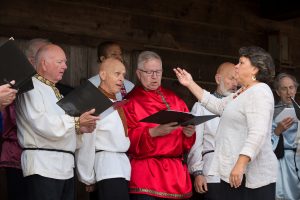 Slavyanka Chorus brings their rich program of Russian sacred and folk music to Fort Ross, where we'll hear ancient church music from Russia's past sung in the Chapel…and wild Cossack songs in the yard! Don't miss this wonderful choral group, a long standing tradition of Fort Ross Festival.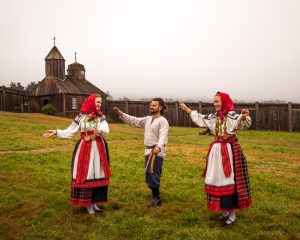 The Bay Area folk group Dolina revives traditions of the southern regions of Russia, focusing on authentic folklore singing and dancing. They are proud owners of the museum-worthy peasants costumes from the end of 19th century which they will show to the festival guests. This year the group will sing songs that were recorded in Belgorod and Voronezh regions of Russia and will speak about traditions associated with the summer season.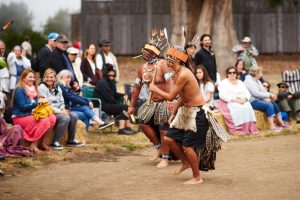 Su Nu Nu Shinal, which means Huckleberry Heights, are Kashia Pomo and Coast Miwok Native Americans from California who have been performing traditional dance for over 40 years. They will dance in their traditional dance circle on the ocean terrace outside the fort compound. The Kashia were the first people known to have lived in the area that is now Fort Ross, and they continue to live on these lands today.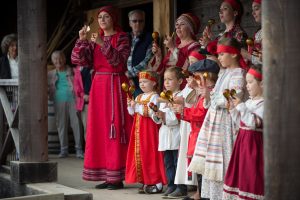 Zabavushka is a folklore ensemble of Slavic children, representing their connection of generations with children performing with their parents. They will perform a mixture lullabies, pestushki, ditties, playing and solo songs.
Storyteller Georgia Churchill
For 26 years Georgia Churchill has been telling oral tradition tales from many cultures to people from ages 3 to 101. Studying mime, improv, various dramatic philosophies/techniques, and voice have taught her to bring the stories to life. The actual telling of the tales has taught her how best to engage her audience.
Kitchen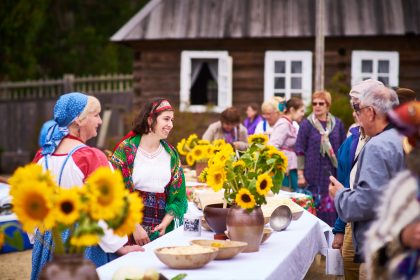 Walking into the fort from the main entrance you will be greeted by smells of campfire, borscht, and other traditional Russian foods, as our interpretive kitchen volunteers busily prepare, cook, and demonstrate how to make these dishes over an open fire. Traditional Sakha (Native Siberian) pancakes, kitchenware, and utensils will also be on display.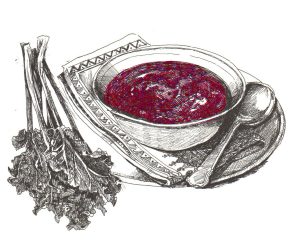 We will be holding our first Borscht Cook-Off! If you have a recipe you'd like to share, bring a pot of borscht and see how your borscht compares to others in the competition and win some prizes! Details for entry here.
Local Crafts Marketplace
Kashia Pomo Jewelry
Beautiful handmade brooms by Melinda Napier
Matryoshka – Russian/Eastern European style dolls and other gifts and souvenirs by Elena Gabriel
Paintings from Valeriy Kagounkin and Tamara Magdalina, Permanent Honorable "Academic" Members of the Russian Art Academy.
Felted goods by Stefany Perlman
Hands-On Crafts Demonstrations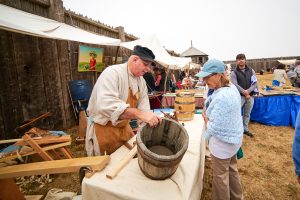 Settlement Ross was one of the first industrial centers of California, and many skilled craftspeople were hard at work building California's first ships, windmills, clay bricks, barrels, and much more. At Festival you can watch coopers, spinners, carpenters, woodworkers, and many others skilled craftspeople busily preparing their wares, reminiscent of the Fort Ross era when they traded with the Spanish, Mexicans or Bostonians. Try your hand at making rope, weaving a mini-basket, or rolling a candle.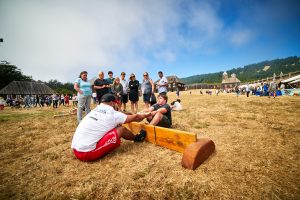 MAS wrestling – a traditional Yakut game where participants sit in front of each other, prop their feet against a board that divides them and tug on a wooden stick. Victory is declared when a contestant manages to pull their opponent over the board and keep the stick in their hands.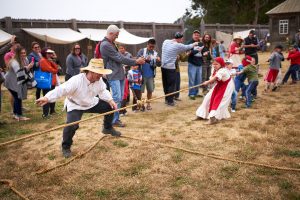 Tug-of-war – good old fashioned fun!
Alaska Native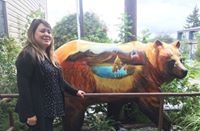 Danielle Larsen is a contemporary illustrator and painter with Unangan Aleut, Koyukon Athabascan, Inupiaq and European ancestry. She received her Bachelor of Fine Arts degree from the University of Alaska, Anchorage. She is best known for her colorful, graphic, large-scale paintings of jarred, smoked salmon inspired by her father. Her paintings are rooted in her Alaska Native culture and her memories growing up in Southcentral Alaska. Her still life compositions represent her own impressions and experiences expressed She learned from her family the importance of her cultural traditions of drawing, beading, and quilting. She's studied with Alaska Native Master artists Alvin Amason in painting, Perry Eaton in mask making, Emma Hildebrand in caribou tufting, Florence Sheakley in two needle beading, and Mary Tunchuk, Elaine Kingeekuk, and Sonya Kelliher-Combs in seal gut sewing. She also studied with Garry Mealor in watercolor, Steve Gordon in painting, and Hugh McPeck in sculpture.through energy and light.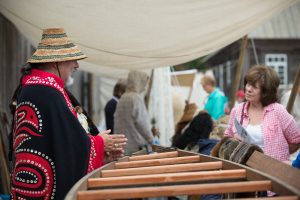 Nigilax build by Marc Daniels
Windmill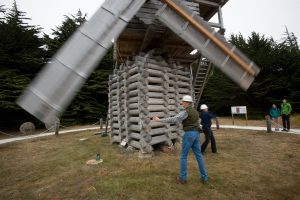 Learn about the unique construction techniques of the Fort Ross windmill and watch a working demonstration of the mill.
Stewards of the Coast and Redwoods
Mobile Marine Education Van (the Steward Ship) will be outside the fort compound offering videos, interpretive displays, skulls, pelts, and bones for visitors to touch and feel.
Call Picnic Area Activities
Grab a Pint at our 5th Annual Beer Garden!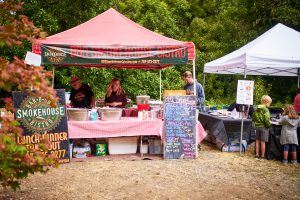 Fort Ross Festival's Beer Garden, with its incredible front row seat to the Pacific Ocean, offers a great variety of delicious food and cold beverages for you to enjoy while listening to live Americana music. We are thrilled to have the continued support from local North Coast Brewing Company and Lagunitas Brewing Co., and happy to add Bear Republic Brewing Co. to our list this year. We'll have a wide variety of beers from each brewer, from hoppy IPAs to rich, roasty Stouts.
All profits from the Beer Garden go to support Fort Ross Conservancy's Education Fund, bringing under-served school groups to Fort Ross for our Marine Ecology Program and Environmental Living Program.



Call Picnic Area Music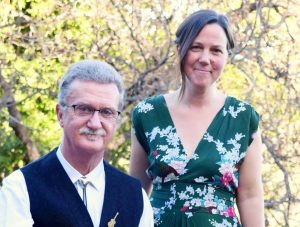 Pocket Swing, an acoustic duo featuring popular swing and jazz tunes from the Great American Songbook, along with a selection of American folk and country classics.
International Food Bazaar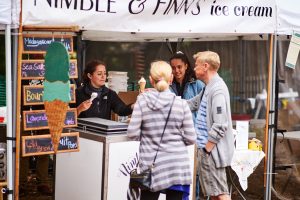 Choose from a wonderful variety of local vendors in our International Food Bazaar! Try traditional Russian borscht and piroshki from Russian House #1 in Jenner, slow smoked BBQ with fresh coleslaw from BBQ Smokehouse Bistro & Catering, or for a taste of India check out Lata's curries and samosas paired with a mango lassi or chai tea. Warm up with a hot espresso from Subconcious Coffee. We're also thrilled to welcome back the incredible flavors of homemade, award-winning, small batch ice cream from Nimble & Finn's and the Metini Native Cultural Foundation food booth.
Youth Education Food Booth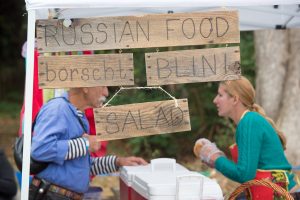 Grab a bowl of borscht to support Fort Ross Conservancy's Marine Ecology and Environmental Living Programs! Complete your meal by adding on a salad, pickled egg, and traditional Russian tea cookies! Profits from the Salad Booth Go to our Fort Ross Conservancy Education Fund. Fort Ross Conservancy's education programs offer wonderful opportunities for youth to learn about local marine ecology and history at Fort Ross. Thank you to Andy's Produce Market, Oliver's Markets, and Costco for generously donating ingredients!