APRIL 2019 ENEWS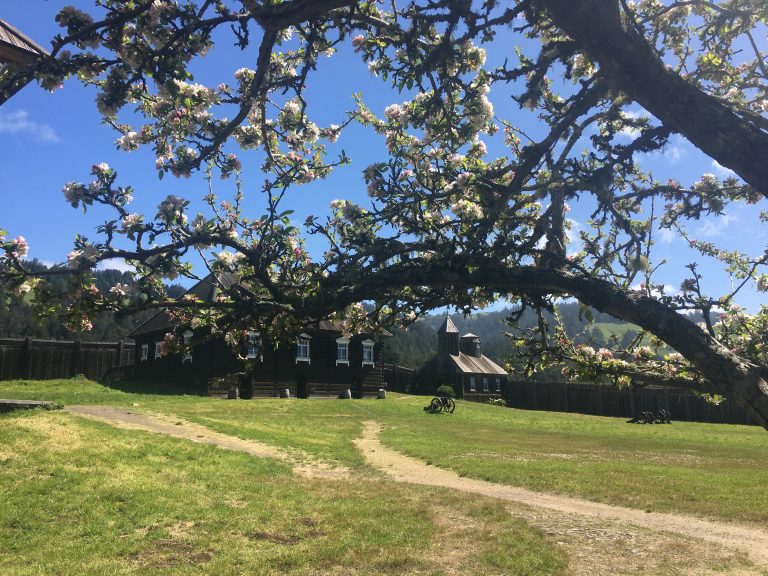 Dear friends of Fort Ross and Salt Point,
That stressful April 15th deadline is safely in the rear view mirror and it feels like the perfect time to plan a weekend get-away. Predictably, I recommend an excursion to West Sonoma County where the wildflowers are abundant, harbor seal pups are lounging on offshore rocks, and whale sightings are a daily occurrence. Today's April enews is blossoming with superbloom seasonal updates and a rich spring events calendar, including our May 18th Alaska Native Day and July 27th Fort Ross Festival to inspire your next visit.
We are pleased to announce that California Humanities has awarded FRC and Abamedia funding for the Abamedia Film entitled Coming Around: The Kashia Pomo Struggle for Homeland, through their California Documentary Project. This story will chronicle how the Kashia are regaining access and ownership to their tribal lands and creating a model for other displaced Native American tribes. FRC has worked with Project Director J Mitchell Johnson for many years now and several videos on our www.fortross.org website bear his signature. We wish the team great success with next steps, and we'll keep our community in the loop as the project gains traction.
It's an intense time of year for us, what with scheduling next year's student programs and offering tours (FRC underwrites or provides 100% of all public-facing interpretation at both Fort Ross and Salt Point parks), writing grants, checking in and supporting all of our fabulous volunteers, gearing up for Fort Ross Festival, and otherwise preparing for the busy summer season. Connecting with my community makes all the hours at my desk feel worthwhile. Come visit and say hello to the bookshop team, shoot me an email, and join us in being an active member of our Fort Ross community.
If you would like to work with us to strengthen our organization and help steward these two important parks, please consider joining the Fort Ross Conservancy board. We are always looking for inspiring and active board members. To start the conversation please fill out the online application, and don't hesitate to reach out to me to schedule a call.
Here's wishing you spend time outside and once again believe in spring,
-Sarah
---
Upcoming Events
May 18th - ALASKA NATIVE DAY
Featuring the Anchorage Unangax Dancers from the Aleutian Islands of Alaska.
Ekatherina Savvinova (Saina) of Sakha Republic, will be performing her songs and sharing the Siberian Native history at the Fort.
Haida Artist Rachel Langford will be leading a metal etching project and we will have metal works for display and sale.
6th Annual John Sperry memorial Qayaq Race – contact Lauren Peters at Sjsulauren@Gmail.Com to sign up! The first 10 iqyax racers to sign up will receive a $50 gift certificate from Fort Ross Bookshop.
July 27th - FORT ROSS FESTIVAL
Looking for the perfect way to celebrate Summer in Sonoma County? Join us on July 27th for Fort Ross Festival! Where else can you witness Kashia Pomo ceremonial dancing, listen to folk, gypsy, and bluegrass music, learn from Alaska Native craftspeople, and take in traditional Russian performances, all together on the most beautiful stretch of the Sonoma coast? Grab a pint from our Beer Garden and enjoy an amazing day celebrating different cultures. Back by popular demand, join the Fort Ross Militia for Musket and Cannon Firings, and have a BLAST at Fort Ross!
Tickets are on sale at Eventbrite!
Salt Point State Park - A Wet Winter Promises Wildflowers Galore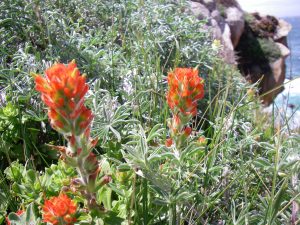 Sonoma County coastal parks are soon to experience a super bloom of wildflowers similar to the breathtaking wildflower display seen in the Southern California desert in March. The higher elevation areas of both Fort Ross State Historic Park and Salt Point State Park have captured over 75 inches of rain this season, and abundant rainfall heralds a magnificent show of spring and early summer wildflowers. The earliest wildflower and my personal favorite, fetid adder tongues have already come and gone--you have to lurk the wet woods in late December and January to find these secretive beauties. In the same moist habitat you will find wild ginger creeping along stream banks, another early spring delight. In the redwood forest calypso orchids, Merten's coralroot orchids and trillium are in abundance. Another charmer is footsteps of spring, a vivid neon, chartreuse yellow.
Should you be lucky enough to come to Salt Point and hike the marine terrace trails every week for the next two months you would see an eye popping successive parade of wildflowers. As I write today it is raining, softly, and last week hiking the trails was a wet and muddy business. Some trails are awash in standing water and one particularly juicy section had tadpoles darting for shelter on the trail itself. By the time you are reading this, the march from spring to summer will have begun, and our welcome and beautiful rain clouds will have disappeared.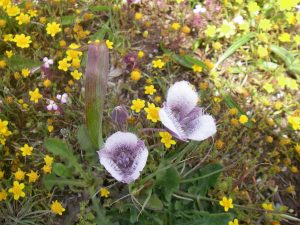 It is perfectly possible to botanize from a vehicle, driving slowly along quiet country roads and stopping when you see a flash of color. But the full Salt Point experience means you will have to leave the comfort of your car and make a foray into the park. The Salt Point trail from the day use parking area above Gerstle Cove affords stunning ocean views and vistas of fragrant yellow bush lupin (they have the enticing sweet aroma of sweet peas) and drifts of vivid pink sea thrift. It can be simply jaw dropping to round the corner and see a jumble of hues, a profusion of color and the blue ocean in the foreground. This one-way 1.2 mile trail to Stump Beach is the park's most popular trail.
I prefer to hike with field guides in my day pack and there are two I can recommend for our area. Reny Parker's Wildflowers of California's North Coast (now out of print but the last few copies are still available to purchase at Fort Ross State Historic Park Bookshop) and Reny has published some lovely photographs, some taken at Salt Point State Park. https://www.renyswildflowers.com/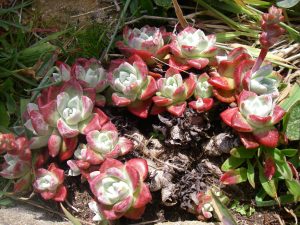 Another cherished identification book is Elaine Mahaffey's Wildflowers of the Sea Ranch. Elaine has done the hard work of honing in on what is blooming locally, and though this slim book lacks color photographs and illustrations, it is organized by flower color and is invaluable in the field.
Both parks straddle two chapters of the California Native Plant Society, https://www.cnps.org the Milo Baker Chapter on Santa Rosa and the Dorothy King Young Chapter http://www.dkycnps.org/ covers the area around Gualala and Fort Bragg. For the serious plants person Peter Warner, through the CNPS DKY chapter, has compiled a vascular plants list which can be downloaded. http://www.dkycnps.org/plant%20lists/saltpointstatepark%20species%20list.html
A few cautions before you make the drive. These coastal cliffs are crumbling and eroding, please don't get too close to the cliff edge. And while nothing is more astonishing than seeing high surf pounding the shore, these big waves can be dangerous, so please stand back! And of course, take as many photographs of wildflowers as you please, but kindly do not pick or walk on the wildflowers. They need to be enjoyed from the trail and allowed to set seed for future generations.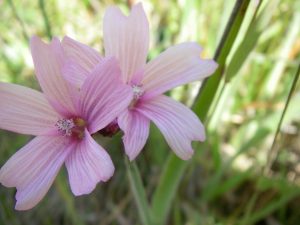 This is the year to fall in love with Northern California wildflowers and this is the month to begin that adventure. Enjoy every golden moment. Sniff the salt air, perfumed with lupin and ogle the bounty that mother natures has gifted us this year. This is a peak outdoor experience that everyone should have the pleasure, the delight of knowing once in their lifetime and it is within easy grasp. Salt Point State Park is calling.
--Susanna Barlow, Salt Point State Park Interpreter
Marine Mammal Rescue - The Story of Boulders
Bringing Boulders to Safety
Note: Many of the most popularly viewed animals in U.S. coastal waters are protected by the Endangered Species Act, and whales, dolphins, porpoises, seals, and sea lions are also protected by the Marine Mammal Protection Act. These laws help protect marine mammals and sea turtles from harm, including having their natural behaviors interrupted by human actions. The Marine Mammal Protection Act states that humans should stay at least 50 yards away from seals and sea lions in the water, or on shore.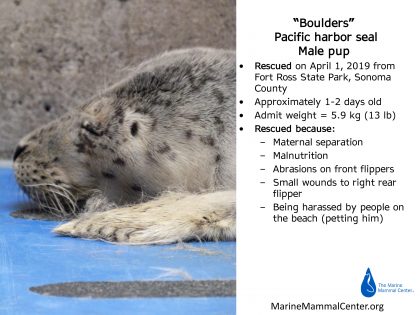 During a recent ELP program, two kids from the Gatherers group came up from the beach to tell me they'd found a harbor seal pup who appeared to be stranded in Fort Ross Cove.
This was the first time a Gatherers group, our nature historians participating in our Environmental Living Program, was out foraging for seaweed in Fort Ross Cove, and I had neglected to reiterate the instructions about keeping distance from any wildlife they might come across. Approaching the scene my heart skipped a beat as I realized my oversight. The students and a chaperone were sitting fairly close to a harbor seal who appeared to have his left flipper pinned under a boulder.
The children were quietly making drawings and "keeping Boulder company," clearly concerned for the pup. I'm guessing I shared the children's first impulse: "Can I just move the boulder so he can free himself?" I reminded myself this is not a domestic animal. As cute as he is, he is wild and I have no idea what to do that would not cause him further harm. The kids did not realize how frightening their presence would be for the animal, and that if its mother saw people nearby she would likely abandon her pup. I asked everyone to move away and then reached out to my FRC colleague for advice.
Charon Vilnai, Marine Ecology instructor and trained NOAA Beachwatch volunteer, soon appeared with her field glasses. We walked to the cove and pointed out where the injured pup was. She noted her observations, called the Marine Mammal Center in Sausalito, and within minutes we received instructions to observe from a distance and continue to report any changes.
Later that afternoon, I saw the pup in the same spot. I reported to Charon and left for the day, asking my special Spirit Friend, Raphael, to stay with Boulder that night.
I woke early the next morning ready to return to the cove and check on the pup before beginning my day with my Colony Ross inhabitants. It was about 8:15am when I reached the dirt drive leading to the Fort and I noticed a big, black pickup parked at a trailhead, with the lettering 'Marine Mammal Center' stenciled on its sides.
Marine Mammal Center volunteers Ted and Luanne Melden were looking for specific information about the pup's last known location. We found Boulder exactly where he'd been the night before, but at first glance, he appeared to be flipped over and he wasn't moving. This doesn't look good, I thought.
Ted watched for a few seconds and said, 'He may still be breathing. Where can we find you to give an update?' Ted and Luanna picked up the rescue gear they'd deposited on the trail as I went to the fort to greet my students.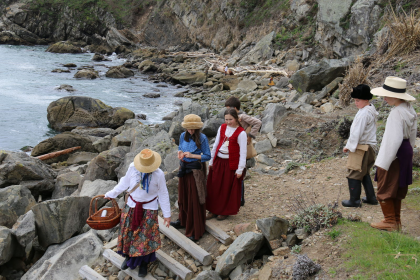 About 20 minutes later, Ted and Luanna drove down the path to the Fort to give me a short and sweet update as Boulder, very much alive, barked from within his large crate. I walked to the compound to give my report to Colony Ross, the feeling of joy rising from my heart to my throat and squeezing out my eyes.
Yuba River Charter School was spread about the compound in full swing with their clean-up activities. Rather than yelling across the compound, I employed the teacher's method for gaining her students' attention: 'Colony Ross -- Freeze!' and it worked like a charm. "The pup is freed from the rocks. Boulders will be in rehab at the Marine Mammal Center in Sausalito until he is healthy enough to be re-released back to his home in the wild. We can check on his progress through their website."
'Yay' and 'yippee' exploded from every corner of the compound. And suddenly, I had one Gatherers boy hugging me at the waist, followed by many more gathering in a group hug. What a wonderful way for us all to experience the truth that what each of us does matters, not only to our local community, but to our larger Communities as well.
Tricia Ialeggio, FRC Programs Instructor
From Ted Melden, Marine Mammal Center Volunteer
Our mission at the Marine Mammal Center is to rescue, treat, and rehabilitate the animals hoping for the eventual release back into their ocean. Harbor seals are the most delicate animal we care for and they can go from looking good to dead in a short time span. All of our marine mammals are susceptible many ailments and injuries and our teams of veterinarians and care crews are trained to look for signs of an animal in distress beyond the initial rescue. This is why the harbor seals are not on public display like the sea lions and elephant seals at the Marine Mammal Center.
Once a harbor seal is rescued, it is given an admit exam by a veterinarian at the hospital. The vets prescribe any medicines necessary to medically treat the seal. Our animal care crews then provide all care for that animal. Since the harbor seals are real young babies, they do not know what a fish is yet and some may have never swam. After they have been with us for a few days, we will put them in a pool of water to see what their level of swimming ability is and we actually stand by the pool as a lifeguard until we are comfortable they know how to enter and exit the pools on their own. Initially, our crews feed them a special liquid diet (electrolytes first and then water, powered milk, and salmon oil) that we ingest into their stomachs via a tube. After a short while, we begin introducing them to fish. We need to mimic the actions of a fish in water and hope the seals learn to chase and capture and eat the fish as they would in the wild. Once they have mastered their skills necessary for survival, we keep them until they gain enough weight to survive in their ocean. Once they can eat, swim, catch fish, are medically cleared of any ailments and medicine free, and are of satisfactory weight, we return them to the wild. As far as them fitting in with larger groups, they are not real social animals wherein fitting in is a necessity. They will lay on the same beaches with other animals and they may play in the water with others, but that is not necessary for their survival.
Hope this answered some of your questions. And I hope you enjoy your tour of the Marine Mammal Center. It is a fascinating place that works wonders for our slippered friends!
Ted Melden Marine Mammal Center
Why These Wild Winds Matter
If you were lucky enough to visit any day last week, or plan to visit pretty much any day this spring, chances are it will be wildly windy along the bluffs at Fort Ross. Although this extreme seasonal weather anomaly can make normal outdoor activities a bit more challenging, these winds play a vital role in the health of our coasts.
The strong spring winds blowing north to south (parallel to the coast) force the surface water offshore and in so doing, pull the cold, nutrient-rich waters from the deep ocean up to the surface. This process is called upwelling and it is essential to the health of not only our coastline, but also the world's oceans. Upwelling distributes essential nutrients from cold waters to less nutrient-rich warmer waters, thus creating healthier worldwide fisheries and supporting the marine mammals and birds that depend on them.
The waters brought up during upwelling are full of flotsam that naturally settles to the sea floor, such as seaweed and decomposing animals. Think of it as the ocean's fertilizer providing essential nutrients to the plant species like kelp, other seaweeds and, in particular, phytoplankton.


Phytoplankton (microscopic plants) are the energy base of the oceanic food pyramid, laying the building blocks for the large animal populations higher up the food web. According to NOAA Ocean Explorer, "Although coastal upwelling regions account for only one percent of the ocean surface, they contribute roughly 50 percent of the world's fisheries landings." And according to Marine Fisheries Ecology: "Approximately 25% of the total global marine fish catches come from five upwellings that occupy only 5% of the total ocean area." The Sonoma and Mendocino coasts are an integral part of these regions.
It comes as no surprise that areas with such density of fish and other marine species attract many commercial fishing industries as a source of food and income. These industries have been known to quickly overfish an area, depleting the middle trophic level - feeder fish - essential to a healthy and balanced ocean.
Areas that go through seasonal upwelling have incredibly varied and diverse ecosystems, making them ideal for marine research. It is due to this upwelling that both Fort Ross and Salt Point have such an abundance of whale populations migrating through, and year-round populations of harbor seal, and California and Steller sea lions. We can see how vital upwelling is to the health and sustainability of the fishing industry, marine ecosystems and the general ocean balance. When we have strong spring winds causing upwelling, this means our seas will more likely be able to produce the necessary food for our local seal and sea lion populations.
It's still one of the most beautiful seasons to go whale watching, birding or wildflower hiking at Fort Ross. Someone older and wiser than me once said "there is no bad weather, only bad equipment" - so bring a hat, tie your hair back, don a windbreaker and come watch the incredible wildlife along our coast.
Song Hunter, Director of Programs
---
Highway One Mystery Key
Serving as a guide at Fort Ross, I truly enjoy sharing with our visitors historical context, information, and stories, sometimes hidden stories, about Metini-Fort Ross. Occasionally our visitors share with me their discoveries. Here's one. Thank you, Livia!
- Hank Birnbaum, Fort Ross Conservancy Bilingual Guide & Educator
"My name is Livia. It was the morning of January 2, 2017 and my dad, sister and I were taking our annual road trip along California beautiful Highway 1. We stopped at a turnout on the ocean side of the highway in Jenner just south of Fort Ross area and we were looking at the beautiful waves, cliffs and hills. It had rained the night before so the gravel turnout was quite muddy. I was walking along when I spotted what looked like a key in the mud. I picked it up and washed it off to realize it was in fact an old key. I've always wanted to know what this belonged to."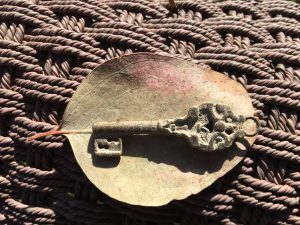 Found in the roadside fill dirt about a mile south of Fort Ross State Historic Park, this mystery key is likely from a Ranch Era chest, trunk or desk drawer. Just imagine the stories it could tell!
Please remember, if you find an artifact in a California State Park or other protected territory, please be aware of the Impacts to Archaeological Sites: let it be and inform park personnel, helping archeologists unlock more clues to our past!
"...Sometimes park visitors gather artifacts and place them on a rock or a spot on the ground for others to find and enjoy. Sometimes they give the artifacts to park rangers in an attempt to protect the artifacts. However, at many archaeological sites in our state parks, the artifacts were placed where they are by the last people who lived there. Visitors do not realize that moving artifacts compromises the landscape and setting and removes artifacts from their archaeological context. The relationships among artifacts and features provide information about how, when, and where these items were used. That information is lost when artifacts are moved from their original location..."
From Impacts to Archaeological Sites
--Hank Birnbaum, Bilingual Guide, Historical Specialist & ELP Instructor

Environmental Living Program - Schedule Your Field Trip Today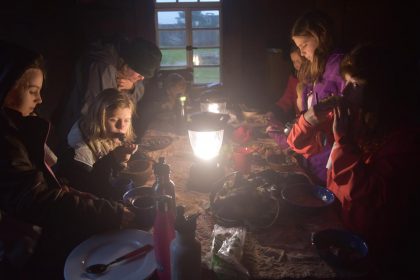 FRC is accepting school bookings for the upcoming academic year. Schedule your field trip today!
The Environmental Living Program provides hands-on learning which allows students to experience the joys of history as active participants, exploring the interaction between people and their environment. Immersed for a brief time in the past, students learn about the many cultures and lifestyles present at Settlement Ross. Through performing some of the tasks that were a part of daily life at Fort Ross, such as cooking, fishing, processing natural materials that have been gathered according to season, practicing artisanal crafts, and dancing, students gain a better understanding of history and their relationship to it. During an overnight Fort Ross ELP, students, parents, and teachers sleep inside the historic compound buildings.
https://programs.fortross.org/elp/apply
Fort Ross Photo Contest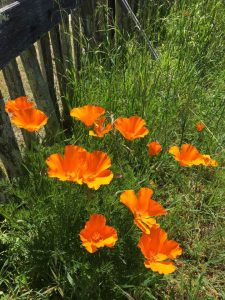 Calling all amateur photographers!
Fort Ross Conservancy is holding a photo contest leading up to our July 27th, 2019 Fort Ross Festival.
We will award three winners. Each winner will receive free entrance to Fort Ross Festival and -- if the winner is over 21 -- two free beers from our Beer Garden! We will print and display the three winning photographs during Fort Ross Festival for all to enjoy and appreciate.