APRIL 2020 ENEWS
Dear friends of Salt Point and Fort Ross,

I hope this email finds you all safe and well, with a strong roof over your head and plenty of pasta in the pantry. Fort Ross Conservancy staffers are missing our community more than ever now that all Sonoma County parks are closed. I wanted to give you an update on what's happening at Fort Ross and Salt Point parks.
The current crisis brought on by COVID-19 continues to create hardship across the board, and FRC is no exception. This time of year we are usually "all hands on deck" with school groups arriving daily and two bustling bookshops, but with the park and campgrounds shuttered and schools closed we've lost all our high season revenue from programming, bookshops, firewood sales, and tours. This means for now we've had to reduce our team to four full time staff, all working remotely. We are taking advantage of this quiet period to rework our marine mammal data collection, write grants, and focus on several research and writing projects funded by Russian Geographical Society.
For now we are holding strong, though questions remain about how FRC will move forward. How and when will school programs return? Will we be able to throw large events like Fort Ross Festival that bring several thousand people to our park? How will the economic downturn which is international in scope affect our loyal sponsors both here and abroad? FRC employs almost a dozen locals and injects an additional 50k a year into our rural economy each year, and the loss of work will have implications to many people in our small and tight knit community.
Only time will tell how this plays out, but I am certain of two things. Most importantly, nature is healing, and we all want and need to spend time outdoors. Our visitors will return to Fort Ross and Salt Point to take in the expansive vistas of the Pacific Ocean, goof around atop the cannons in the historic compound, rest at the base of a towering redwood, or just sit quietly in the historic cemetery. Of this I am certain.
Fort Ross Conservancy is resilient. We've weathered a few storms over the last decade and we are prepared to work our way through this one. Ever since FRC stepped up to support California State Parks during the 2010 park closures we've made a lasting mark on Fort Ross and Salt Point, managing most of the day-to-day operations and funding all our work through private funding. The community support for Fort Ross started that day in 1906 when George W. Call sold the land to William Randolph Hearst who later turned it over to the newly-created California State Parks. Since then there have been generations of individuals stepping up to protect this pristine landscape so rich in stories, and I have confidence that our community will continue to provide. We welcome your membership and we hope you will stick with us for the duration.
For the moment, we are posting a gorgeous stream of beauty shots on Instagram, Twitter, and Facebook which will surely remind you why you love State Parks, and our parks in particular. We hope you'll follow us. Read on for a charming story of ranch-era spring cleaning and a round-up of birding apps to help you with your shelter-in-place birding needs.
We look forward to the day when our public lands are open and welcoming. Until then, be good, be safe, and take care.
-Sarah
---
Backyard Birding in the Time of Corona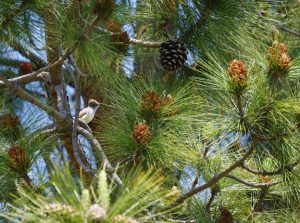 It's spring and no matter where you are in the northern hemisphere, there's likely a bird migration underway. It's safe to say, the last couple months have been the most unprecedented any of us have ever lived though. Due to the COVID-19 pandemic, we have all been forced to stay home during this beautiful seasonal shift. While sheltering in place can be tough for everyone, it can also be a golden opportunity to familiarize ourselves with our backyard friends - the birds.
There are four main flyways, each spanning from the top of North America into South America: they are the Atlantic, Mississippi, Central and Pacific. California lies along the Pacific Flyway, which covers lands from the Arctic tundra to wetlands in South America. This Flyway is a major migratory route for over one billion birds annually. Natural rest stops along these flyways are essential for the birds to break up their migration, take a rest, eat and sleep. The San Francisco Bay Area is a particularly important stopover for many species of waterfowl, sea and shorebirds as well as songbirds and raptors. Every year, increasing human development takes away critical areas these birds use during their migrations, making these rest stops fewer and farther between.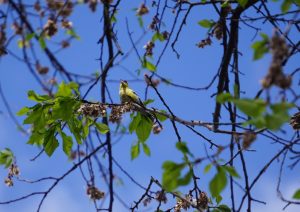 Over 1,100 species of birds have been historically documented in North America. According to data from both Audubon Society and Cornell Lab of Ornithology, there are actually 2,059 bird species in North America. Either way, many of them travel tens of thousands of miles each year during their fall and spring migrations!
Any good field guide will tell you which species of bird you're most likely to see in any given location and month. However, as citizen scientists we've been frequently seeing more unusual sightings of birds in places or at times where they previously had not been documented. These sightings may be evidence of how climate change is affecting their habitat and behavior.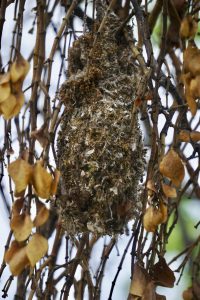 In light of these birding anomalies, it's critical that scientists have enough data to better track the changes in their range and migratory patterns. Obviously they can't do it all, so it's up to us as citizen scientists to help make these extremely important observations.
Think of birding as a puzzle or mystery and you are the detective. You have to use whatever data you have, be it plumage (feathers), color, a bird song or call, behavior, habitat, size, shape, body type, etc. to deduce the species of bird you're trying to identify.
Since we are all cooped up, the kiddos are out of school and everyone needs something exciting to keep ourselves busy and positive, becoming a backyard birder is the perfect new hobby for everyone at any level of proficiency.
Thankfully, there are many helpful birder sleuth apps one can use to become a master birder. My personal favorite free app is Merlin from the Cornell Lab of Ornithology. Using Merlin, you can input the date, location, size, coloring, and behavior and presto! you have a list of possible birds. You can also use one of your photos to ID your bird. You can even use the app offline, meaning you are not dependent on wifi or cell service, a huge bonus when this shelter in place order is lifted and we are all back at our favorite beach or hiking in the mountains.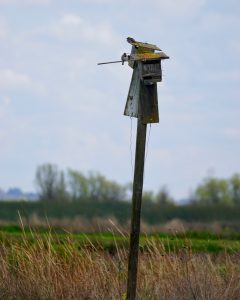 eBird is for the serious citizen scientists looking to capture real data and share it with the professional birding community: " eBird is the world's largest biodiversity-related citizen science project, with more than 100 million bird sightings contributed each year by eBirders around the world." This is also a great site on which to upload your data if you have only an audio file of a songbird, with no visual ID. Check out the April eBirder Challenge of the Month. For the kids in the house, check out their K-12 educational material resources.
Alternatively, if you have a photo, but no clue what type of bird you've captured, upload your picture to iNaturalist. This huge naturalist community will help you to ID any unknown species of plant, animal, fungi, or bird. This is a great resource!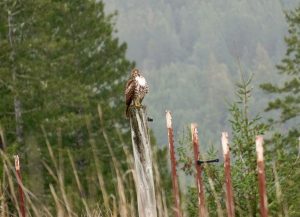 If you're already an avid birder, test yourself with this great Birding Quiz. Want something to listen to as you sit by your window with a pair of binoculars? Check out these great birding podcasts from Audubon.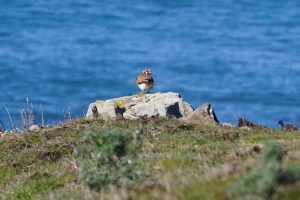 As you can see, birding can be for everyone! Go birding to enjoy what little nature we have to enjoy these days - your backyard. Become a birder to photograph them, or to listen to their beautiful songs, or to contribute to science, or to build a new birding community, or for the mystery and challenge of it. Become a birder to observe the interconnectivity of nature, how birds relate to the plants and animals around us. Any reason is the best reason. Join me, enjoy the marvelous world of birds and share your observations from your own backyard!
--Song Hunter, Director of Programs


Spring Cleaning With the Calls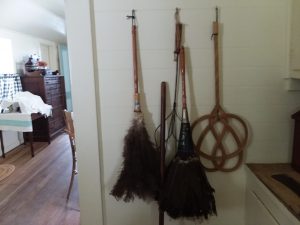 Springtime is full of life. An injection of energy from the sun helps fuel the growth of plants and animals that are busily working to produce offspring and build homes to raise their young. And it's not just the plants and animals that seem to come alive during the spring. People also have a tendency to have more energy after the cold weather and shorter days of winter have passed. Of all the seasons, staying cooped up inside in spring can be a real challenge. Yet many of us are doing exactly that, sheltering in place to help slow the spread of the COVID-19 virus. While people are coming up with new and creative ways of being productive at home, you might consider tackling an old springtime ritual to help you stay healthy and active in the present while connecting you to the past: spring cleaning!
Some believe spring cleaning traces back to the Iranian New Year (Nowruz) while others believe it dates back to the ancient Jewish practice of cleaning the home in preparation for Passover. In any case, it is clear that for centuries people have taken advantage of the burst of energy that comes with spring to give their homes a good scrub down and airing out. It's the perfect time to open up the windows that have been shut all winter long and let the healing and cleaning power of the sun shine in. Can't you just feel it? Spring cleaning can help cut down on dust allergies, be a good way to get exercise, help us enjoy our home environment more, feel less stressed and have a better night's sleep. While we are now coping with the uncertainty and challenges brought on by the COVID-19 pandemic, the benefits of spring cleaning might prove to be essential this season.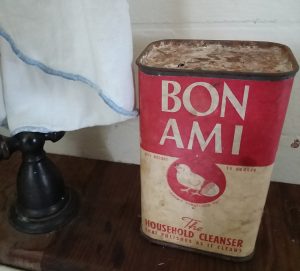 To provide you with some cleaning inspiration, I'd like to share a few cleaning product highlights from Fort Ross' Call House, the American Ranch family home which is now a museum at Fort Ross State Historic Park. While many cleaning products have become a thing of the past, the Call House helps illustrate how some cleaning products remain quite unchanged. This is refreshing since many old cleaning products appear to be easier on our bodies and on the planet.
In the Call's kitchen is an old tin of Bon Ami, a cleaning product that's been around since 1886. While the Call's Bon Ami looks different from the Bon Ami canister I have under my own kitchen sink, you can still buy their original 1886 formula cleaning powder made from just tallow soap and feldspar. One major reason that Bon Ami is still produced today is because it's non-toxic and biodegradable, making it a good choice for people who want to use products that support their health and the health of their environment. If you'd like to get your own can of non-toxic Bon Ami--free of detergent, bleach, perfume, dye and other harsh chemicals and allergens--it is conveniently available for online purchase from the safety of your own home. (This article was not sponsored by Bon Ami.)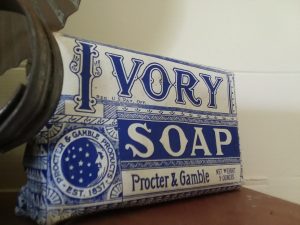 Keep walking through the Call's kitchen and you'll see another familiar cleaning product: a bar of ivory soap from Procter & Gamble (est. 1837). According to the Ivory brand website, "[t]he original Ivory Bar soap was developed in 1879 by Harley Procter. It was developed with pure & purposeful ingredients. It was meant to be a staple in the home and mild enough to be used for the whole family. Ivory was pure. 99.44% pure to be exact." Today Ivory soap is one of a number of popular Procter & Gamble household cleaning brands such as Tide, Dawn, Bounty, Swiffer, Comet and Febreeze. While I can't argue that all P&G products are as pure as Ivory soap, a look at their website shows they are finding ways of making their products more earth-friendly--a smart move given people's growing interest in using healthy and sustainable products.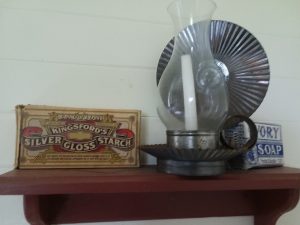 Last but not least of the Call Family cleaning product highlights, we have Kingsford's Silver Gloss Starch. In the early 1840s Thomas Kingsford invented cornstarch and by 1848, his company, T. Kingsford & Son. began successfully selling it. Kingsford cornstarch (now made by Argo) is still a staple product in many homes today. Until 1851 it was primarily used to treat stains and keep laundry looking smart. As people become more wary of plastic pollution, companies have turned to making products from biodegradable cornstarch such as disposable plates, cutlery and straws. These products are arguably safer and healthier than their plastic counterparts. Thank you, Mr. Kingsford!
While it's interesting to ponder what cornstarch products have yet to be invented, today it is most commonly used in cooking as a thickening agent for soups, sauces and gravies. While we're on the subject of cooking, I hope you have a well-stocked pantry while you're sheltering in place. Might I recommend a couple of food staples from the Call's kitchen to fuel your spring cleaning? How about a hearty breakfast of Quick Quaker Oats (since 1877) or Purity Brand Corn Flakes, though you'll have to go for the original Kellog's corn flakes (or a generic choice) for this popular breakfast cereal. If you take a look at the Purity packaging, you might find the corn flakes boxes of today a bit more appetizing.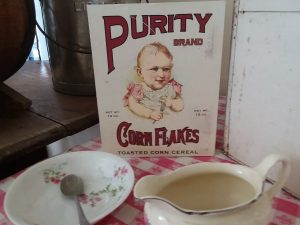 And finally, if you're worried that stress from the COVID-19 virus and sheltering in place is causing you to lose your hair, the Call family had a product for that too. In the children's nursery you'll find a bottle of Special Remedy for Falling Hair and Dandruff by Ogilvie Sisters. According to the bottle, this product can be used "[a]fter illnesses, which cause sudden loss of hair, like influenza, fevers, nerve troubles, confinements…" The Call family called it!
We hope that the threat of the COVID-19 virus quickly becomes manageable and that Fort Ross State Historic Park will be safely opened so that you can visit the Call House museum first hand. In the meantime, if you're looking for ways of passing the time, staying active, and simply trying to stay healthy and sane while sheltering in place, spring cleaning might be just the ticket! And though you might have to practice social distancing, you can take comfort that the act of spring cleaning can provide you with new ways of protecting your own health and the health of the environment, all while connecting you to people throughout the world from the past and present.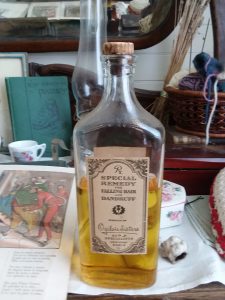 References & Recommendations:
--Charon Vilnai, Programs Instructor, Sea Lion Survey Project Lead, and Call House Museum Lead