FEBRUARY 2020 ENEWS


Dear friends of Fort Ross and Salt Point,
February may have many associations but in the nonprofit world the one that dominates is end of year financials. (You didn't see that coming, did you?) Fort Ross Conservancy is closing out its books on 2019 and getting ready for our annual CPA review. With the support of our members and sponsors we ended the last year on a high note -- we provided nearly $19,000 to schools from the Fort Ross Education Fund to ensure more students have access to our educational programs. Also noteworthy, we paid almost $50,000 to local businesses, hiring everything from caterers and contractors to the horse and carriage who work our festival. Fort Ross Conservancy definitely contributes to the local economy.
Personally I would prefer to think about Cupid more than Quickbooks, and for most of us February is all about Valentine's Day. This month's newsletter includes a sweet story about Mercedes Call and her extensive rose garden. While long-stemmed red roses are forever tied to love and Valentine's Day, Mercedes' roses were as varied as the weather along the Sonoma Coast.
It's only a few months in from the winter solstice and I can already appreciate the extra few minutes of sunshine. The new year has arrived in earnest. Fort Ross and Salt Point look spectacular in their winter green coat, the clear air showing off the lush landscape and aquamarine waters. (If you don't follow us on social media, Instagram in particular, you should, just for Song Hunter's daily beauty shots.) Each day brings new school groups, curious visitors from around the world, and loyal volunteers who arrive to spin the mill, docent visitors through the Call House, or survey our local marine life.
Fort Ross Conservancy is lucky to have such a talented and caring community, and I believe we all feel fortunate to be stewards of this stretch of coastline.
With appreciation,
Sarah Sweedler
Fort Ross Conservancy CEO
---
Roses are Red??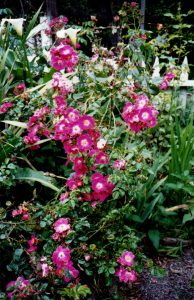 Roses are red, violets are blue. Well, wait, not so fast! While the classic red rose might very well be the most popular flower gifted this Valentine's Day, there are hundreds of different rose species, in the genus Rosa, not to mention thousands of cultivated varieties all displaying nature's diverse beauty in a spectacular array of color.
You don't have to celebrate Valentine's Day to be an admirer of the rose. This fragrant flower is said to be the most popular around the world. If you are among the many rose lovers out there, then you have something in common with a special woman from Fort Ross' Ranch era history. Mercedes Leiva Call, a Chilean-born orphan met her husband, George Washington Call, at the tender age of 15 while George was in South America working in the gunny sack industry. George and Mercedes purchased Fort Ross in the 1870s and raised six girls and three boys at Fort Ross. Mercedes loved flowers and gardening, but, as the story goes, George didn't want her to plant a garden and work in the dirt. After George died, Mercedes turned the lawn in front of their family home into a flower garden. She planted the flowers she loved, including a variety of roses as they were among her favorites. Mercedes was an avid gardener and a friend of the well known American botanist Luther Burbank who shared horticultural know-how with her.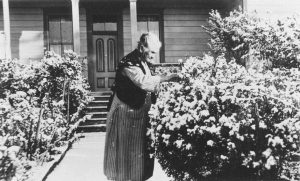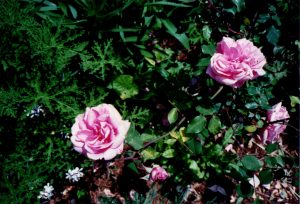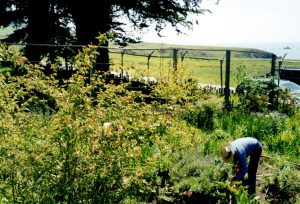 Today, volunteers maintain the Call House garden which still includes a variety of roses that we hope would have put a smile on Mercedes' face. One interesting favorite is an unusual Chinese green rose, Rosa chinensis viridiflora--a nice example of how roses are not just red! They are a sweet representation of nature's diversity, showcasing an impressive range of colors for rose lovers around the world.
At Fort Ross State Historic Park, The Call House garden is visible throughout the year as you walk down Old Highway One on the way to the fort compound. If you'd like to walk through the garden or the Call House museum, stop by during one of the first weekends of the month when the museum is open to the public for guided tours. Whether you're looking for a place to spend the day with your Valentine or simply want to stop and smell the roses, here at the Park you're always welcome to come enjoy nature's diversity--and we encourage you to get your hands in the dirt!
References & Recommendations:
--Charon Vilnai, Programs Instructor, Sea Lion Survey Project Lead, and Call House Museum Lead
February 20 - Harbor Seal Surveys Annual Training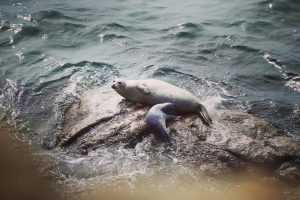 Thursday, February 20, 2020 at 2:00pm
Fort Ross State Historic Park Visitor Center
Looking for a good excuse to get out and enjoy our beautiful coastline? Help us monitor the health of our coastal marine ecosystem by being a part of our Harbor Seal Surveys! Our onsite field training will introduce you to our surveys with Point Reyes' Marine Ecologist Sarah Codde. Surveys take about two hours and are conducted by walking two miles of beautiful low-tide shoreline and monitoring our pinniped friends. There are twelve Saturday surveys scheduled from March through July of 2020 (surveys can be completed any day, Thursday through Monday, around the Saturday target dates). Survey data is sent to the National Park Service's SF Bay Area Network Inventory & Monitoring Program. By contributing to the long-term monitoring of harbor seals, this data will aid in protecting these seal colonies. Free training offered by Fort Ross Conservancy. Please contact Melissa Bushner to confirm attendance (or arrange for alternative training time) at melissab@fortross.org or call (707) 847-3437.

Gerstle Cove: The Namesake of Salt Point's Most Popular Destination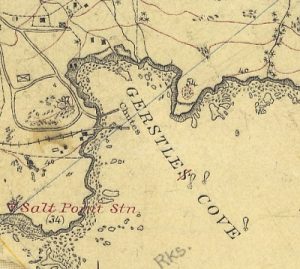 Many travelers, travelling north or south on Highway One, simply speed right through Salt Point State Park, never approach the water. But for those who pause, stop and linger, they learn that Gerstle Cove and nearby campgrounds and Day Use Area, are for good reason, the most popular accessible spots in Salt Point, full of many wonders and hold multi-layered histories... awaiting our attention.
Natural History
Millions of years in the making, Salt Point's unique landscape, geology, and flora and fauna has many stories to tell. The California Current dominates and forms this coastal landscape and the local marine ecology and rocky intertidal zone. In 1971, Gerstle Cove became one of the first State Marine Reserves in California. On land, the almost unfathomable story of our local coastal geology, uplifting Salt Point terrace, San Andreas tectonics and unique geology of tafoni are fascinating, for The Story of Salt Point State Park is Written in Stone!
Kashia Pomo Territory
"Qhabesileya wina maqhalli" (or "flat top rock where the water comes in") is said to be the Kashia Pomo name for Gerstle Cove. Most of us know so little of the Kashia Pomo story, so deserving of our understanding. For thousands of years this spot has generously offered extensive fishing and gathering resources, including salt, seaweed, abalone, mussels, rockfish, rock (for food-processing tools), huckleberries and so much more. Just north of the boundary of Salt Point State Park the newly established Kashia Coastal Reserve restores ownership of coastal lands to the Kashia.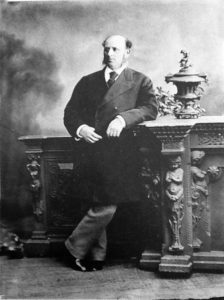 The Namesake of Gerstle Cove
Lewis Gerstle, born in Bavaria in 1824, worked as a deckhand on a ship sailing to the US, eventually arriving in California during the Gold Rush. He worked various jobs, including the first Pony Express and a wholesale grocery business in Sacramento, and then in a brokerage house in San Francisco dealing in mining stocks. After the 1867 Russian sale of Alaska to the US, Gerstle and partners purchased the Russian American Company and renamed it the Alaska Commercial Company, though it remained based in San Francisco. In 1870 the company paid the United States nearly $9 million for an exclusive contract to harvest sealskins from the Pribilof and Aleutian islands and made a vast fortune by supplying dyed sealskins to a worldwide market. This same year, Gerstle and partners bought the "German Rancho" here at Salt Point, and began harvesting tan oak for their leather processing operation in San Francisco. Later, following the 1895 discovery of gold in Alaska, the family's wealth grew enormously. Lewis Gerstle is the namesake not just for our Gerstle Cove, but also, where the Gerstle family settled, Gerstle Memorial Park in San Rafael.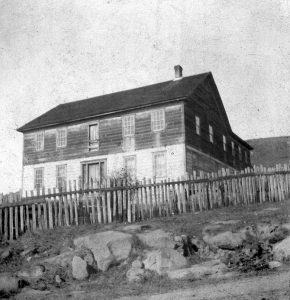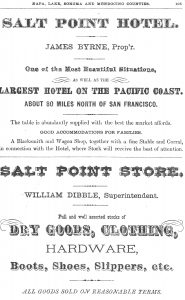 Early Californian Settlement & Resource Exploitation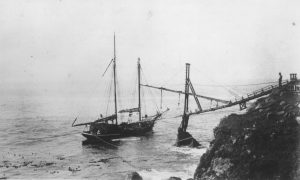 With the California Gold Rush came the development of San Francisco and other Bay Area cities, which increased the harvesting of natural resources up and down the coast. Redwood for lumber, sandstone for pavement, tan oak bark for the tanning industry and cordwood were all harvested at Salt Point Township, which led to the development of nearby mills, dogports, the 1870 construction of the Salt Point Hotel, and plans for the development of Louisville (which never came to be). Next the local economy transitioned to ranching, and later Salt Point State Park was established in 1968. In November of 1993, a forest fire burned a large area around Gerstle Cove.
Visitor Information
Salt Point State Park, a 6,000 acre park, offers two main campgrounds, Gerstle Cove Campground and, inland, Woodside Campground. Camping reservations can be made online, by calling 1-800-444-PARK (7275) or on a first-come, first-served (if available) basis. The local California State Park ranger station is located adjacent to Woodside Campground. At Gerstle Cove you'll find the nearby Day Use Area (open sunrise to sunset), restroom facilities, picnic tables, boat launch, trails (including a half-mile oceanside accessible trail), and, open seasonally, the Salt Point State Park Visitor Center. Guided hikes featuring the natural history of the area are offered seasonally many weekends. Here's a link to the Salt Point State Park brochure and map or call (707) 847-3221 for more information.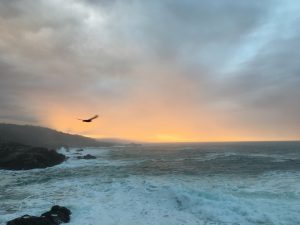 Stormy morning sunrise, Gerstle Cove
--Hank Birnbaum, FRC Bilingual Guide, Educator & Historical Specialist
Conserving California's Coastal Treasures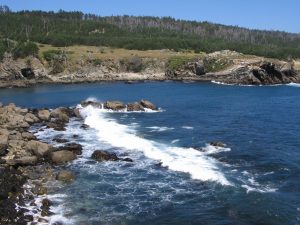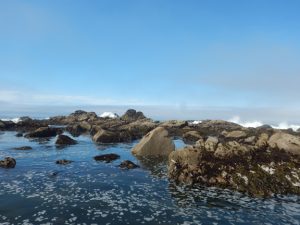 The stretch of California coastline between Point Arena in Mendocino County to the San Francisco Bay is one of the most diverse and abundant marine ecosystems on the planet. This is largely due to ocean currents and seasonal upwelling. These unique factors support an incredible amount of life, making this area a feeding ground for white sharks, 29 species of whales and dolphins, over 390 species of fish, and over 330 species of invertebrates.
With so much sea life dependent on the health of these waters, it became apparent that these areas needed to be safeguarded to preserve their long-term health and sustainability. In 1999, the California Legislature passed the Marine Life Protection Act whose goal is to protect California's marine natural heritage through establishing a science-based, statewide network of marine protected areas (MPAs).
MPAs protect marine life diversity, the habitats they depend on, and the integrity, health and resilience of marine ecosystems so that they can better withstand impacts such as pollution and climate change. One could compare MPAs to our state and national parks to better understand their designation. California MPA's are managed by both the California Department of Fish and Wildlife and California State Parks. "By protecting entire ecosystems," argues California State Parks, "rather than focusing on a single species, MPAs are powerful tools for conserving and restoring ocean biodiversity, and protecting cultural resources, while allowing certain activities such as marine recreation and research."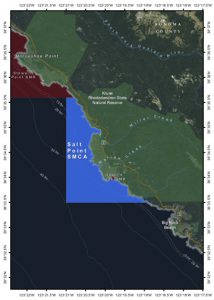 It is important to note there are different classifications of MPAs, each allowing different levels of human activity and harvest from the ocean in that area. State Marine Reserves (SMR) prohibit damage or take of all marine resources (living, geologic, or cultural) including recreational and commercial take. State Marine Conservation Areas (SMCA) may allow some recreational and/or commercial take of marine resources. State Marine Recreational Management Areas (SMRMA) limit recreational and commercial take of marine resources while allowing for legal waterfowl hunting to occur; they provide subtidal protection equivalent to an MPA .
Salt Point State Park, ten miles north of Fort Ross, proudly supports two classificiations of MPAs along its coastline. First there is the Salt Point State Marine Conservation Area (see map), and within those boundaries you'll find Gerstle Cove State Marine Reserve (SMR), one of the smallest of California's 124 MPAs. The waters of Gerstle Cove have been protected as a marine reserve since 1971, and it is among the oldest of the no-take areas in the state. Gerstle Cove SMR was incorporated into California's MPA Network in 2010.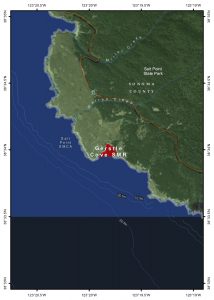 According to the Multi-Agency Rocky Intertidal Network or MARINe, Gerstle Cove is located in an Area of Special Biological Significance (ASBS). These areas support an unusual variety of aquatic life, and often host unique individual species. ASBS are basic building blocks for a sustainable, resilient coastal environment and economy. The ASBS includes one of the first underwater parks in California. All marine life is protected inside the Gerstle Cove Marine Reserve.
While Fort Ross does not currently host either a state or federal level MPA, in 2015, President Obama expanded the federal level Greater Farallones National Marine Sanctuary to include the oceans along Fort Ross and beyond, all the way north to Point Arena. As the impacts of global climate change become more severe and more apparent, MPAs are more important than ever. They give species a leg up in recovering from rapid changes and offer important places to study how species adapt and cope with change.
--Song Hunter, Director of Programs




March 7 - Fort Ross First Saturday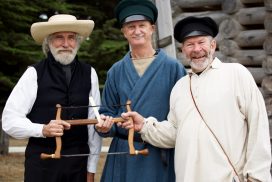 Wondering when to visit Fort Ross? We suggest Fort Ross First Saturdays! While every day at Fort Ross is special, on the first Saturday of each month we offer extra interpretation and more reasons to come visit: a Russian windmill demonstration, Call House Museum tours, and the Fort Ross Talk and Tea!
Windmill Turning – Our experienced windmill docents will turn the mill into the wind, explain its unique construction, and share with you how the two mills were used during the Russian era. Windmill talk and demonstration takes place only on the first Saturday of each month at 12 Noon.
Free with park entrance; donations appreciated!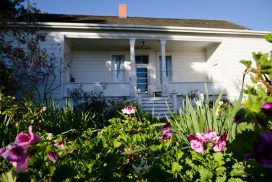 Call House tours – Take a guided tour through the Call House Museum and learn about early-California life during the American Ranch period. You'll see how hand-crank telephones work and how the square grand piano found its way from Boston to rural Sonoma coast. The Call House is open both Saturday and Sunday on the first weekend of the month from 1pm to 4pm.
Free with park entrance; donations appreciated!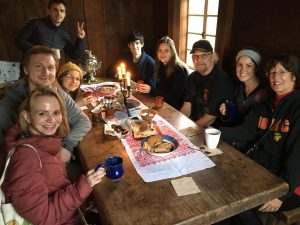 Fort Ross Compound Walking Tour and Tea with Samovar
2:30pm to 4pm
Hear the behind-the-scenes stories of Fort Ross/Metini by joining us on a guided tour through the fort compound. We'll venture behind locked doors and outside the compound walls to learn about the surrounding neighborhoods of the Kashia Pomo, Alaska Native, Russian, and Ranch eras. Following our hour-long tour, let's sit down at the samovar for a cup of hot tea and treats. Meet at 2:30pm at the Visitor Center. $20/person plus California State Park parking fees apply. Tour led by Fort Ross Conservancy's bilingual (English and Russian) guide Hank Birnbaum. Limited seating, reservations highly suggested: Reserve your spot for Tour & Tea here.

2020 Events Calendar
Details for all our 2020 events are at our Events webpage: https://www.fortross.org/events
Saturday, April 25: EARTH DAY & SPRING CELEBRATION
ALASKA NATIVE DAY at Fort Ross will resume on May 15, 2021 and will continue every other year.
Sunday, June 7: SNAPSHOT CAL COAST
Saturday, July 25: FORT ROSS FESTIVAL
Saturday, August 1: METINI DAY
Saturday, October 10: HARVEST FESTIVAL
Saturday, December 12: COMMUNITY POTLUCK

Donor Bench Program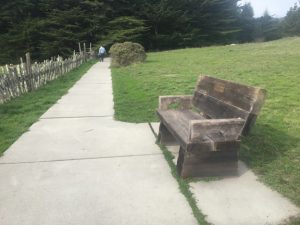 We only have two benches left!
Thanks to all of you who supported us through FRC's Donor Bench Program. We've sold nearly all the benches, and that funding helps us continue providing interpretation at Fort Ross and Salt Point. Details on the Donor Bench Program, bench locations still available, and how these funds help us on the ground are described at: https://www.fortross.org/fort-ross-donor-benches
Please email Sarjan Holt at sarjanh@fortross.org to reserve your bench. Thank you!
---
FRC Members' Meeting
Fort Ross Conservancy Annual Members' Meeting is on Saturday, April 25th at 12:30 at Fort Ross Visitor Center. Please RSVP to Sarjan Holt at sarjanh@fortross.org.