Northern Rainbow Ensemble at Fort Ross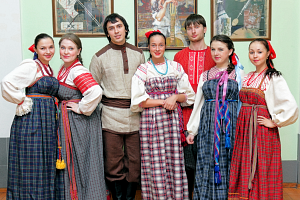 "Northern Rainbow" folklore group (Vologda musical college)
The group members are the students of Vologda musical college, the faculty of "Solo and choir singing". Alongside with serious studies the group lives active concert life being participants of Vologda region and international cultural projects. Among the places of tour performances are Cannes (France), Bari (Italy), Mikkeli and Seinayoki (Finland), Slovakia.
The college graduates continue to perform in Pyatnitskiy choir, folklore groups of the Vologda region, philharmonic halls of Russia, often going for further studies in Moscow and St.Petersburg best schools.
The group art director is Galina Gizatulina. Under her guidance the group separated from big college choir and got its name "Northern rainbow". Main international projects after separating:
2006 – Third youth Russia and France festival in Cannes (France);
2007 – Russian art festival in Bari (Italy);
2008 – joint tour to Finland together with folk instruments band;
2012 – youth art contest "Mountain constellation" (Slovakia)
The group members today are students of 1-4 grades of two departments: "Solo and choir singing" and "Instruments of folk orchestra".
They sing in different genres, reflecting national Russian culture and the flavor of the Russian North. Their singing, dancing and playing are filled with warm-heartedness, deep feelings, love to national culture and desire to share the feelings with the audience.