Fort Ross Dialogue 2019 - Luncheon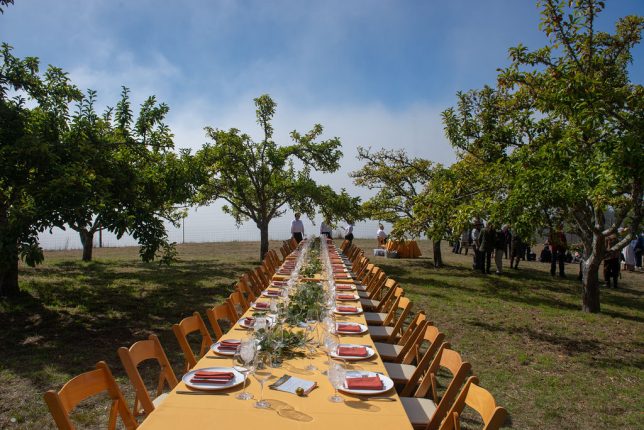 Saturday, October 5th, 12:30 – 2:30 pm.
We invite our Fort Ross Dialogue guests to join us for a lunch in the historic Fort Ross Orchard with chef Pete Coleman preparing a feast of seasonal fare and local wines. Lunch will be served family style in the orchard and advanced registration is required.
To RSVP: Please email Sarjan Holt at sarjanh@fortross.org
In addition to the luncheon, Harvest Festival includes apple and pear picking in the historic orchard. Arrive early and join in the fun! Details at https://www.fortross.org/events/2019/harvest
MENU
Hors D'Oeuvres
Burrata Bites…. French Puff stuffed with Housemade Burrata, thinly sliced Sweet 100 Tomato and Micro-Basil
Sake Salmon Deviled Eggs… Classic Picnic Eggs with House Cured Sake, Tobiko and Scallion Garni
Skewered House Cured Belly… Crisp Pork, Drizzled with Japanese Robata Sauce
FAMILY STYLE LUNCH
Charred Cara Cara Orange and Ruby Grapefruit with Capay Arugula and a tiny wedge of Nicasio Farmers Cheese, Dressed with Chervil Verjus
Rosemary-Gravenstien "French Pudding"… A Light, Crispy, Not Sweet Variety, Finished with Melted Marin County Butter
Sonoma Garden Heirloom Tomatoes with Fresh Basil and California Olive Oil
Grilled Local Fennel and Summer Squash with Toasted Cumin Hollandaise
Southern Style Prawns, Grilled, atop Sauteed Vidalia Onions and a Crisp Frissee/Sweet Herb Garni
Argentine Seasoned Churrasco Lamb with Green, Red and Fresh Olive ChimiChurries
Baskets of Freshly Made Yeast Rolls Served Hot, Whipped Butter and Blossom Honey
DESSERT
From Scratch Apple Blondie with Local Churned Ice Cream Whipped Cream, Fresh Apple Sauce and Caramel Sauce