SEPTEMBER 2019 ENEWS


Dear friends of Salt Point and Fort Ross,
We are spinning towards the close of September and the fall equinox, and soon enough we'll be surprised at how early the sun sets over the Pacific and how green the coastal hills will become. Winter is coming, California style, and before you can say "dasvidana" we'll be welcoming in the new year. But for now FRC staffers are all-hands on deck, working with new teachers in preparation for another school year of our Environmental Living and Marine Ecology programs -- we bring over 3000 kids to our parks each year, and we still have openings if your family, group, or school is interested!
We are also organizing our final events of the year, Harvest Festival and Fort Ross Dialogue.
Harvest Festival on Saturday, October 5th is a lovely event held in the historic Fort Ross orchard. We'll be picking apples and pears, painting wooden apples brought from a village in Russia (a family friendly activity), and enjoying the seasonal changes in this beautiful micro-climate above the fort. Our optional al fresco family style lunch in the orchard is a wonderful way to spend a Saturday, and the menu and Fort Ross Vineyard wine pairing is sure to inspire. A seat at the table is $100 per person, with $50 of each purchase going to our Fort Ross Education Fund to ensure more students have access to our fantastic outdoor programming.
Fort Ross Conservancy and the Kennan Institute are also organizing our 8th Annual Fort Ross Dialogue, held on Sunday, October 6th at the Commonwealth Club in San Francisco. The afternoon offers three separate panels with impressive speakers covering a broad mix of modern and historic topics. We hope you will join us.
I now turn this over for more local topics from the dedicated FRC team. Please enjoy their written contributions to this newsletter, and if you support our work both at the desk and out in the field, consider becoming a member of Fort Ross Conservancy. Please join us!
Warmest regards from all of us at the fort,-Sarah
California Coastal Cleanup Day at Fort Ross September 21, 2019 9:30AM - 1PM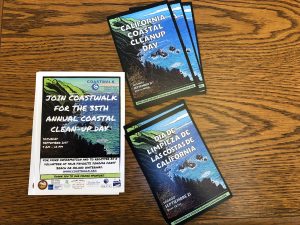 Camping available at Woodside Campground/Salt Point State Park: Friday, Sept 20 & Saturday, Sept 21. You must register ahead of time to get free camping!
Join Fort Ross Conservancy, California State Parks Foundation's Park Champions, and the California Coastal Commission in the statewide movement, Coastal Cleanup Day! Last winter the Russian River flooded, washing up trash, tires, and even a hot tub on our stretch of coastline! Let's work together to clean this up and get our beaches back to the pristine state they should be.
Bring: layers, sturdy shoes (you'll be scrambling up and down rocks to get down to the beach), water, lunch, a hat, your camera. All ages welcome!
We will provide: Contractor bags for the trash, gloves, trash pongs, light refreshments in the morning.
Register with BOTH our partners please!
Coastwalk here: https://coastwalk.org/beach_location/ft-ross/
Park Champions here: http://calparks.org/help/park-champions/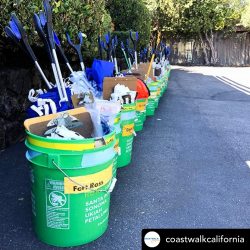 Meet at the Visitor Center at 9:30am
Fort Ross Conservancy
19005 Coast Highway One
Jenner, CA 95450
Questions? Email Song K Hunter at songh@fortross.org






The Fort Ross Bell (and Its Many Tales)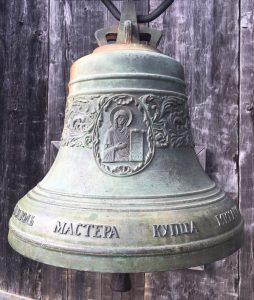 For many visitors, a trip to Fort Ross is not complete without a visit to the chapel, snapping a photo nearby, and, yes, ringing the bell. Looking closely at the chapel bell, its Cyrillic inscription seems to prove, as clear as a bell, its Russian authenticity. But in fact the Fort Ross bell has many unexpected tales to tell.

Our Belgian Bell
Despite its Russian transcription, the bell that currently hangs near the entrance to the Saint Nicholas/Holy Trinity chapel at Fort Ross was cast at the Sergeys Foundry in Leuven, Belgium. Shipped to California in October of 1973, this bell replaced the bell that melted in the October 5th 1970 fire that consumed the restored Fort Ross chapel (the original chapel was heavily damaged by the 1906 earthquake).
Modeled after and containing some original metal from (but not an exact replica of) the previous chapel bell, the bell's Cyrillic church Slavonic inscription just above its lower rim is translated as: "Cast in Saint Petersburg at the foundry of master merchant Mikhail Makarov(ich) Stukolkin." Pictured on one side of the bell is Jesus Christ, and on the other side, the Theotokos (or "Mother of God"). A small inscription reads "Heavenly King, receive all who glorify Him."
Thanks to campanologist Mark D. Galperin's research and article, Bells in Post-Russian Fort Ross, we now know that (prior to the 1970 chapel fire) the 200-pound Stukolkin bell long thought to be the original Fort Ross bell has in fact a much shorter and more recent history at Fort Ross:
"...This bell became a notable showpiece in Fort Ross State Historic Park after Labor Day 1945, September 3rd, when the Russian Historical Society of San Francisco brought it there.
It was installed outside the Fort Ross Chapel at the location of the present-day ground level bell frame, and some time later this bell was moved inside the Chapel's narthex to preserve it as a valuable artifact. Despite these efforts, the bell was destroyed on the 5th of October 1970, when it was melted in the fire that destroyed the Fort Ross Chapel..."
Russian Bell (but not from Fort Ross)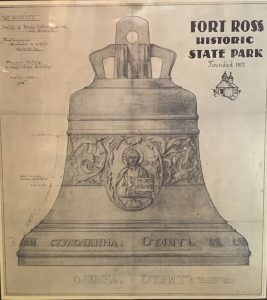 Mark Galperin's research demonstrates that the Stukolkin bell was made in Russia but only after the 1812-1841 era of Fort Ross:
"... This bell was cast in Saint Petersburg, Russia, by the foundry of Master Merchant Mikhail Makarov(ich) Stukolkin.
The Stukolkins were a dynasty of bellmakers from Valdai, Russia, who until the middle of the XIXth century didn't have foundries anywhere except in Valdai. The oldest known Stukolkin is Makar Stukolkin, who worked during the beginning of the 19th century. The Stukolkins' move in 1840-1850 toward Saint Petersburg, the capital of Russia at the time, started with an imperial order that they received in 1839 for casting the 11-bell chime for the 4 belltowers of St. Isaac of Dalmatia Cathedral in Saint Petersburg....
The first known self-documented bell cast in Saint Petersburg, which bears an inscription mentioning Mikhail Stukolkin, was made in 1845 for the Church of the Holy Apostle and Evangelist John Theologian on Misharina Hill at Milyavitsa (or Milyovka) Creek, Pskovskaya Region…"
Our Bell's Many Tales
So where then did the Stukolkin bell come from? After being made in Saint Petersburg, the tracks of the bell's odyssey were lost until it mysteriously reappeared in a San Francisco junk yard, was moved to and actively served at a Petaluma firehouse, then was hidden in a nearby jail's coal bin, in storage at Vallejo's Petaluma Casa Grande, until, at last, it was moved to Fort Ross in 1945:
Before coming to Fort Ross the Stukolkin bell served in California as the first fire bell of East Petaluma Hose Company No. 2[22], which was organized on June 1, 1864[23]. A couple years later, in c. 1866, members of this Company acquired the Stukolkin bell from a San Francisco junk yard [24,25] and the bell was rung at the Hose Company No. 2 until it was decommissioned in 1916[26] after the City of Petaluma has converted its volunteer Fire Department in 1913 into professional Exempt Association, while selling some of then existing equipment of the Department to support the change[27].
In 1913 a Captain of the Call-men of the Fire Department, Marcus ("Mike") Flohr[28] was appointed Petaluma Police Chief[29]. According to John C. McKenzie's account[30] Mr. Flohr was interested in the bell, so he refused to allow the removal of the bell, and hid it in the coal bin of the jail in Petaluma until 1925, when he presented the bell to the Petaluma Chapter of the Native Sons of the Golden West (NSGW). Marie Walsh's adds to this account that in 1925, there was an unsuccessful attempt to auction the bell before it was presented to NSGW[31].
The Petaluma NSGW stored the bell at their premises at Casa Grande, an Old Adobe, formerly of General Vallejo, 3 miles in from Petaluma, and according to a 1928 article desired "to place the bell in the museum of old time relics to be established at the Vallejo Adobe, east of the city"[32], but in 1945, before the museum was established, the bell was donated to Fort Ross.
This happened mostly due to efforts undertaken by Mikhail Dmitrievich Sedykh, President of the Russian Historical Society of San Francisco, with important assistance from Robert S. Coon, Northwest District Parks Superintendent of California State Parks[33], and kind agreement from the Native Sons of the Golden West. The bell was gratefully accepted at Fort Ross by Joseph R. Knowland, then the Chairman of both the California State Park Commission Board[34] and NSGW's Landmarks Committee[35].
from Bells in Post-Russian Fort Ross, Mark D. Galperin.
During the Fort Ross Bicentennial, new bells (currently in safe keeping at a nearby Orthodox church) were gifted to Fort Ross from Russia. Meanwhile, our current bell's deep resonant chime can be heard, every day, across the Fort Compound and beyond, thanks to visitors and school children, during the annual Fort Ross-Totma Russia bell & video bridge, and also, as an invitation to the Orthodox church services, three times a year, on Memorial Day, Fourth of July, and during the annual Fort Ross Festival (the last Saturday of every July).
References
Bells in Post-Russian Fort Ross, by Mark D. Galperin, Campanologist
The Mission Bells of California, Marie T. Walsh (1934)
And many thanks to assistance from retired CA State Park Archeologist Glenn Farris and independent scholar Maria Sakovich (author of The Chapel at Fort Ross).
- Hank Birnbaum, Fort Ross Conservancy Bilingual Guide, Educator & Historical Specialist
Field Trip Opportunities for ALL AGES on the California Coast!
Extra extra read all about it! Fort Ross Conservancy is thrilled to provide many opportunities for fun, outdoor education for all ages at Fort Ross. Help us spread the word or sign up today!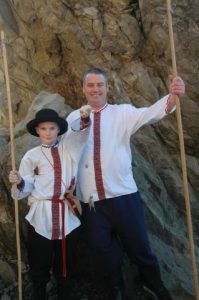 - The Environmental Living Program (ELP) provides hands-on learning which allows students to experience the joys of history as active participants, exploring the interaction between people and their environment. Immersed for a brief time in the past, students learn about the many cultures and lifestyles at Settlement Ross. Through performing tasks that were a part of daily life at Fort Ross such as cooking, fishing, processing natural materials that have been gathered according to season, practicing artisanal crafts, and dancing, students gain a better understanding of history and their relationship to it. During an overnight Fort Ross ELP, students, parents, and teachers sleep inside the historic compound buildings.
ELP Family Camp - Would you like to experience a day in the life of Colony Ross with friends and family? At our ELP Camp, you can dress up in 19th century costumes, sleep in the historic compound, cook in an outdoor kitchen, and try your hand at traditional Russian crafts. Join our ELP Family Program for All Ages!
Marine Ecology Program - FRC's Marine Ecology Program (MEP) provides an experiential and exciting outdoor educational field trip for students, including: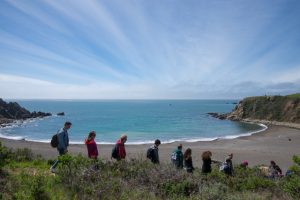 Learning how to engage in hands-on marine mammal observation, identification, and survey,
Exploring the diverse and fragile intertidal zone and its beautiful life forms,
Keeping a field journal to record scientific data, thoughts, and sketches,
Studying current and historic ecological interconnections,
Discussing the importance of biodiversity and marine conservation,
Team building and collaborative learning in an outdoor classroom setting.



Educational Opportunities - For those groups that cannot sign up for a whole MEP or ELP, we offer Educational Opportunities which run for one to four hours, delving into the natural marine ecology or cultural history of Fort Ross. Pair this professionally-led tour with other guided site visits to the orchard, cemetery, Sandy Cove beach, tidepools, plus a picnic lunch, and you have a day of wonderful activities for your school group!

Fee Waivers Available! Public lands and outdoor learning should be available to all, irrespective of the cost, and FRC's goal is to minimize the financial challenges that keep kids from taking important field trips. Thanks to generous support from our donors we have created the Fort Ross Education Fund to offer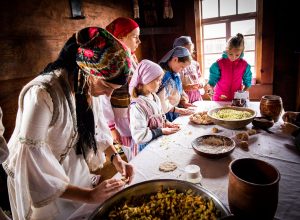 program fee waivers and/or transportation subsidies to schools that would otherwise be unable to participate. We welcome teachers of all schools to apply!
For more information on all our programs and available financial aid, email Director of Programs Song Hunter.